A strong upper level trough will bring Pacific moisture into the Northwest, Plains and Great Lakes to start this week. A round of snow already moved through the Pacific Northwest with more expected through Wednesday. A low pressure center will bring heavy snow to the Rockies today (Tuesday). As that storm moves into the Upper Midwest and Great Lakes, several inches of snow will accumulate. Here's a breakdown:
Northwest
Strong upper-level energy will be accompanied by a cold front as it first moves into the Northwest today (Tuesday). Light to moderate rain and snow is expected to spread inland into Wednesday.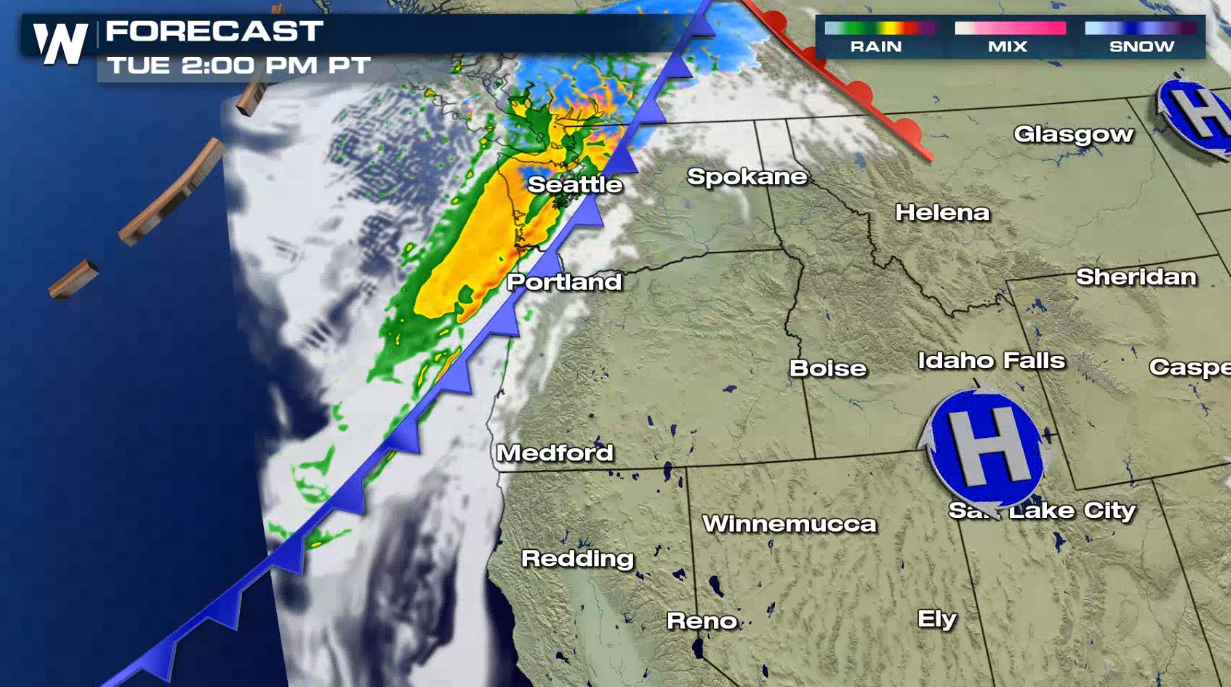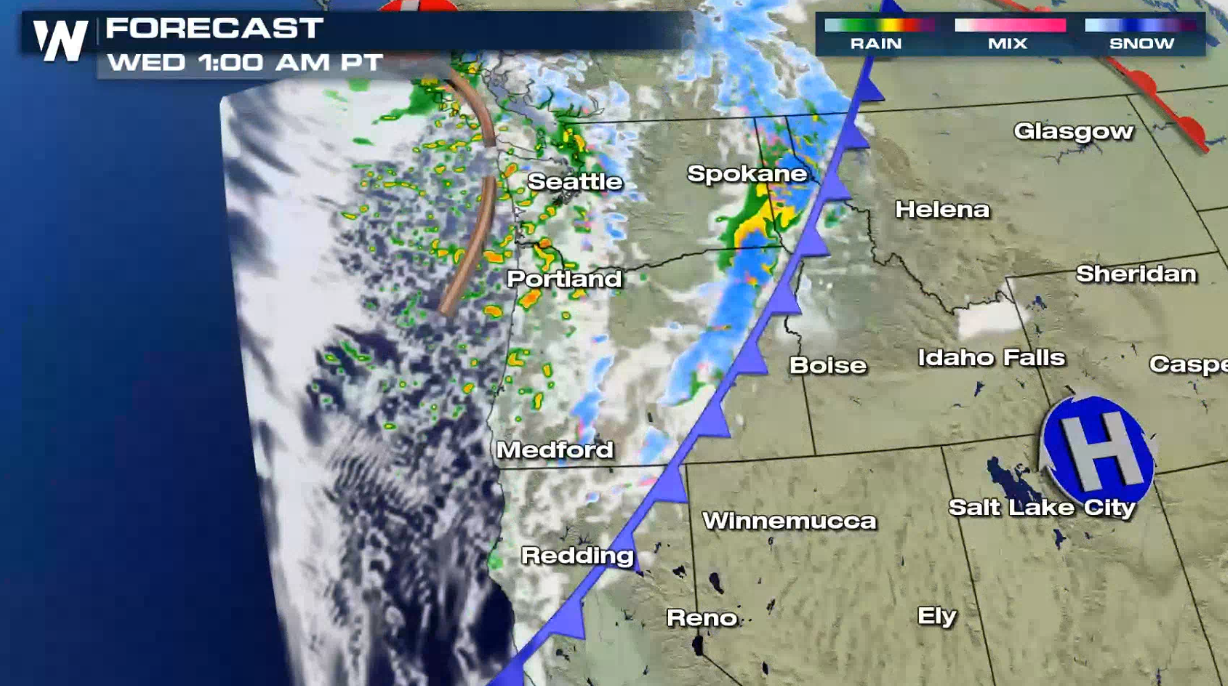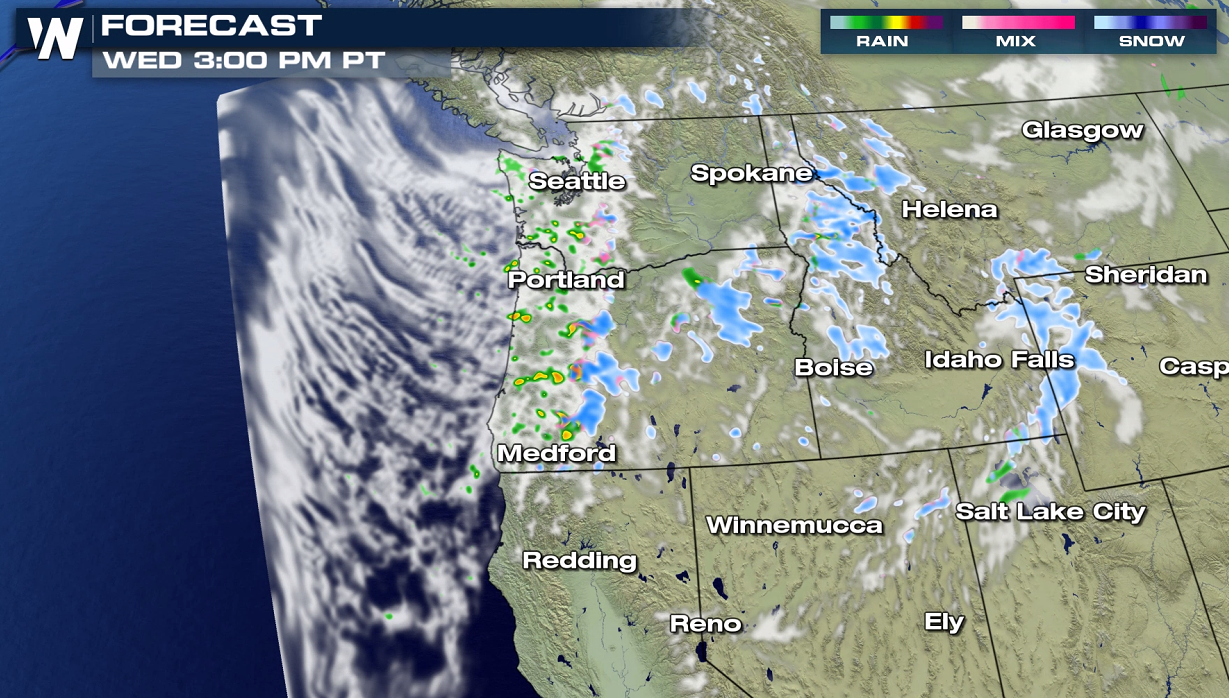 A couple inches of rain are likely along the coast. Heavy snow will accumulate in the higher elevations where more than a foot is possible. The busier mountain passes could see up to 3 to 6 inches.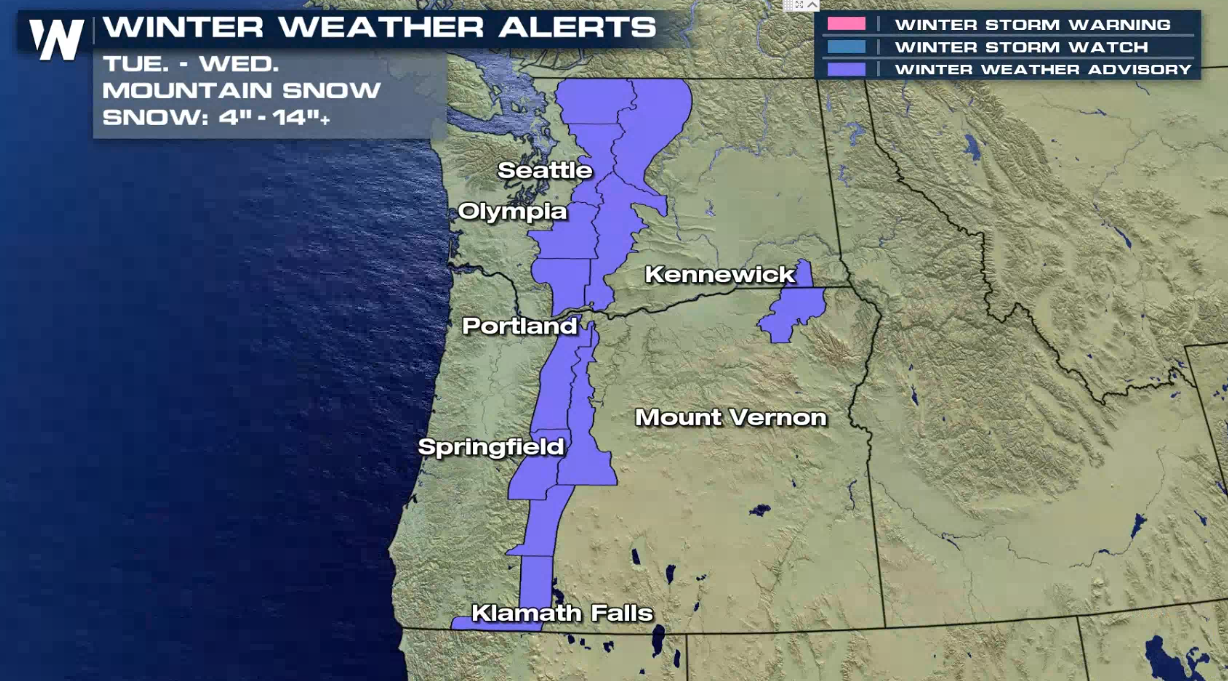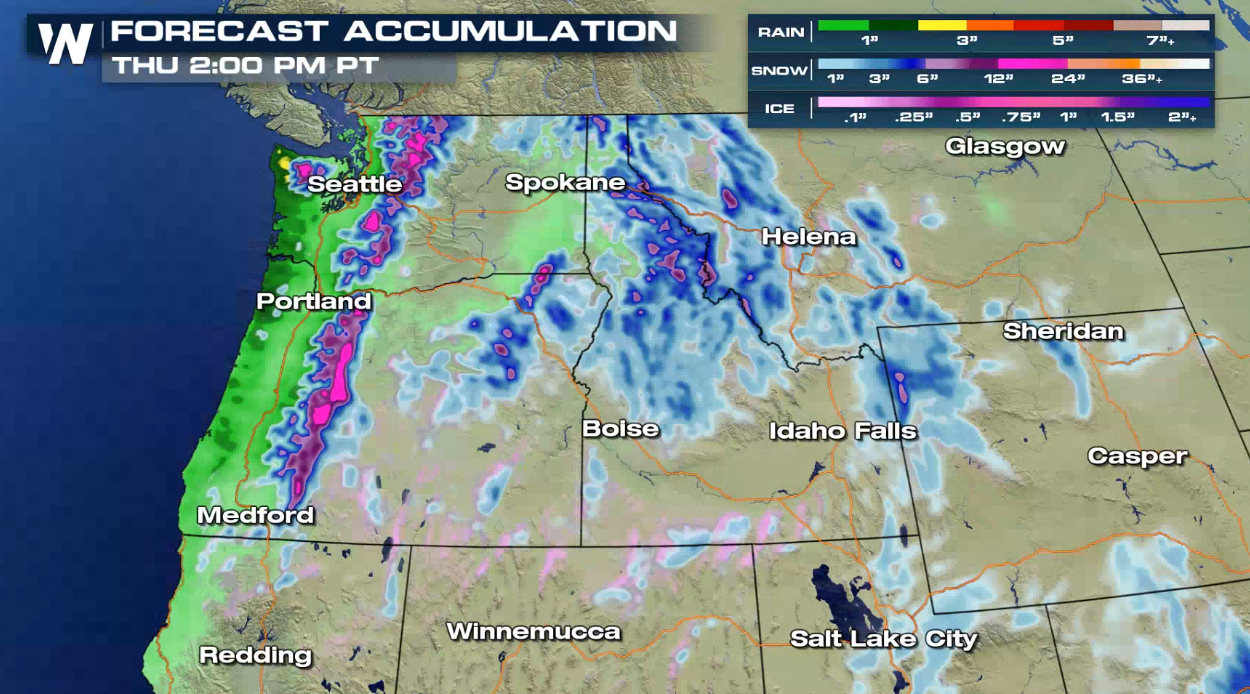 Rockies
Impacts will likely be greater with a developing surface low in the Rockies and Plains.  Winter weather alerts have been issued in Colorado and New Mexico. One to two feet of snow is possible in the high elevations.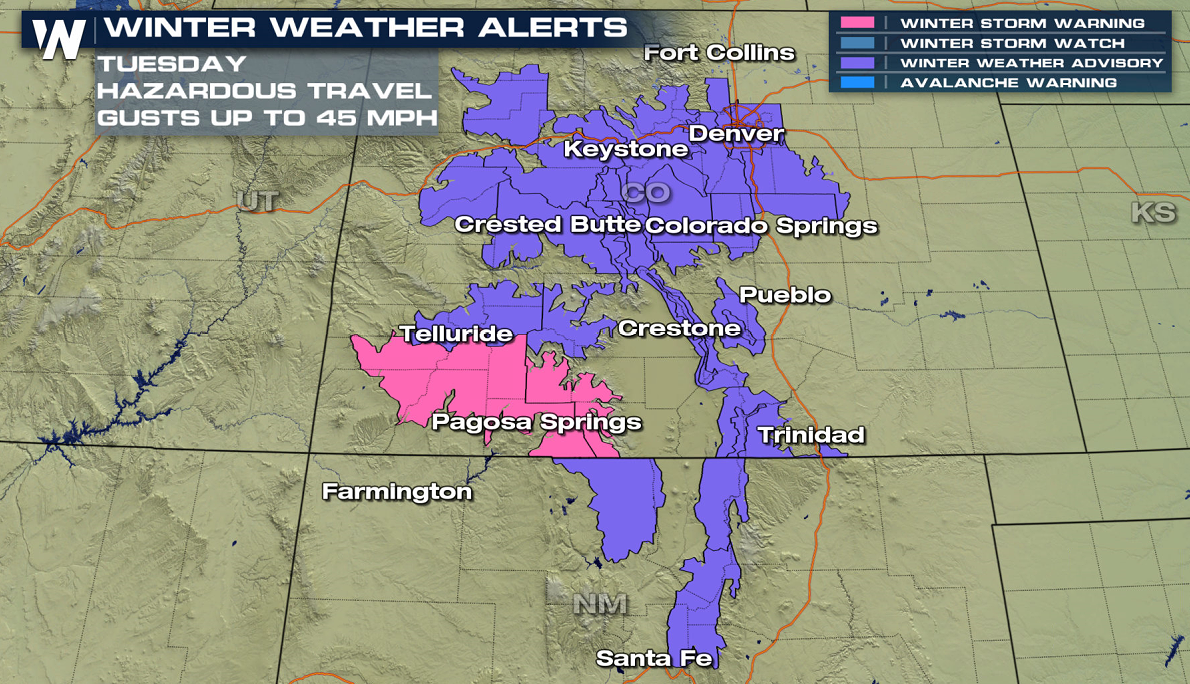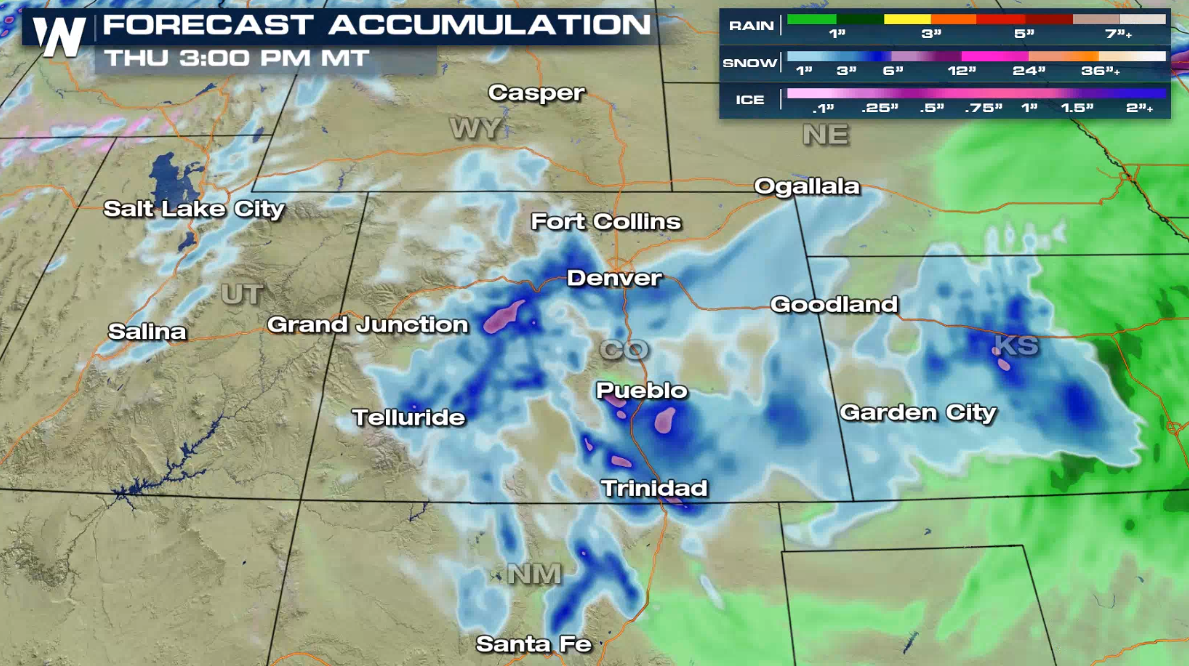 The surface low pressure center has moved off of the mountains and into the Plains. It will be producing scattered showers and a few patchy snow showers across the Central Plains and Midwest. The cold front will likely bring another round of snow to Colorado and Southern Wyoming, with snow possibly falling across Colorado's eastern areas into this afternoon (today). This could mean travel impacts along the I-25 corridor between Cheyenne and Santa Fe.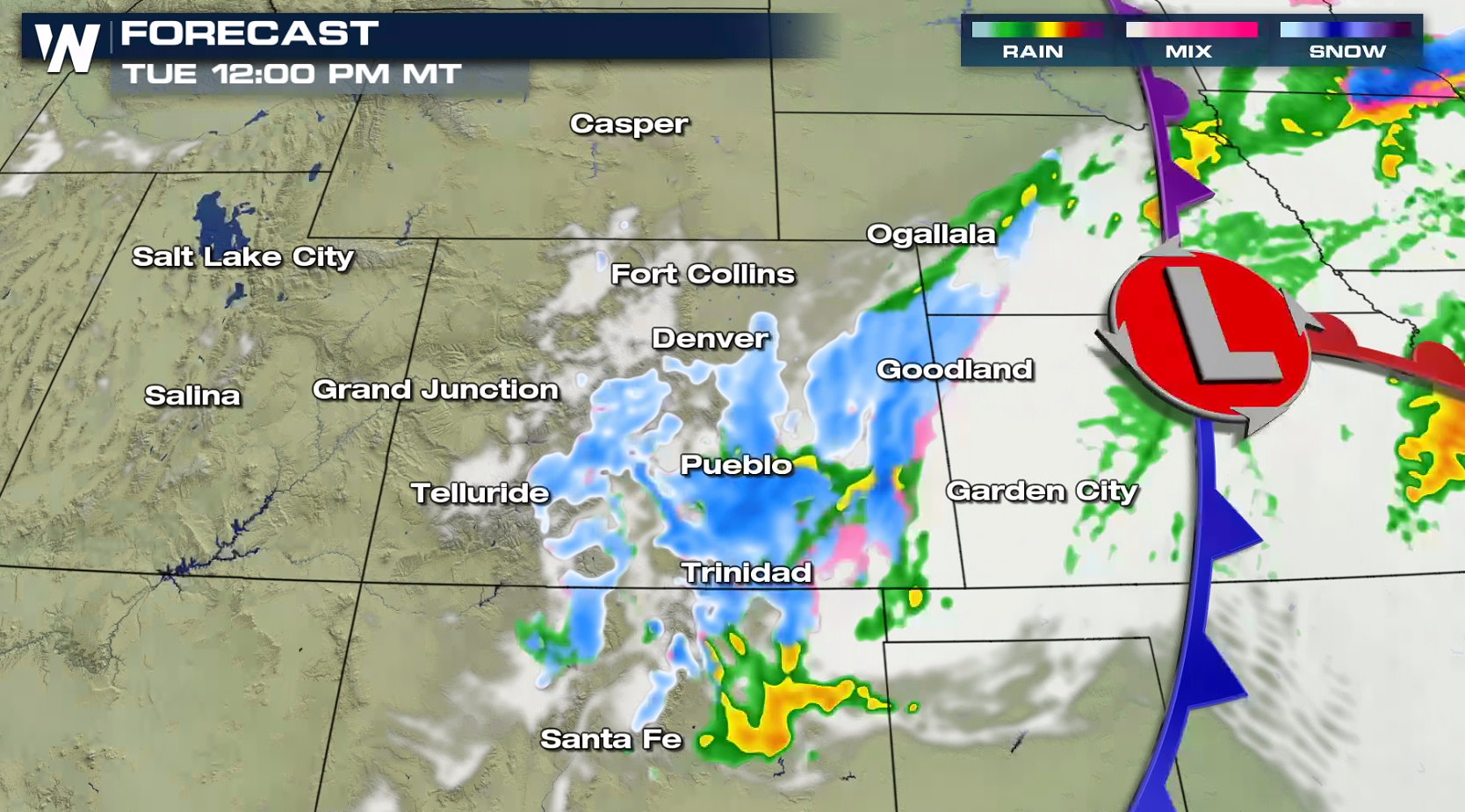 The surface low will strengthens quickly into this afternoon (Tuesday), tapping into moisture drawn quickly to the north from the Gulf of Mexico. This points to significant wrap-around snow in the higher elevations. The system will quickly move out of the region, bringing an end to the snow by tonight.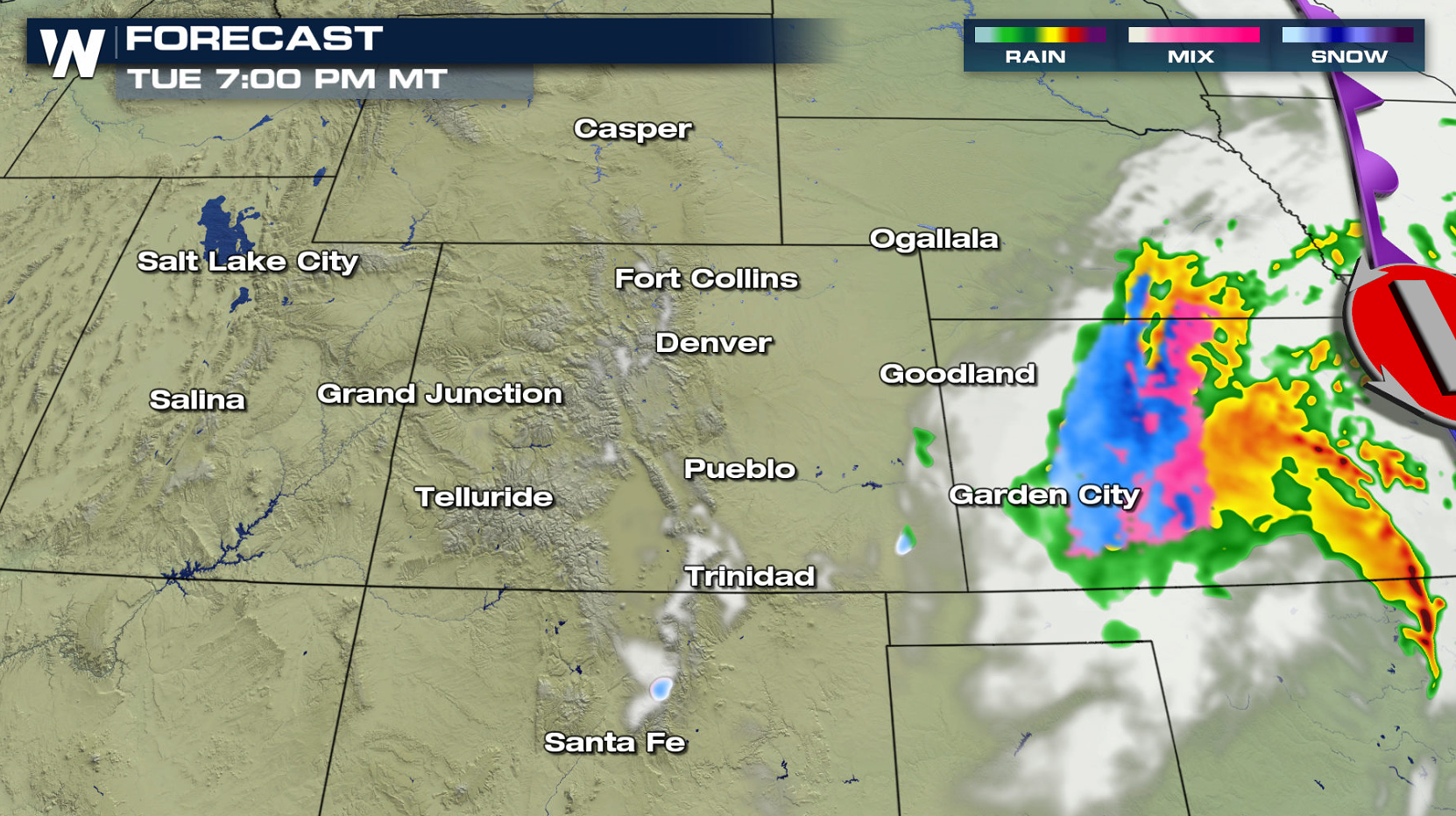 Upper Midwest and Great Lakes
Snowfall has been pushing into the Upper Midwest and will expand into the western Great Lakes today (Tuesday). The initial snow will be ahead of the low with a surge of upper level energy. Some sleet and freezing rain is possible.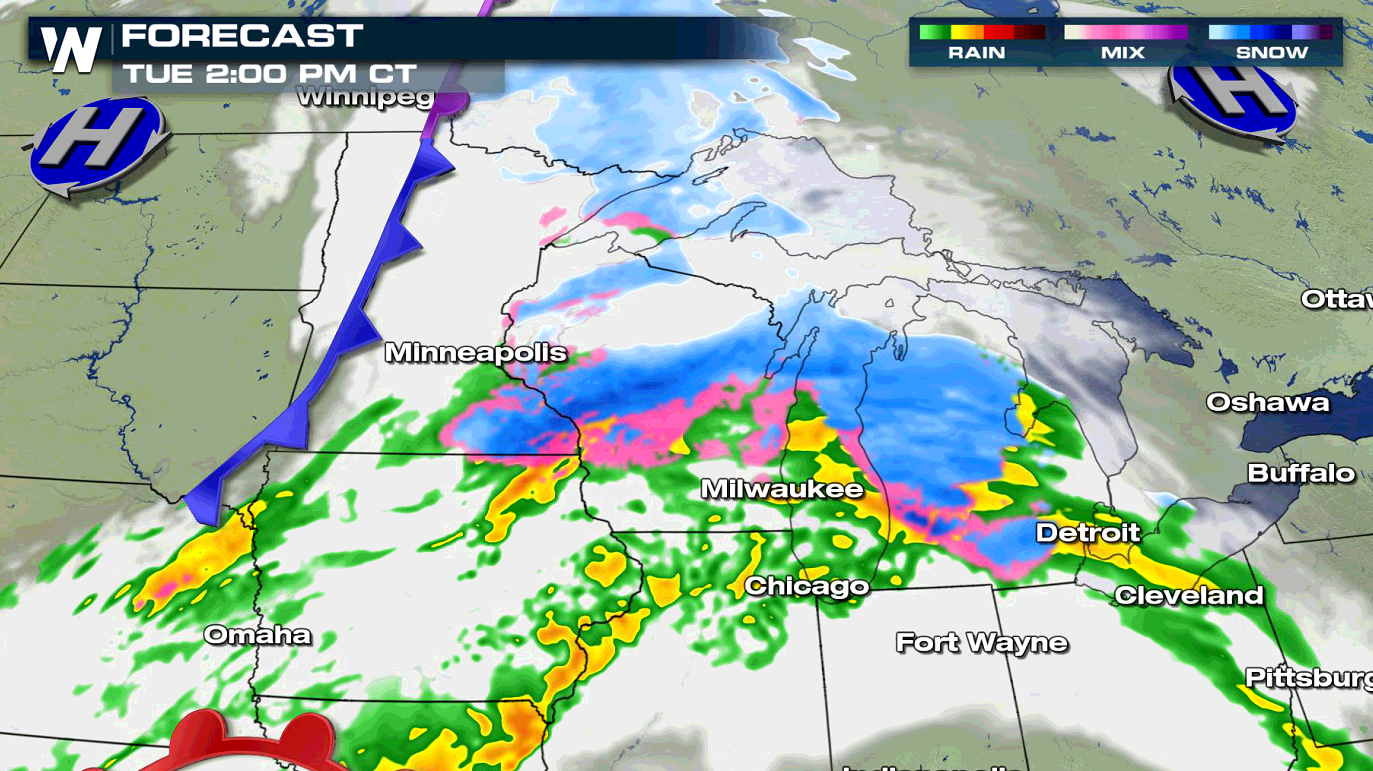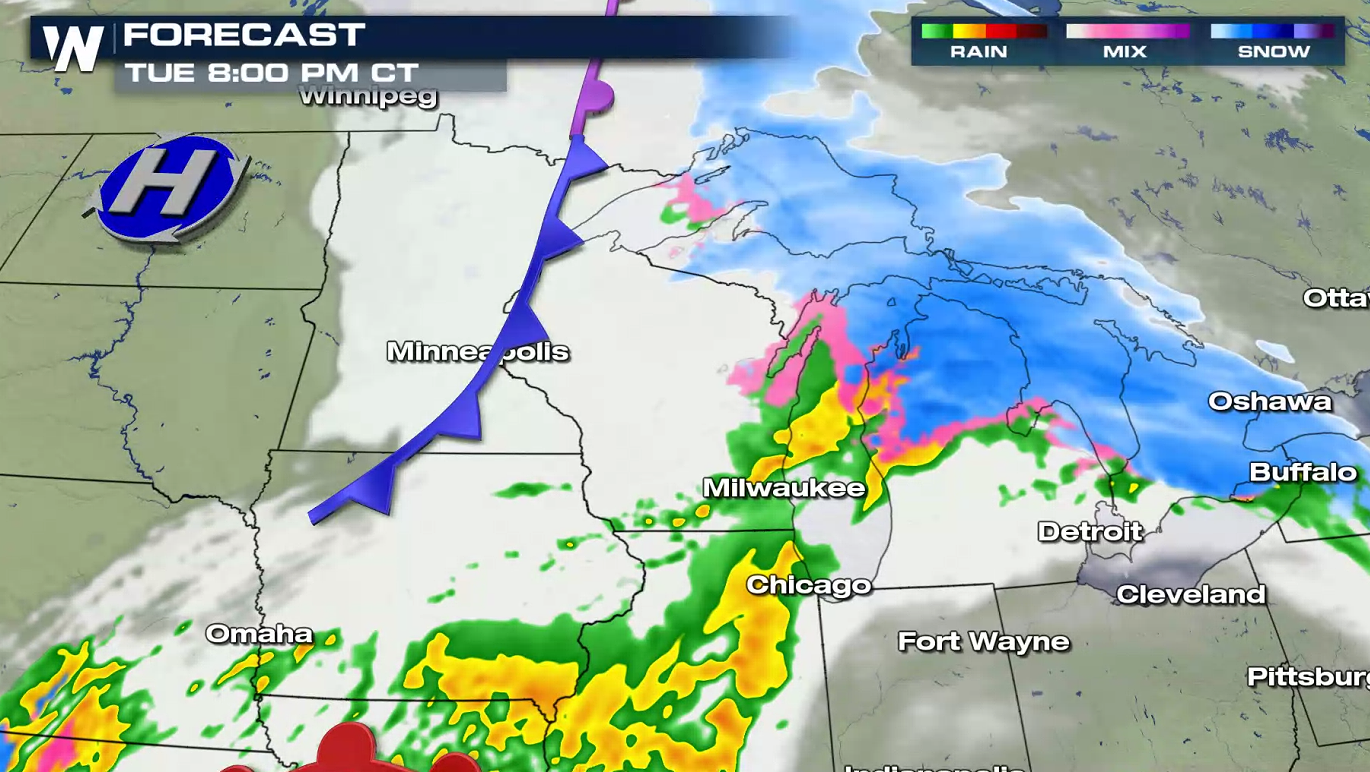 For Tuesday afternoon, the low will push out into the Plains and snowfall will move across the western Great Lakes states. The atmosphere will begin to warm on late Tuesday night and Wednesday with most of the precipitation falling as rain.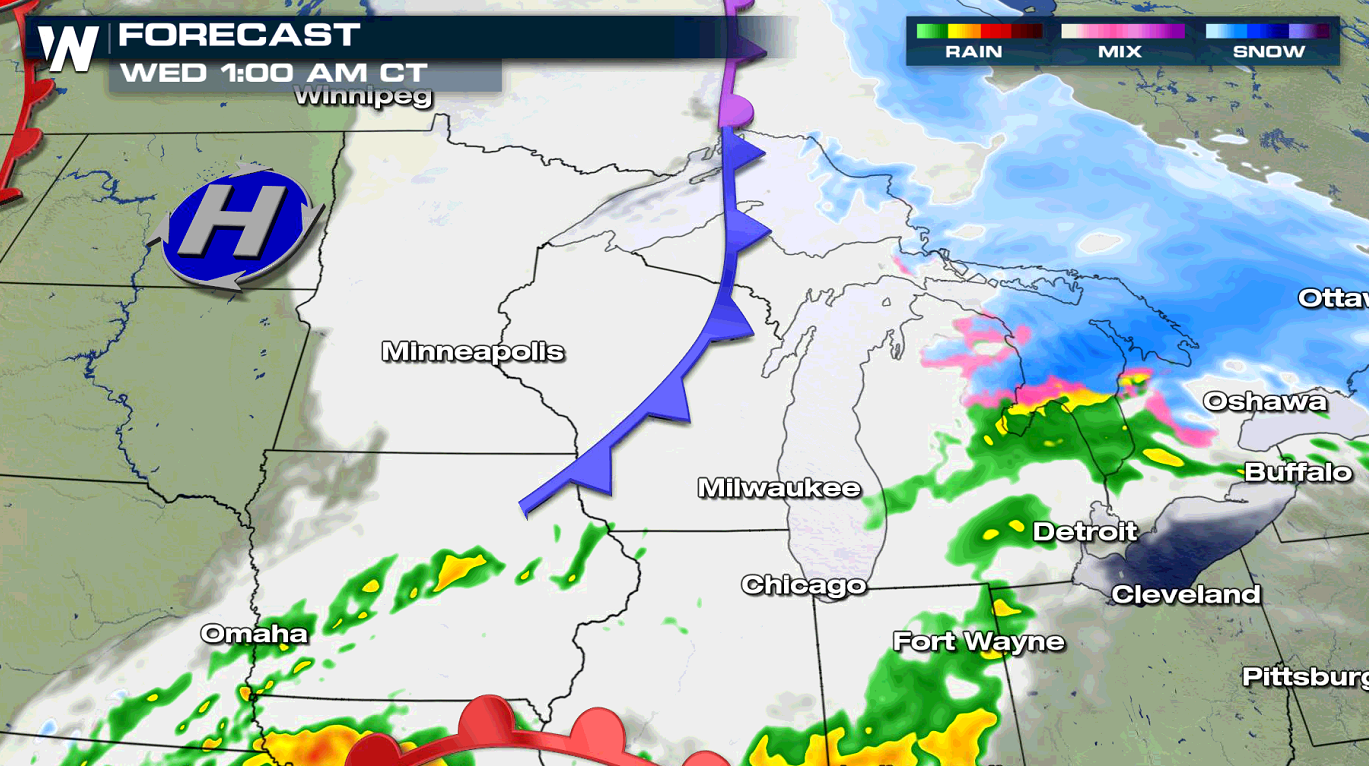 Winter weather advisories have been issued from North Dakota to Michigan. Snow totals across the Upper Midwest could top 6 inches, primarily in Wisconsin and Northern Michigan. Some icy mixed precipitation is possible in North Dakota and Minnesota.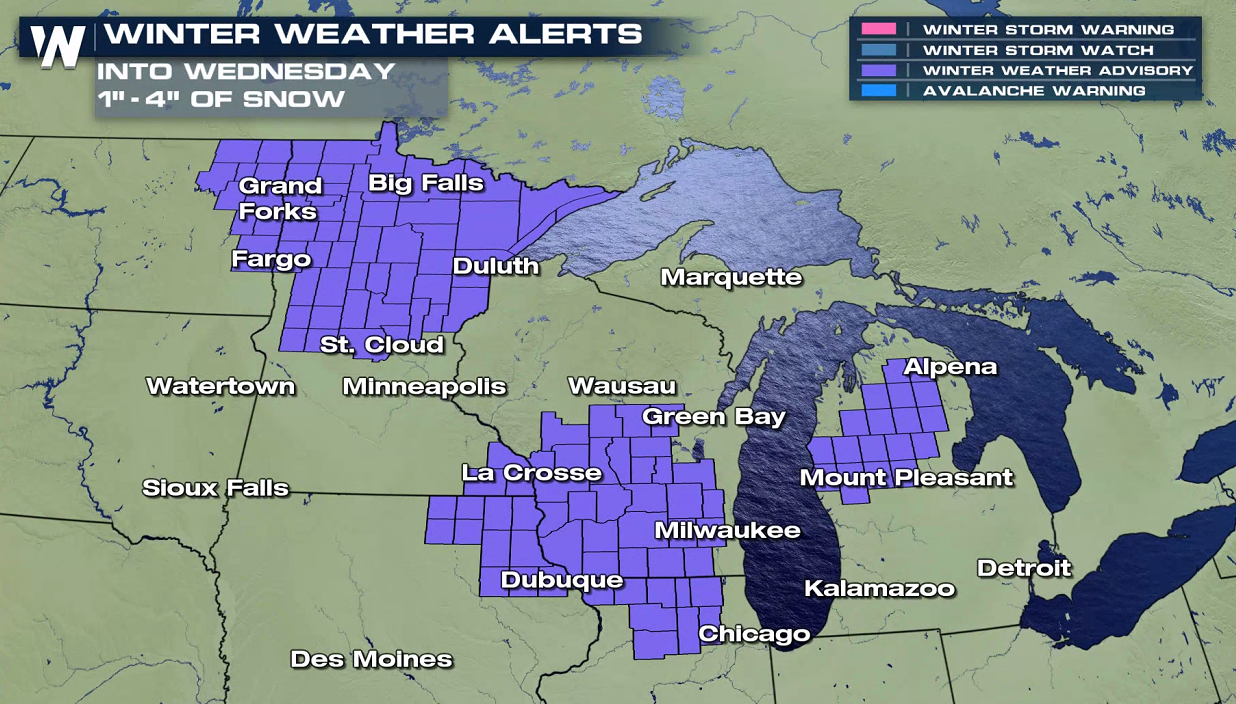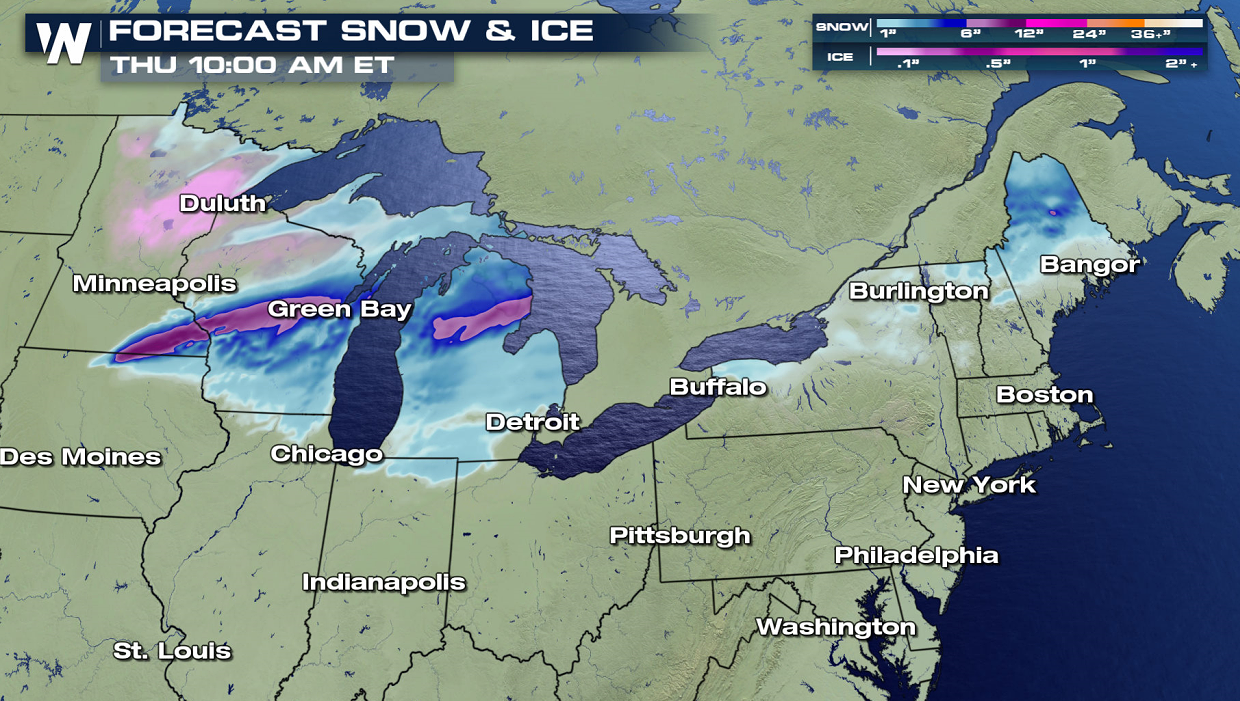 This article will be updated as new data and information become available. Weather related warnings are always scrolling across the bottom of our broadcasts and live stream.