After a 1-2 punch for the northeast this week with back to back nor'easters, there may be another threat looming on the horizon. We continue to closely monitor weather models as they hint at yet another coastal storm system early next week. While there is still plenty of uncertainty in the exact placement and impacts this system may bring, it is enough to grab our attention. The storm will begin to develop in the southern Rockies on Friday.  By Saturday morning, the center of the storm will be tracking through Oklahoma.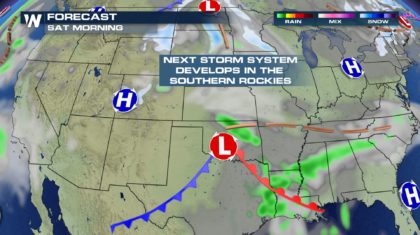 As the system interacts with warm, moist, unstable air, strong to severe thunderstorms could occur.  Saturday afternoon and evening will be the most likely time-frame for severe weather.  The highest risk will be in southern Arkansas and northern Louisiana.  Little Rock, Texarkana, Shreveport, and Jackson are all included in the risk area.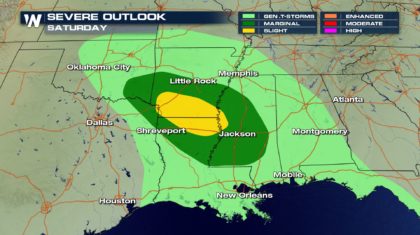 Overnight Saturday, the storm will move east through Mississippi, Alabama, and Tennessee, spreading rain, some of which could be heavy at times.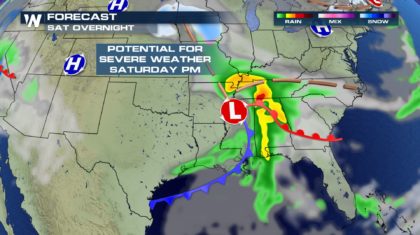 By Sunday afternoon/evening, the system will start moving off the east coast.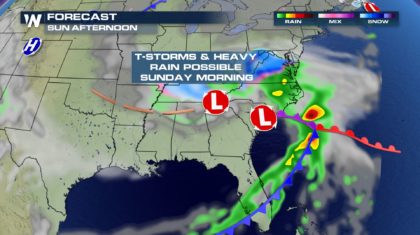 At this point, the forecast models are not in agreement.  One possible path, Path #1, has the storm tracking to the northeast, just offshore.  This would have a much greater chance of impacting the east coast.  Coasting flooding, high winds, rain and snow, would all become factors in the forecast for the eastern U.S. on Monday and Tuesday.  With Path #1, the storm could become a nor'easter.  This is the path of the American (GFS) model.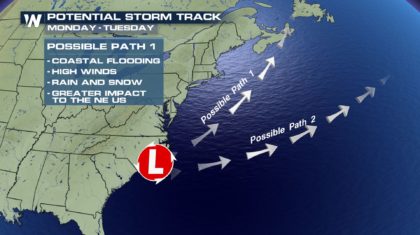 If the storm takes Path #2, it would track in a more easterly direction, away from the eastern seaboard, and have very little impact on the coastline or the northeast.  After two significant nor'easters in less than a week, this is the path many residents would like to see the storm take!  This is the path of the The European (ECMWF) model.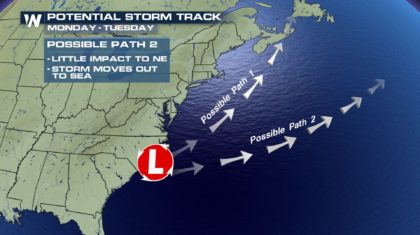 Only time will tell which model will produce the correct path of the storm.  We will continue to monitor it very closely here at WeatherNation.  Stay tuned! For WeatherNation:  Meteorologist Matt Monroe