[
The massive Camp Fire burned more than 153,000 acres in Northern California, claiming the lives of at least 88 people and destroying more than 18,000 structures. In this photo, U.S. Army Sgt. Rodrigo Estrada of the California Army National Guard's 649th Engineer Company, 579th Engineer Battalion, 49th Military Police Brigade, leads a team conducting search and debris clearing operations, Nov. 17, in Paradise, California. Credit: Sr. Airman Crystal Housman/U.S. Air National Guard on flickr
] [
NOAA
] November served up a meteorological mixed bag for the contiguous United States: Massive, deadly wildfires devastated entire communities in California and an early season blizzard hit the Midwest, while cool temperatures prevailed east of the Rockies and record rains fell in the East.
What follows are highlights from NOAA's latest monthly U.S. climate report:
Climate by the numbers
November 2018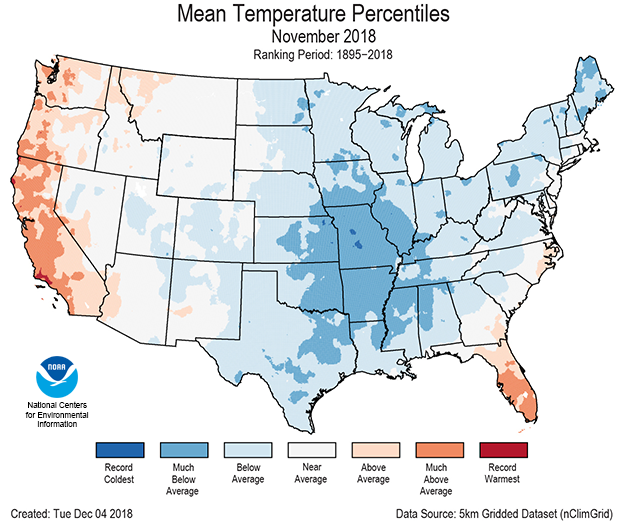 The average November temperature across the contiguous U.S. was 40.1 degrees F (1.6 degrees below average), ranking it among the coolest third of the 124-year record for November. States from the Great Plains to the East Coast had below average temperatures, while the West Coast and Florida, experienced above-average temperatures, according to scientists with NOAA's National Centers for Environmental Information.
The average precipitation for November was 2.64 inches (0.41 above average), ranking it among the wettest third on record. Parts of the Mid-Atlantic and Northeast had record precipitation, while parts of the Northwest, Southwest and Southern Plains were drier than average.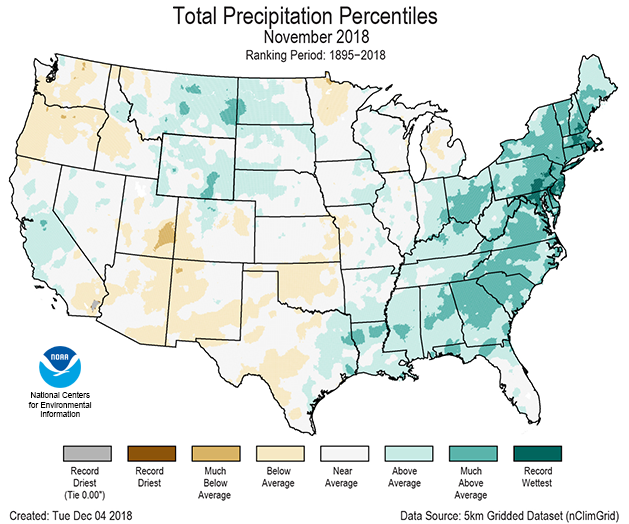 The year to date and meteorological autumn
It was the second-wettest meteorological autumn (September through November) on record for the contiguous U.S., with a precipitation total of 9.61 inches (2.73 inches above average). The average temperature for autumn was 53.8 degrees F (0.2 degrees above average), which ranked near the average of the 124-year record.
The average U.S. temperature for the year to date (January through November) was 55.2 degrees F (1.4 degrees above average) – the 16th warmest YTD on record. Average precipitation during this same period was 31.31 inches (3.72 inches above average), making it the fifth-wettest year to date on record.
Other notable highlights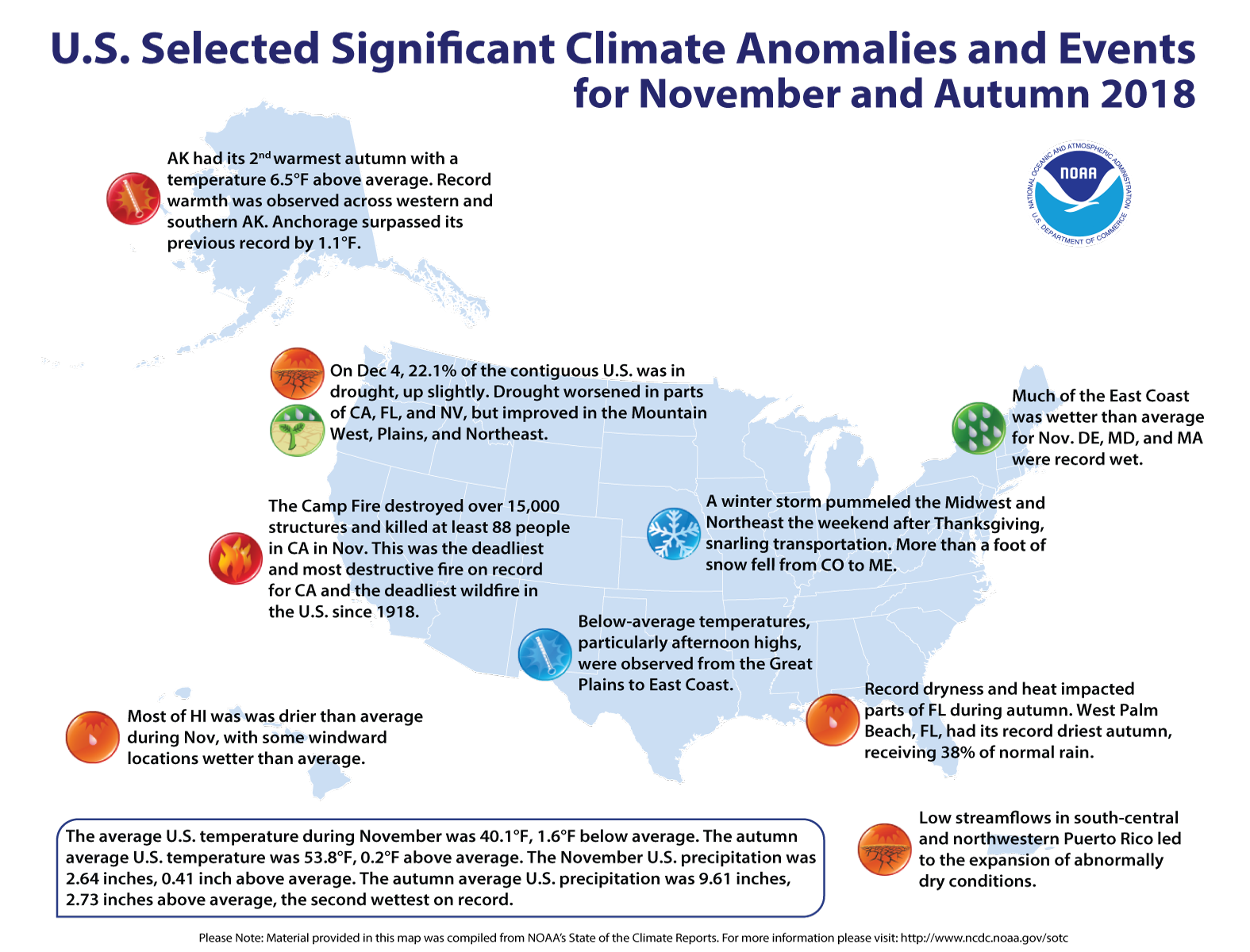 Raging wildfires in California caused catastrophic destruction and loss of life: The massive Camp Fire burned more than 153,000 acres in Northern California, claiming the lives of at least 88 people and destroying more than 18,000 structures. The Woolsey Fire killed at least three people and burned down more than 1,500 structures.

Record rainfall for 7 states: It was the wettest autumn on record for: Maryland, New Jersey, North Carolina, Rhode Island, Texas, Virginia and West Virginia.

States saw a record-breaking year to date: Eight states had record high year-to-date precipitation totals, while 13 states across the East and West had a top-10 warmest YTD.
Edited for WeatherNation by Meteorologist Mace Michaels