Severe Thunderstorm Warnings issued by the National Weather Service (NWS) will include language with new "damage threat categories," including "considerable" and "destructive." Previously, only tornado warnings (TOR) had a sub-category to indicate a potential level of destruction including "considerable" and "catastrophic" starting today, August 2nd, 2021. Special Weather Statements, issued for sub-severe storms, will also be updated to be more similar to the format of current warnings for severe storms. These new categories will be included as a part of the Impact-Based Warning (IBW) coded tags at the bottom of the product and are being changed to highlight a storm's potential impact in a format that can be quickly read and understood. The lower end of severe thunderstorms will not receive the verbiage "considerable" or "destructive," but will continue to include the damage threat tag with hail and wind amounts as they appear in the operational product. The following criteria will have to be met for a storm to garner the new tags:
CONSIDERABLE
...1.75 inch diameter hail (golf ball-sized) and/or 70 mph thunderstorm winds.
DESTRUCTIVE
...2.75 inch + diameter hail (baseball-sized) and/or 80+ mph thunderstorm winds.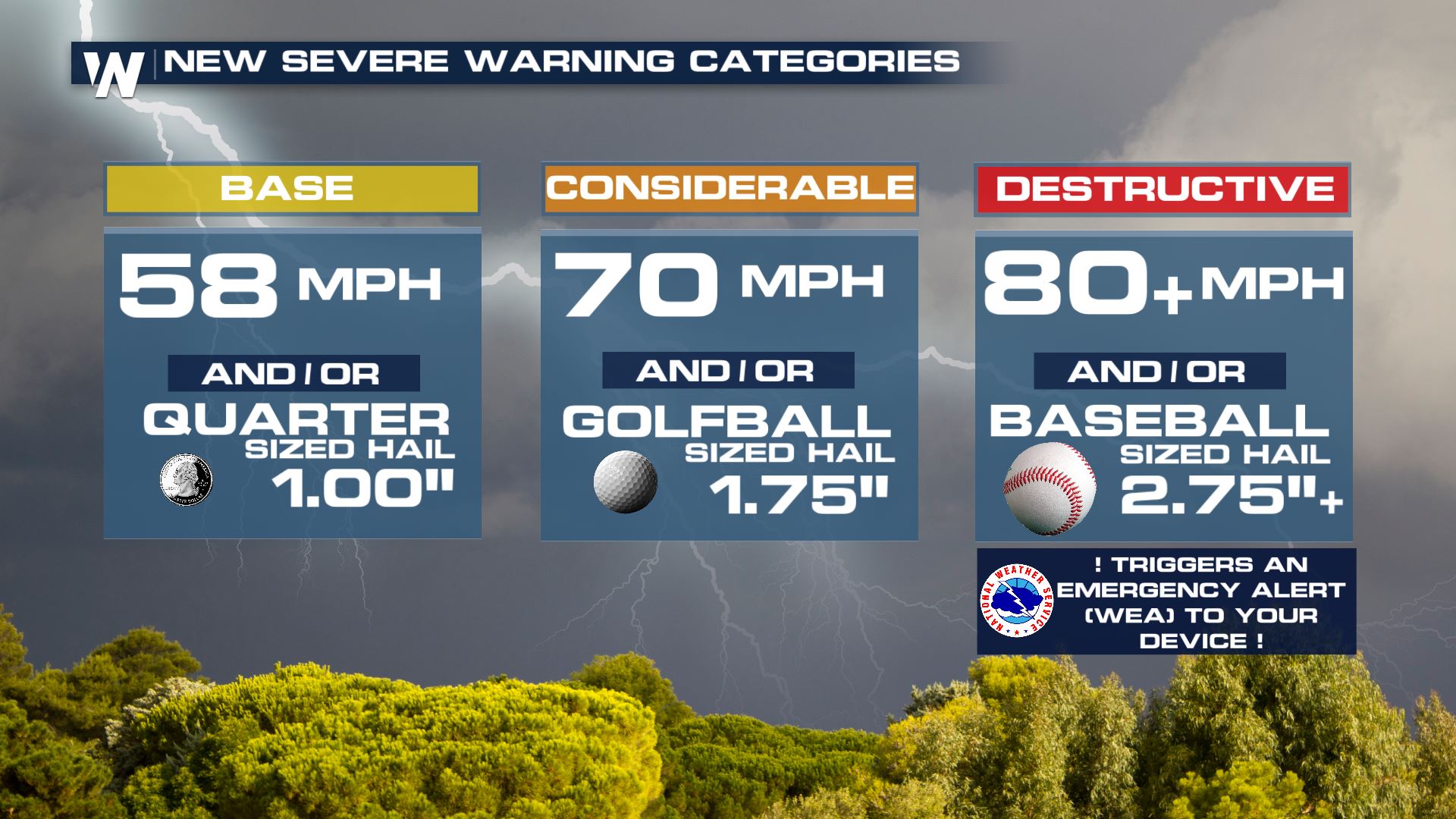 The other notable change to the IBW tag will be the language used to describe the maximum potential threat of hail or wind in a storm. Previously, warnings indicated a maximum potential wind speed or hail size next to the word "hail" or "wind." An example of the current format has been posted below.

With the upgrade, these tags will now appear as follows.

Each category will now have a word indicating whether the hazard has been observed or is based on radar data. The size or speed of the threat will then be indicated after the word "max hail size" or "max wind gust." The changes are expected to be implemented on or around the 28th of April, according to this release from the
National Weather Service.
Severe thunderstorms that receive the "destructive" tag will be recommended to activate a Wireless Emergency Alert (WEA) for mobile devices in the area. This new system
was proposed during the summer of 2020.
The full write up on the proposed changes can be viewed
here
.