The verdicts are coming in. Some of Tuesday's storms across the Northeast were officially macrobursts. https://twitter.com/NWSAlbany/status/996880265439006721 Macrobursts are large swaths of damaging, straight-line winds. Many times you'll hear us say "microbursts" which are (of course) smaller in size and impact. Macrobursts don't come around all too often. https://twitter.com/WeatherNation/status/996942974368935937 The National Weather Service in Albany provided an excellent description of some of their findings Wednesday:
"A National Weather Service team determined that a macroburst occurred in southern Dutchess County, NY along the I-84 corridor roughly between Beacon/Wappingers Falls and East Fishkill/Hopewell Junction. The macroburst toppled/uprooted hundreds of trees. Some trees  fell on structures. There was limited direct damage from wind to structures with a fallen chimney noted as well as some siding ripped off a few homes. The damage is consistent with wind speeds in the 85 to 105 mph range. For reference...
A macroburst is a thunderstorm downdraft affecting an area at least 2.5 miles wide with peak winds lasting 5 to 20 minutes. The macroburst is a straight-line wind phenomena not associated with rotation...used to differentiate from tornadic winds. Macrobursts can produce as much if not more damage as tornadoes due to the size and scope of a macroburst."
- Courtesy NWS Albany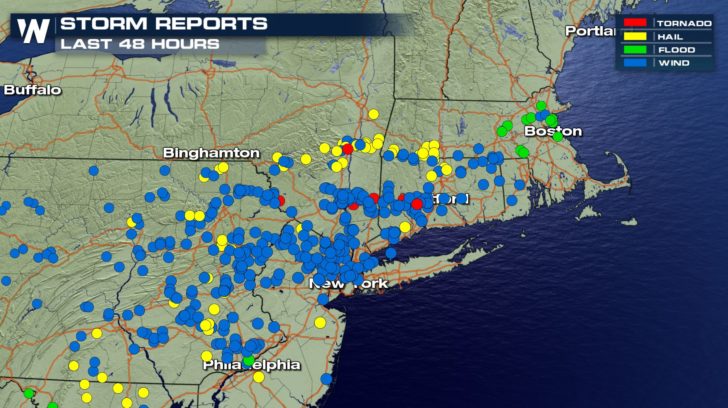 All of the storm reports from Tuesday, May 15 where blue dots show wind damage and red show tornadoes. The above-mentioned Dutchess County, NY macroburst was 8 miles long! Thus, these kinds of straight-line-wind events can be extremely dangerous. At 100-110 miles per hour we're talking a strong category 2 hurricane strength, or strong EF-1 tornado (but over the course of several miles!) When storm surveys are conducted, meteorologists look at the way the trees were knocked over. A simplistic way of determining if a tornado hit is to observe if all the trees fell in the same direction, or are knocked on the ground in many, differing directions. More storm surveys will be completed across the Northeast with more conclusions. If we find anything interesting from them, we'll pass it along! For WeatherNation, Meteorologist Steve Glazier