We are now within a month of the hurricane season officially kicking off in the Pacific Ocean. May 15th marks the beginning of the season, which then lasts a full 200 days until the culmination on November 30th. This year, the Pacific hurricane season begins on a Friday and ends on a Monday. Thus, it appears we get an extra weekend of hurricane season in the Pacific this year.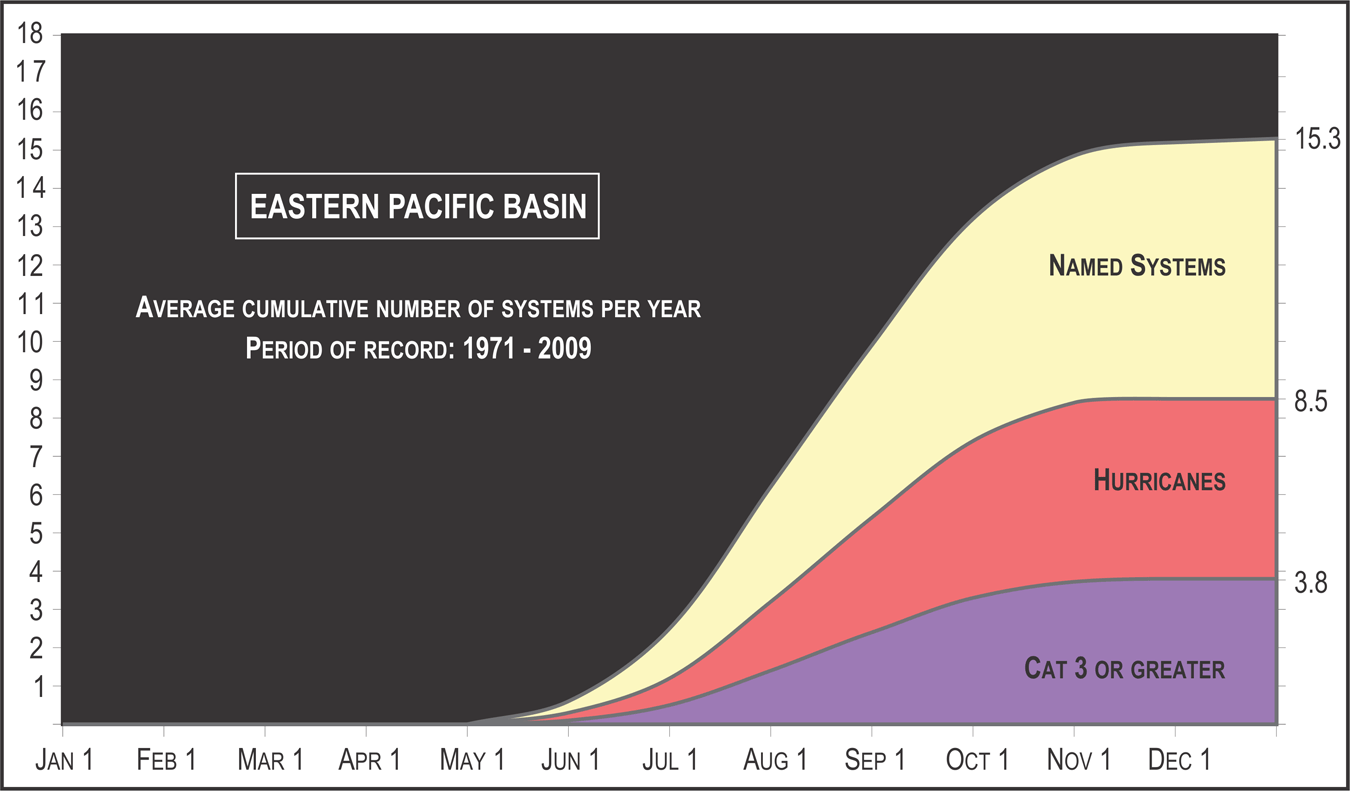 The average cumulative number of named storms (yellow) hurricanes (red) and major hurricanes (purple) in a calendar year for the Pacific Ocean. Credit: NOAA/NHC Historically, the Eastern Pacific basin produces 15 named storms (winds 39 mph and greater) per year, of which 8 become hurricanes (74+ mph) and of which 4 become major hurricanes (111+ mph). You probably don't hear much about most of these storms because history shows a majority of them form out to sea and remain out to sea. While the majority of these tropical cyclones form and remain over the open ocean, some bring impacts to land. Occasionally, southwest Mexico will experience torrential rain and mudslides from these storms. Sometimes a named storm will move through the Gulf of California (Sea of Cortez) and bring heavy rain to the Southwest United States. Lastly, a storm has been known to form in the eastern Pacific Ocean and travel west toward Hawaii (central Pacific Ocean) and then bring tropical impacts.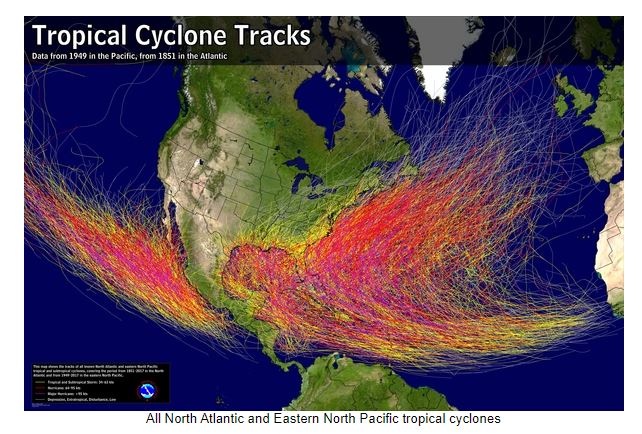 Historical tracks of tropical cyclones in the Atlantic and Pacific Ocean basins. Note: Most of the Pacific tropical cyclones remain out to sea, but some near land. Credit: NOAA/NHC While the hurricane season begins on May 15 in the Pacific, the average first named occurs on June 10. The average first hurricane forms on June 26, according to satellite data used by the National Hurricane Center since the early 1970's.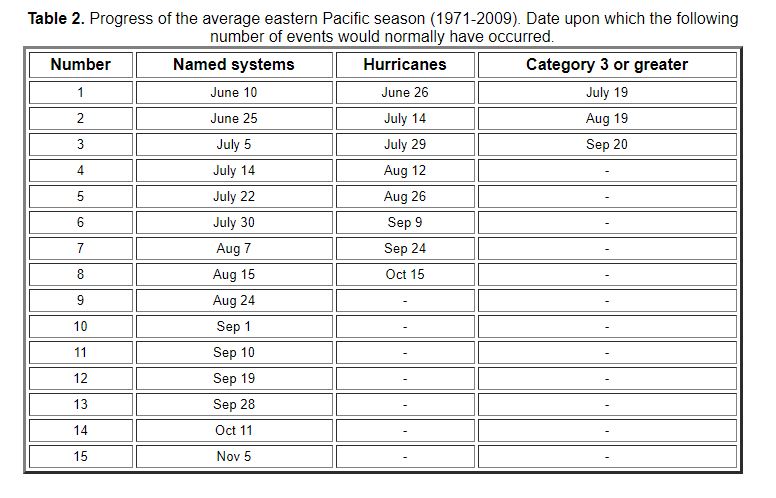 Climatology for Eastern Pacific tropical cyclones. Credit: NOAA/NHC Last year, the Pacific hurricane season was about-average. There were 17 named storms, 7 hurricanes and 4 major hurricanes (average is 15, 8, 4 respectively).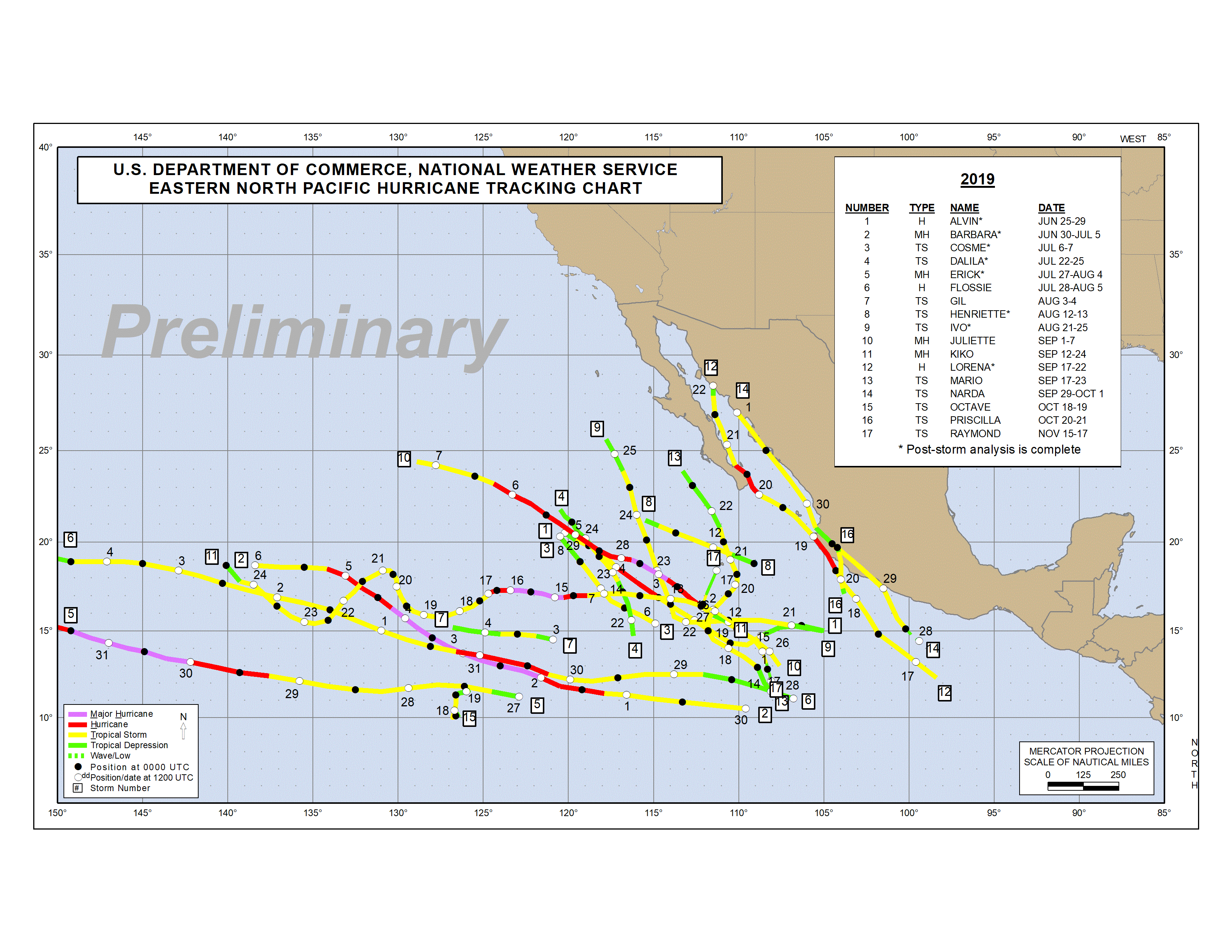 The 2019 Eastern Pacific tropical cyclone summary. Credit: NOAA/NHC A strong contributing factor to how active the season will be is the temperature of the Pacific Ocean relative to average. This year, we expect near-average to slightly cooler-than-average water temperatures in the Pacific Ocean during the peak of the hurricane season (July-September). This may result in a near-average or below-average season for the Pacific this year. Remember, it only takes one storm to hit your location for it to be an active season. Stay with us as we bring you the latest this hurricane season.