The Pacific Northwest has seen plenty of rain and snow lately.  A series of storms has brought copious amounts of moisture over the past few weeks.  Look at the snowfall accumulation in the past 24 hours alone.  The Cascades in Washington have received over a foot of new snow in many locations.  Lighter snow totals can be found in Spokane and northern Idaho.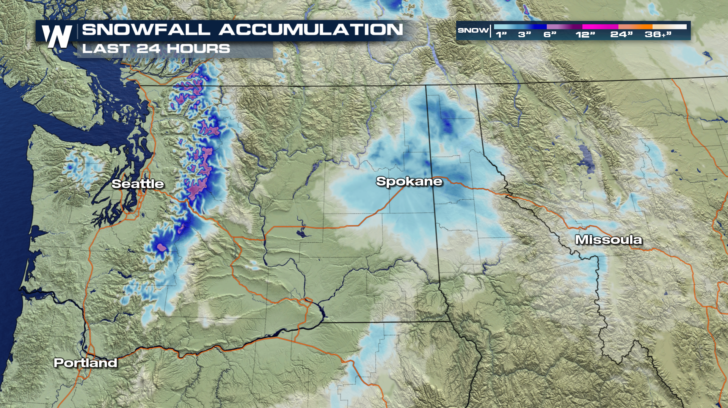 Snow reports from Tuesday and Wednesday are very impressive.  Lookout Pass in Montana received almost 3 feet of snow!  Even Lolo Pass, west of Missoula, got over a foot of fresh snow!  Other parts of Washington saw 2 feet of snow.  The ski resorts are loving it.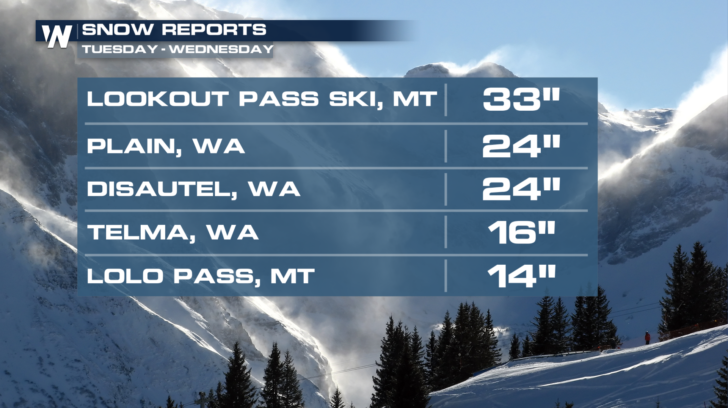 And we're not done yet!!  More snow is falling in the same spots today.  Winter Storm Warnings are up for the Cascades where another foot of snow is expected above 3,000 feet.  And Winter Weather Advisories are in effect north of Spokane for several more inches of snow.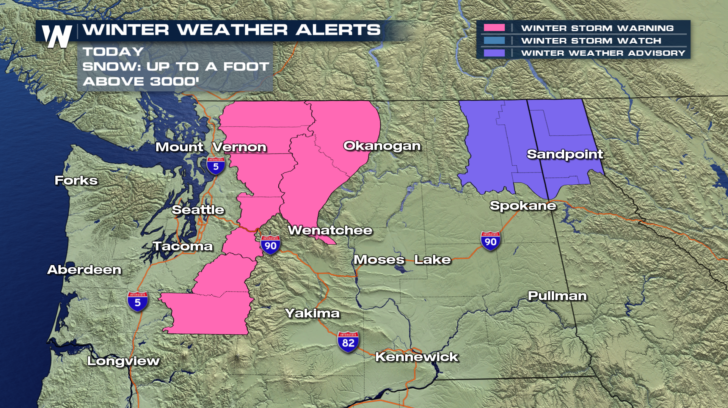 And where it isn't snowing, it's raining!  Northwestern Washington could see between 2 and 4 inches of rain.  Towns such as Forks, Aberdeen, Port Angeles, and Port Townsend are all included in the watch.  The watch is in effect through today.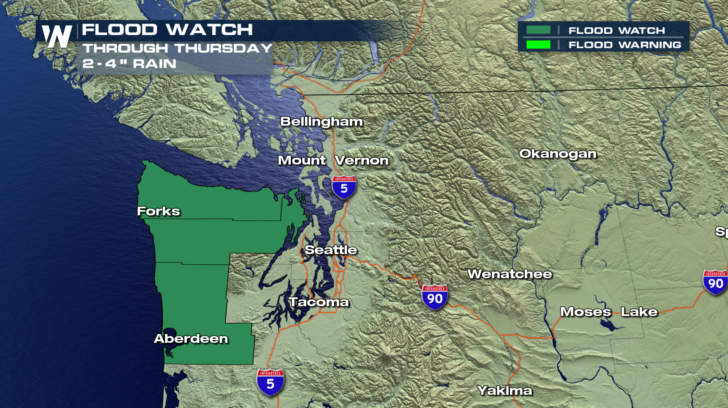 Another Pacific storm is coming onshore today.  That's the reason for all of the snow and rain.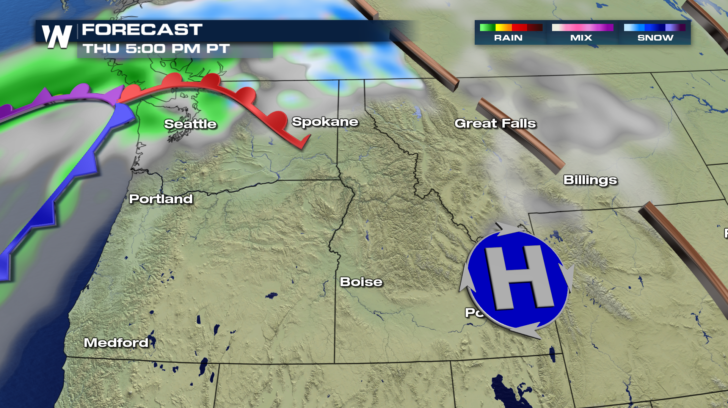 But even after the system moves well inland tomorrow, snow and rain will continue to funnel in behind the front.  So Friday will be another active day, with rain in the valleys, and snow in the mountains.  Moisture will also be dragged father inland as well, across Washington, Oregon, and even Idaho.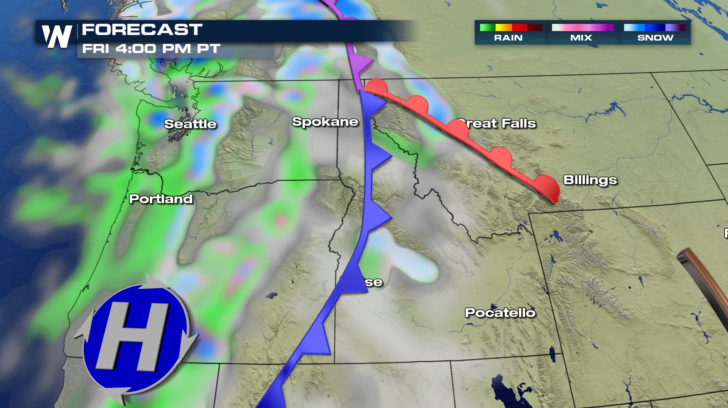 Check out the forecast snowfall through Saturday morning.  Where you see the bright pink areas, 12 to 24 inches are expected in the Cascades.  There's also a bulls-eye for a couple feet of snow over the Olympic Range, in-between Forks and Seattle.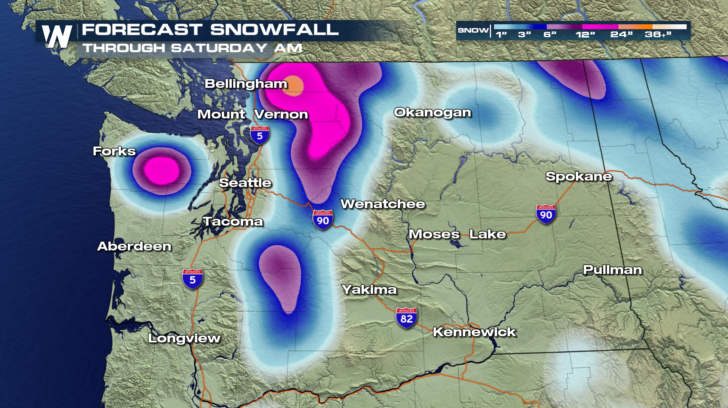 Saturday will be relatively quiet.  Dry conditions and sunshine is expected in most locations, after the current storm moves east.  However, by Sunday, the next storm will be poised to move onshore.  Rain will once again drench the west coast during the day.  And more mountain snow will be possible overnight Sunday into Monday.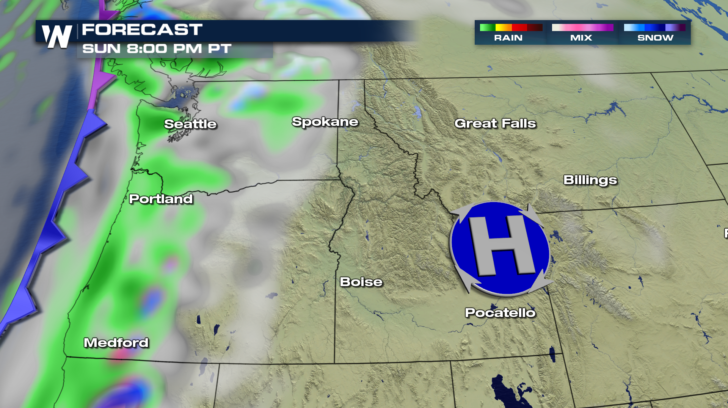 Below are 7-Day forecasts for Seattle and Portland.  Saturday is going to be the pick day of the weekend.   It's the day in-between weather systems.  Enjoy it, because it looks like more active weather is here to stay from Sunday through Wednesday.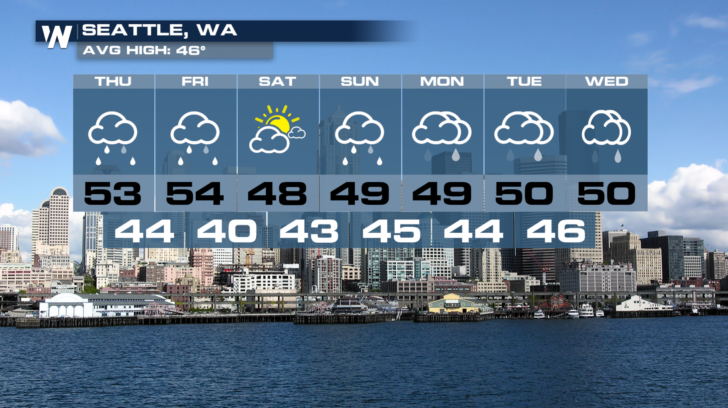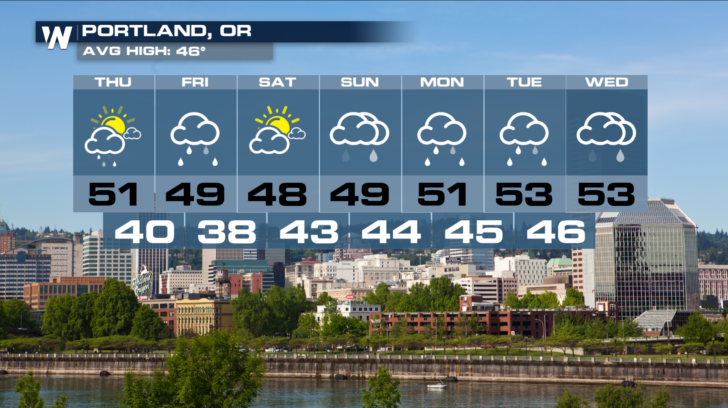 For the latest forecast, stay tuned to WeatherNation on Dish Network, Amazon Fire TV, Roku, and Apple TV. For WeatherNation:  Meteorologist Matt Monroe