When record low temperatures are set in places like International Falls, Minnesota, in January, you know the temperatures are brutally cold.  And that's exactly what's happening with the latest blast of polar air.  On Sunday, International Falls dropped to 46 degrees, BELOW zero!!  This new record shattered the old record by 10 degrees!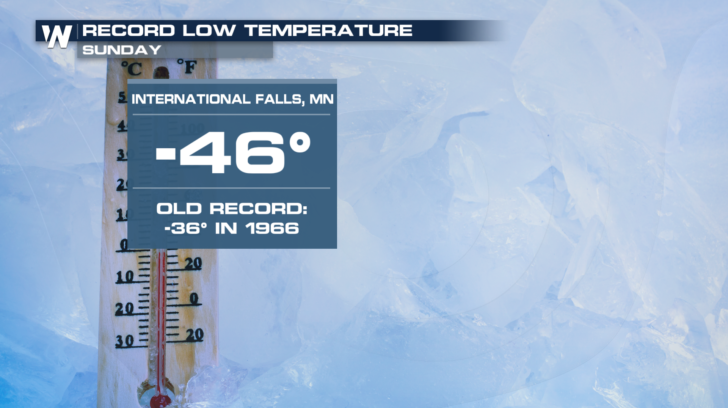 The weather pattern for the last few days of January is calling for a big dip in the jetstream.  These are the upper level winds that separate warmer air to the south, from colder air to the north.  As the jetstream drops southward, cold air also drops southward.  The southerly dip in the jetstream will be prolonged this time around, which will allow some of the coldest air of the winter to invade the northern U.S.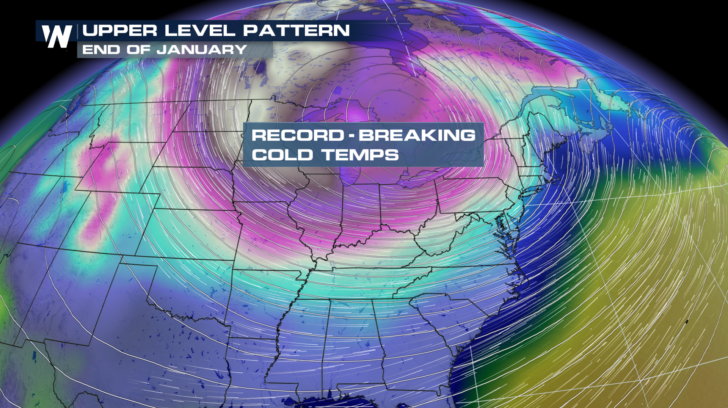 Check out some of the wind chill values for Tuesday morning.  Duluth, Minnesota could feel as cold a 60 degrees below zero with the wind chill.  Chicago will feel like 24 degrees below zero.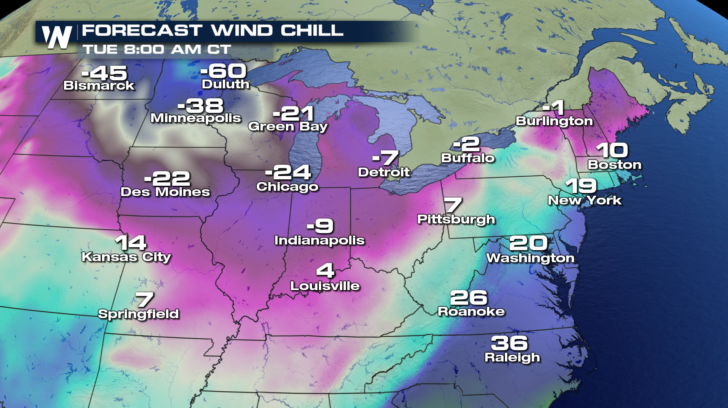 Temperatures will stay brutally cold through at least Thursday.  Wind chill alerts are in effect all the way through Thursday.  From the Canadian boarder, down to Kansas City, St. Louis, and eastward to Cleveland, every place is going to feel winter's grip.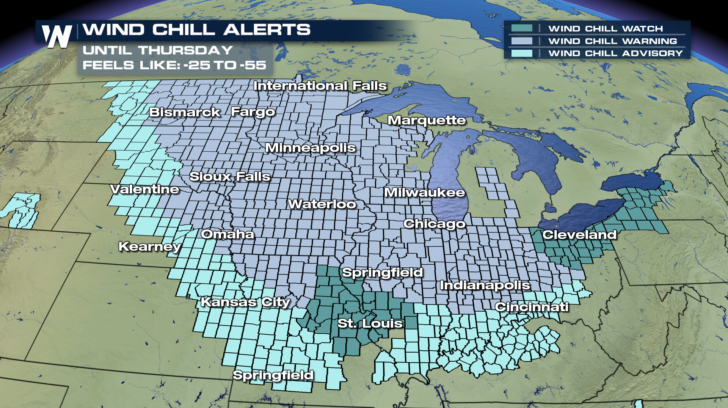 The cold blast will continue to press eastward on Wednesday morning.  Wind chills of negative 37 degrees and negative 33 degrees will visit Buffalo and Pittsburgh respectively.  Indianapolis will drop to 33 below zero.  Chicago could see wind chills as low as 50 degrees below zero!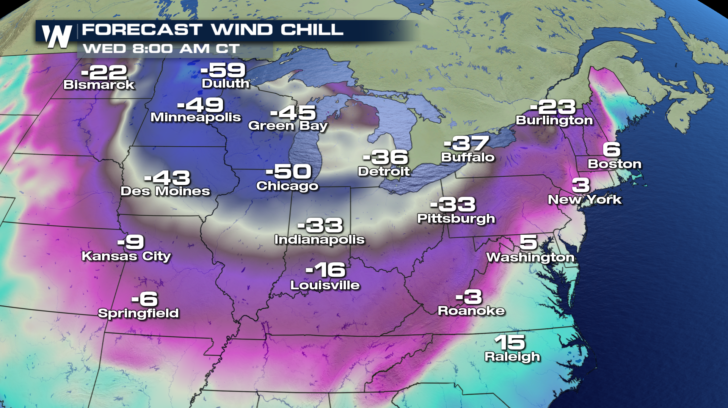 More record low temperatures will certainly be possible, especially on Wednesday and Thursday mornings.  Chicago, Detroit, and Cleveland will almost certainly be setting new record lows.  Minneapolis, Indianapolis, and Pittsburgh have good chances of setting new records too.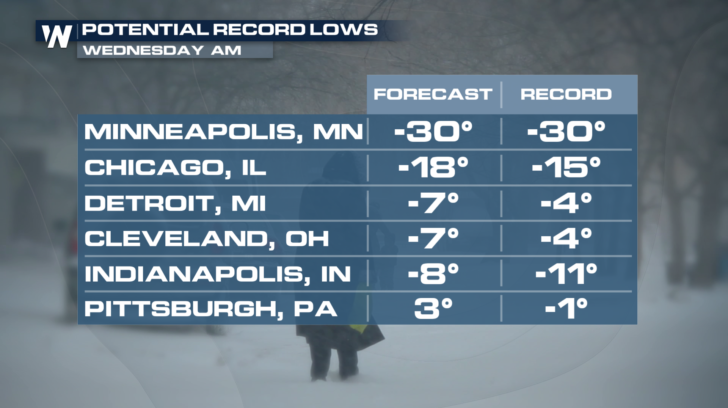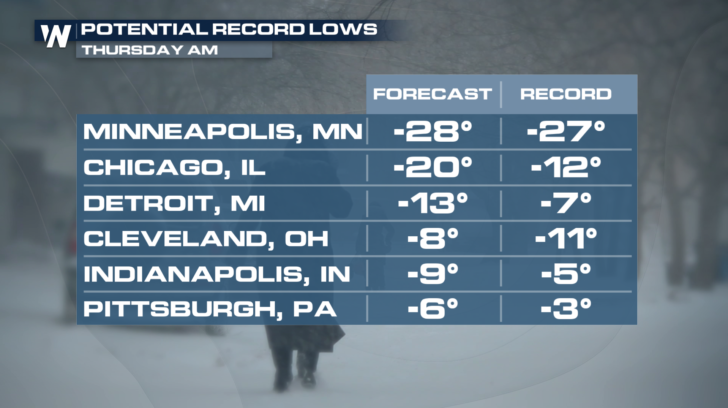 By Friday, we'll finally start to pull out of the tundra!  Temps will rise to above average levels in places like Sioux City.  Wednesday's high will be 3 degrees below zero.  On Saturday, highs will be near 45 degrees.  That's quite a nice comeback in just 72 hours.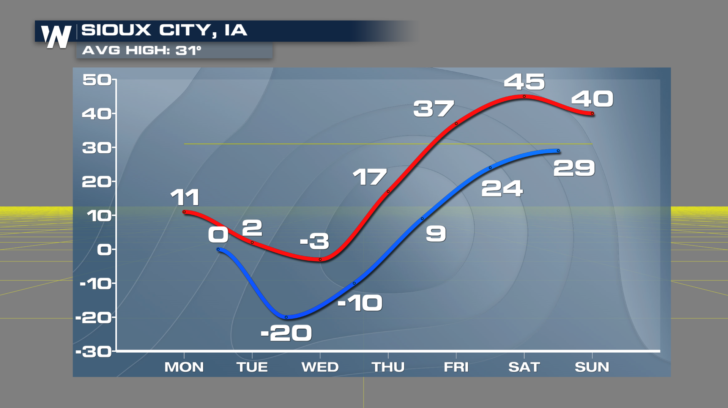 Chicago will also see temperatures bounce back after Thursday.  Temps over the weekend will be near 40, about 10 degrees above average.  Quite a rebound from a high of negative 14 degrees on Wednesday.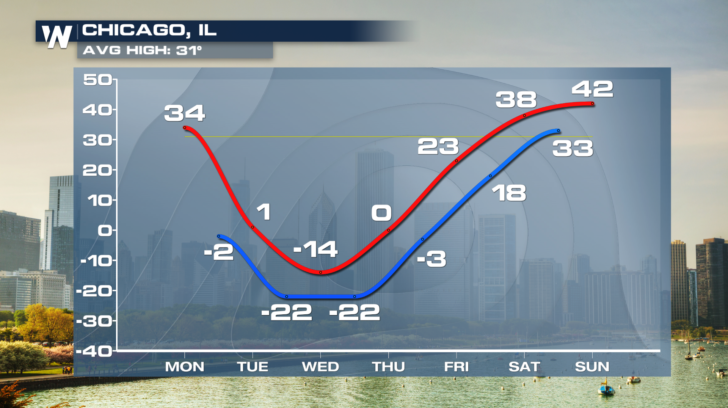 And after a high of 15 below zero on Wednesday, weekend temps will be in the low to mid 30's.  Just like Chicago and Sioux City, those weekend numbers are above average.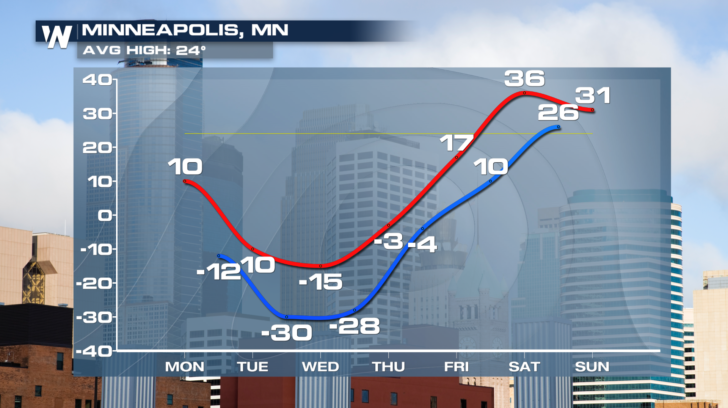 In summary, dangerously cold temps and wind chills will be in the northern U.S. for the next several days.  Limit your time outdoors, and take care to properly cover all areas of exposed skin.  Frostbite can occur in just minutes. Catch the very latest forecast on WeatherNation.  You can watch on the Dish Network, Roku, Firestick TV, Apple TV, and Pluto TV. For WeatherNation:  Meteorologist Matt Monroe