It's another hot stretch for Europe, with several all-time record high temperatures records broken. On Thursday (July 25), several countries including the Netherlands, Germany, Belgium, and the UK smashed their all-time record high temperatures records, as temperature peaked in a multi-day heat wave.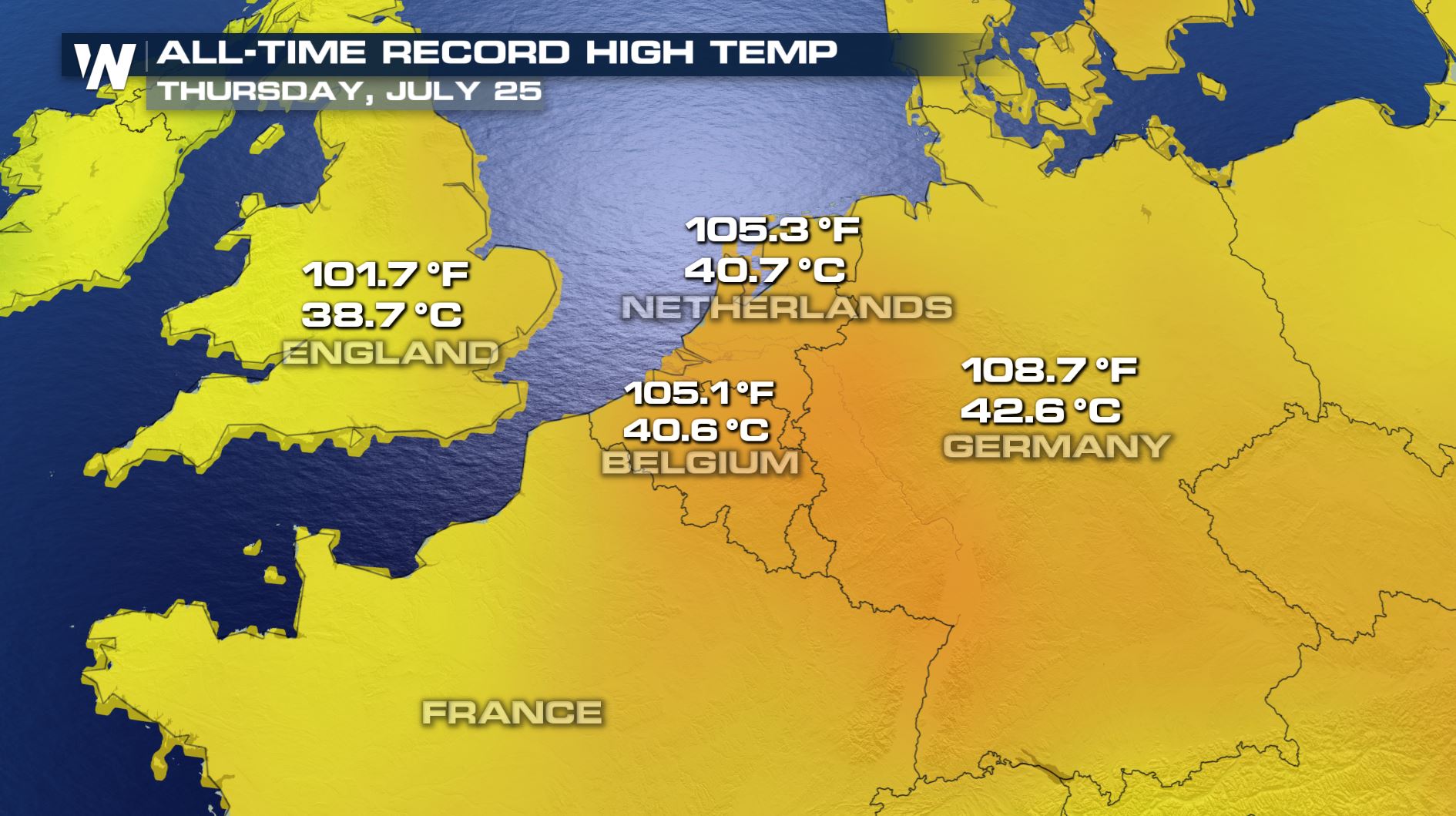 New on Friday, observation records were reviewed at the end of the day, to find that the new hottest temperature ever recorded in the UK was likely set at the Cambridge Botanic Garden at a sweltering 38.7 C (~101.7 F). While still under final review and verification, if verified this would officially break the old record for the UK of 38.5 C recorded in Faversham in August 2003. https://twitter.com/metoffice/status/1154754947197657088 A weather station in Lingen, Germany recorded a temperature of 42.6 Celcius (~108.7 Fahrenheit), making it a new record for highest temperature recorded in the country. According to the
World Meteorological Organization
, an international authority  on weather and climate, Germany's new record smashed the old record by 2.3 C. https://twitter.com/WMO/status/1154461870675365888 In Belgium, a temperature of 40.6 C (~105.1 F) was recorded, also setting a new country-wide all time record temperatures. For the Netherlands, the temperature 40.7 C (~105. 3 F) makes it the new all time high temperature record for the country. https://twitter.com/metoffice/status/1154448787932233728 In addition to country-wide records, there were several cities that set all-time record highs Thursday, including: -Paris (42.6 C/ 108.7 F) -Cambridge (38.1 C/100.6 F)
- initially this was found to be only the 2nd time temps had ever gone above 100 F in the UK. Now slipping to 3rd time, after the reading of 38.7 recorded at the Cambridge Botanic Garden
. -Writtle (37.7 C/ 99.9 F) -Edinburgh (31.6 C/ 88.9 F) London's Heathrow International Airport recorded a high temperature of 36.9 C (~98.4 F) Thursday, which beats the old record of 36.7 C (~98 F) at Heathrow.
Initially, this value was found to be the hottest temperature ever observed in the month of July- but the (previously mentioned) reading at Cambridge Botanic Garden of 38.7 C quickly slipped into 1st place, now holding the record, not only for July but for the entire UK of any month.    
https://youtu.be/oTLoOeY2GpY Thursday's temperatures followed another day of record highs on Wednesday (July 24th) when all-time record highs were broken in Germany,
Belgium
and the
Netherlands
where temperatures topped over 100 degrees each. Thursday temperatures were hotter, as the heat wave and temperatures peaked Thursday. Many European regions also set records Tuesday. According to Météo-France, the French official weather service organization,
all time record highs were also observed on Tuesday
, with the western part of the country baking over 40 C (~104 F). Météo-France also notes that record
high-minimum temperatures were also set on Tuesday morning
, with overnight lows remaining quite warm, remaining over 22 C (> 71 F).
Météo-France is warning that the heatwave will accentuate the drought
 because it has not rained in many parts of the country since the end of the last heatwave at the start of July. A number of places have set new records for the lowest amount of rainfall since records started, including 0.2 mm at Orly airport, 1 mm in Lille. The reason behind the heat? A stagnant weather pattern, keeping a persistent High pressure to the east, and slow moving Low pressure to the west. The air flowing around each pressure area causes a persistent south wind, pumping in hot air from Africa and the Iberian Peninsula from the south.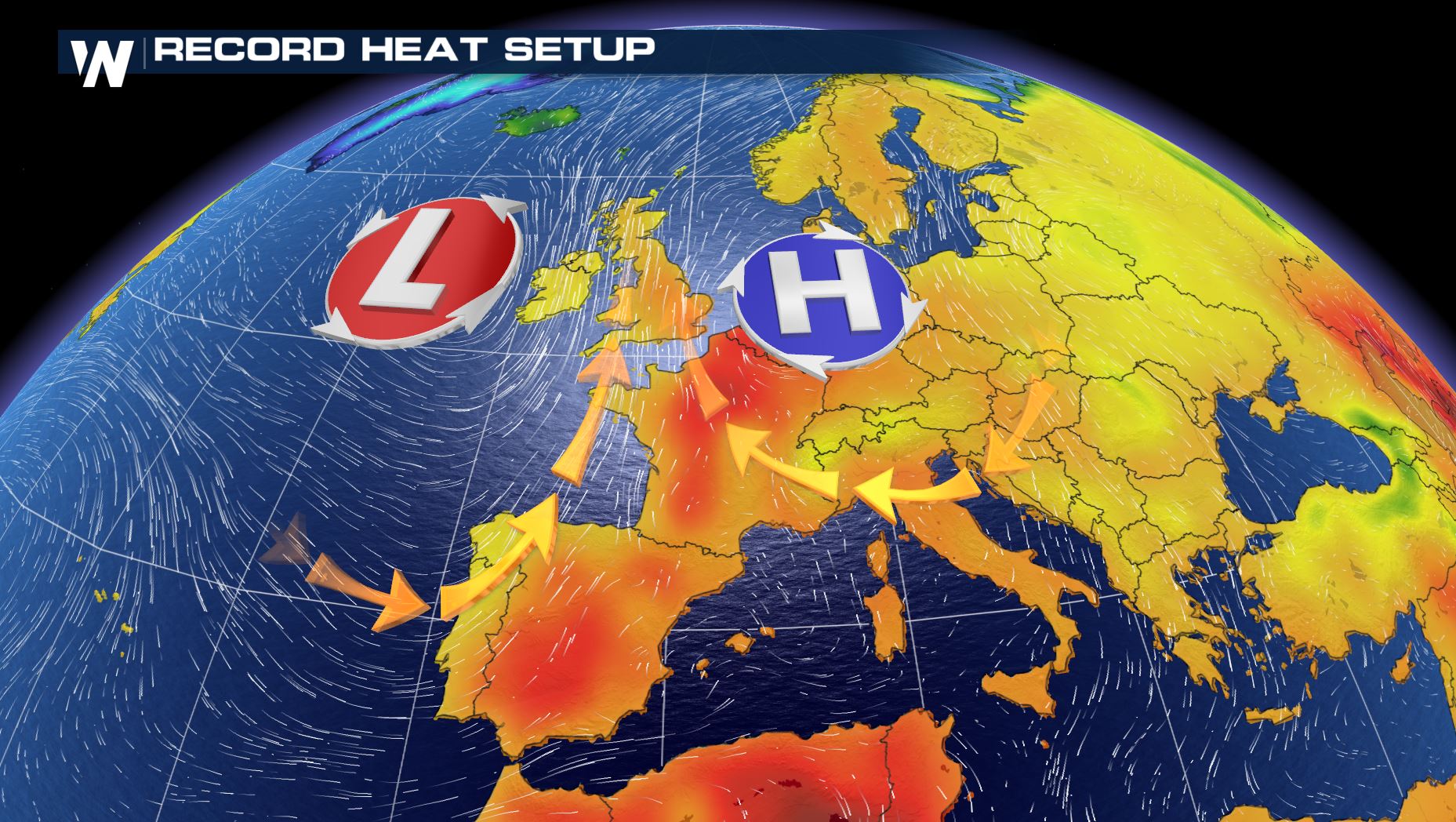 The high temperatures are also being attributed to a changing global climate.
Climatologists say long term weather records show temperatures have been getting consistently hotter, not only in the UK, but in many parts of the world
. "Such intense and widespread heatwaves carry the signature of man-made climate change," explains Johannes Cullmann, Director of WMO's Climate and Water Department. "This is consistent with the scientific finding showing evidence of more frequent, drawn out and intense heat events as greenhouse gas concentrations lead to a rise in global temperatures." This recent stretch of heat comes on the heels of record heat observed in late June earlier this year in Europe, when temperatures soared to nearly 115 F in parts of France, setting the new national record for the country. [
Related article: All Time Record Heat Grips Europe
] Thunderstorms Friday broke the heat for some parts of the UK and western France - rare thunderstorms caused excessive hail in France, causing the Tour de France to be called off. https://www.facebook.com/WeatherNation/videos/vb.129524519873/369618660403960/?type=2&theater
Written for WeatherNation by meteorologist Kerrin Jeromin