Severe weather season doesn't usually ramp up in the southeastern U.S. until March.  But this weekend, strong to severe thunderstorms are a definite possibility in that part of the country.  A fairly strong cold front will provide the lift and instability need to trigger storms, capable of producing straight line wind damage, and even isolated tornadoes.  It's a situation that certainly bears watching. Here's the set-up: A slow moving cold front is plowing its way through the southeast, as lots of moisture works northward from the Gulf of Mexico.  The area where the front clashes with the gulf moisture, will be the breeding ground for heavy rain, and severe storms.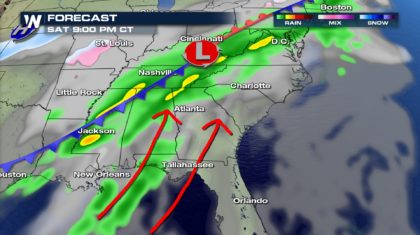 There are five categories of severe storm potential.  They are, in order from the lowest threat level to the highest... Marginal, Slight, Enhanced, Moderate, and High.  On Saturday, the area shaded in green on the map below will be in the Marginal Threat category.  The area shaded in yellow will have a higher risk of severe storms, and will be in the Slight Threat category.  Towns with a higher risk of severe storms include Hattiesburg and New Orleans.  It's important to note that hundreds of thousands of people are in New Orleans this weekend for Mardi Gras.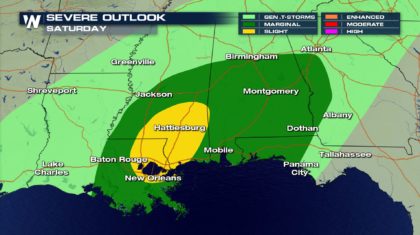 If severe weather does develop, the main threat will be winds in excess of 58 mph.  There is a 5% chance of this happening in the area shaded in brown, and a 15% chance in the yellow shaded area.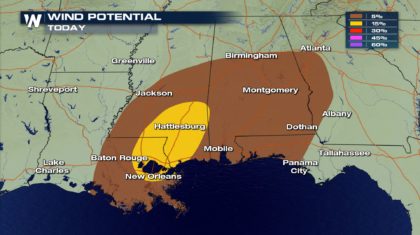 There could also be isolated tornadoes with this system.  There is a 2% chance of a tornado occurring in towns within the green shaded area, and a 5% chance of tornadoes within the brown shaded area.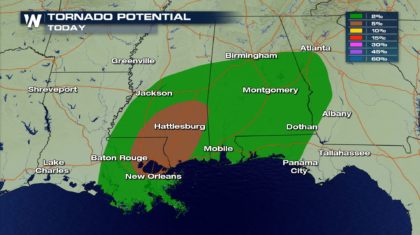 The cold front is moving very slowly.  This will create another Marginal Threat for severe storms within the dark green shaded area on Sunday.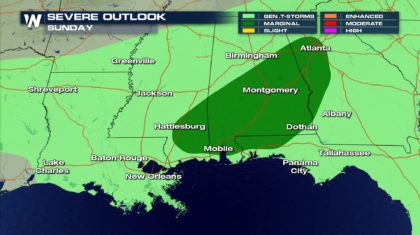 Flooding could also be a problem.  The slow moving front will create very heavy bands of rain.  The southeast already had soaking rain earlier this week from another cold front.  Some areas could see up to six inches of rain, falling on saturated soils.  Rivers, creeks, and streams that are already running high could overflow their banks.  And Flash Flooding could occur in mountainous and hilly regions.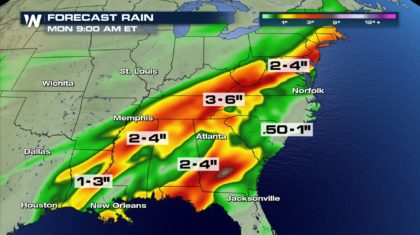 A large area is under a Flash Flood Watch this weekend.  This watch extends from northern New Jersey, all the way down to Montgomery, Alabama.  If you encounter flooded roadways while driving this weekend, it is always a good idea to take another route.  As the National Weather Service says, "Turn Around, Don't Drown".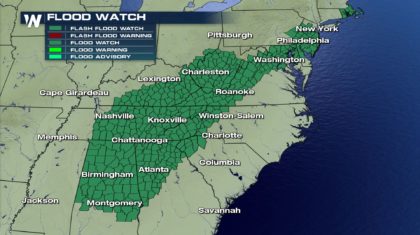 You can get the very latest on this developing weather system on WeatherNation TV.  There's also information on the WeatherNation Facebook and Twitter pages. For WeatherNation:  Meteorologist Matt Monroe