Dense Smoke Advisory.  Freezing Spray Advisory.  Lake Wind Advisory.  People who are weather-savvy and in tune with the products issued by the National Weather Service have probably heard of these weather alerts.  For most people, however, these terms can be confusing.  Amazingly---as of June 2020---there are currently
24
different types of Advisories issued by the National Weather Service!  That figure rises well over
100
if all Watch and Warning products are included. Because of this, the National Weather Service has embarked on a project called
Hazard Simplification
.  This project proposes to overhaul and streamline their current Watch, Warning, and Advisory system---a system that has been in place for decades. https://twitter.com/NWS/status/1271153072480321537 As part of ongoing efforts to make the United States a 
Weather-Ready Nation
, the National Weather Service formally started the Hazard Simplification project in 2014.  Through numerous focus groups, workshops, case studies, and tests, the National Weather Service has compiled data and received feedback from emergency managers, broadcast meteorologists, private sector partners, and social scientists.  The goal was to find out how people and agencies used, understood, and reacted to the current Watch, Warning, and Advisory system. Now, the National Weather Service wants to hear from you!
CLICK HERE TO TAKE THE SURVEY
. Let's take a look at the possible changes that may take place in the future.  One of the main concerns is the lack of public understanding of the current three-tier system (Watch, Warning, and Advisory).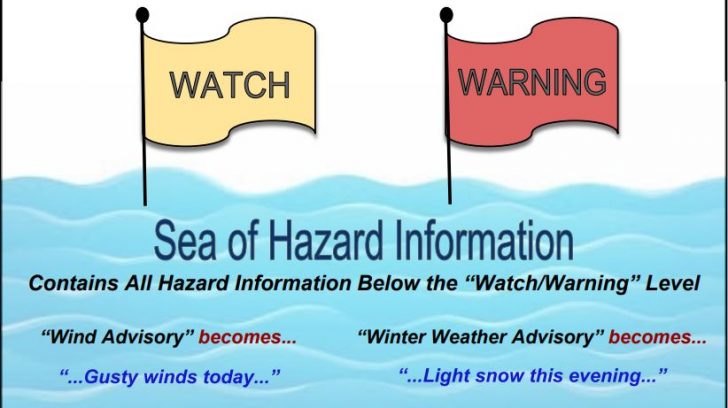 A proposal to simplify weather alerts from NWS. This move proposes we go toward a two-tier system, watch or warning. Prepare or take action. We already do this, as watches (prepare) are issued for weather events that haven't started yet (tornado watch issued to prep you for the possibility of tornadoes within the next several hours) and warnings (act now) are issued for weather events that are happening now (or about to happen very shortly).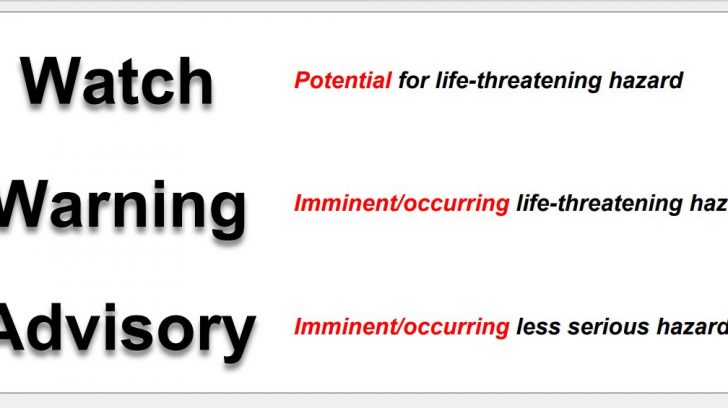 Watches, warnings, and advisories as described by NWS. But the term "advisory" kind-of sits in the middle of a watch and warning. It sits a little closer, technically, to warning because it applies to hazardous weather that is about to happen or is already occurring. However, it's a smaller, lesser anticipated impact than warning. That's where the National Weather Service wants to simplify its message. To be clear, a weather statement would still get issued. It's not as though an advisory is thrown away and no weather message is sent. Instead, a plain language statement would replace the advisory. Here's an example: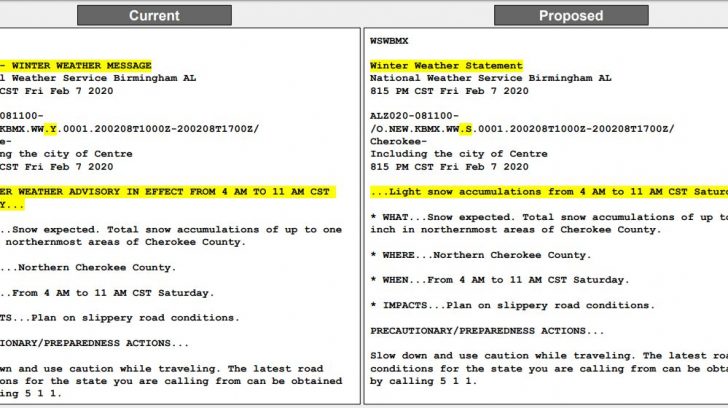 Example of a current winter weather advisory (left) and proposed winter weather statement (right). There are also some other types of weather alerts you may not have heard of. These include Short Term Forecasts and Special Weather Statements that don't meet criteria to technically be warnings, but are still impactful. These would also get streamlined into a similar plain language statement. Example: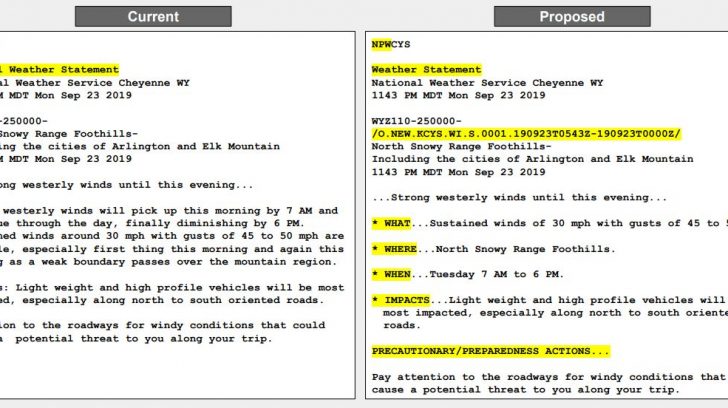 Example of a current special weather statement (left) and a proposed, simplified weather statement (right). The
SURVEY
only takes 5 to 10 minutes to complete and your answers help shape the future of weather alerts. You can also e-mail hazsimp@noaa.gov with comments.  Public comment is open through late August 2020 and a final recommendation will come in September 2020. WeatherNation meteorologists Steve Glazier & Joe Astolfi contributed to this article.