Snow will by flying once again across the western U.S. through Monday.  This great news for many areas, where snowpack is still below normal.  Check out the snow stats for Tahoe City, California.  They have received well over four feet of snow since Wednesday!  Many thanks to the National Weather Service in Reno for this information. https://twitter.com/NWSReno/status/975077045981057026 While most locations won't be seeing feet of snow through Monday, the map below shows that significant snow is coming to the western part of the country.  The areas shaded in blue are expecting 2 to 5 inches of snow.  Areas shaded in purple are expecting over 6 inches of snow through Monday.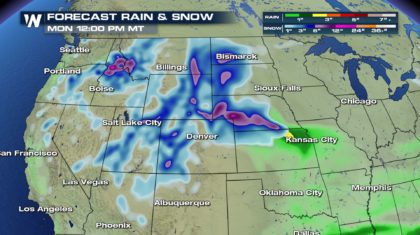 Southern California will see some mountain snow.  Places like Lake Arrowhead and Big Bear Lake will be a winter wonderland.  Just an inch of snow is expected between 4,000 and 5,000 feet.  Above 5,000 feet 2 to 5 inches are on the way.  5 to 7 inches are expected above 6,000 feet.  Winter weather advisories are in effect through 3 am Sunday morning. South central Oregon is under a winter weather advisory until 11 pm Saturday night.  3 to 5 inches of snow is coming to eastern Klamath County and south Lake County.  The Warner Mountains in north central California will receive similar amounts.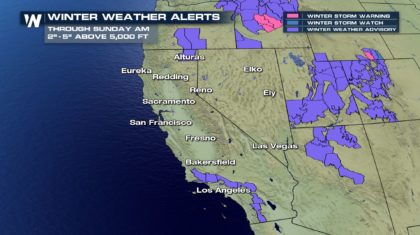 Winter Storm Warnings, the pink shaded areas in the map below, are up for central Idaho through 6pm Saturday.  Bellevue, Ketchum, Sun Valley, Stanley, and Arco will see 4 to 7 inches, with local amounts up to 12 inches.  Winter Weather Advisories, the purple shaded areas, are in effect through 6am Sunday morning.  1 to 3 inches are expected.  However, 3 to 6 inches are on the way for elevations over 6,000 feet.  And higher terrain, such as Lost Trail Pass, could see up to a foot of snow! Western Montana also has Winter Weather Advisories up through Noon Sunday.  Snow, sleet, and even ice will be in play, with 2 inches of snow possible.  Light glaze could also ice over area roads, making travel extremely hazardous.  Please use caution when driving.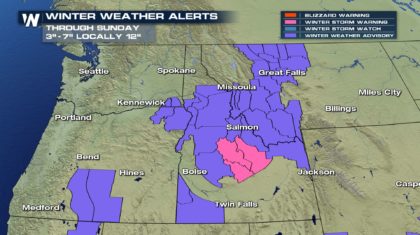 The Four Corners region is in dire need of moisture, and luckily, it's on the way for portions of Utah, Arizona, and Colorado.  In Utah, Winter Weather Advisories are in effect through Noon Sunday.  The central and southern Wasatch will receive 5 to 10 inches of snow above 4,500 feet.  Valleys will see periodic snow and slush on roads.  Southwestern Wyoming will also get snow, between 2 and 4 inches.  Colorado will also benefit from some healthy snowfall.  Winter alerts are in effect from 3am Sunday morning through Noon Monday.  The Rockies will generally pick up 4" to 10" of fresh power.  Aspen and Vail have 4 to 8 inches in their forecasts.  Telluride could see a little more, between 5 and 10 inches.  Great news for skies there!  And northern Arizona has snow on the way too!  Winter Weather Advisories are in effect through Noon Sunday.  Areas above 5,000 feet can expect 2 to 5 inches, with isolated totals up to 7 inches.  Flagstaff has 3 to 5 inches in its forecast.  And there will be snow on both the north and south rims of the Grand Canyon.  3 to 5 inches are expected on the South Rim, 4 to 8 inches are expected on the North Rim.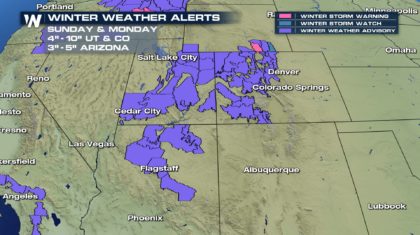 For WeatherNation:  Meteorologist Matt Monroe