ABOVE - Evolution of the Solar Cycle 24. Credit: Dan Seaton/European Space Agency (Collage by NOAA/JPL-Caltech)
The National Oceanic and Atmospheric Administration (NOAA) Space Weather Prediction Center has revised its predictions for Solar Cycle 25 calling for "solar activity to increase more quickly and peak at a higher level than previously predicted".
The forecasted peak of Solar Cycle 25 is now expected between January and October 2024 with 137-173 sunspots. This is a change from the original forecast released in 2019 which called for the peak in July 2025 with 115 sunspots. The average number of sunspots over the 100-year monitoring history is 179, meaning solar cycle 25 is expected to be weaker than normal.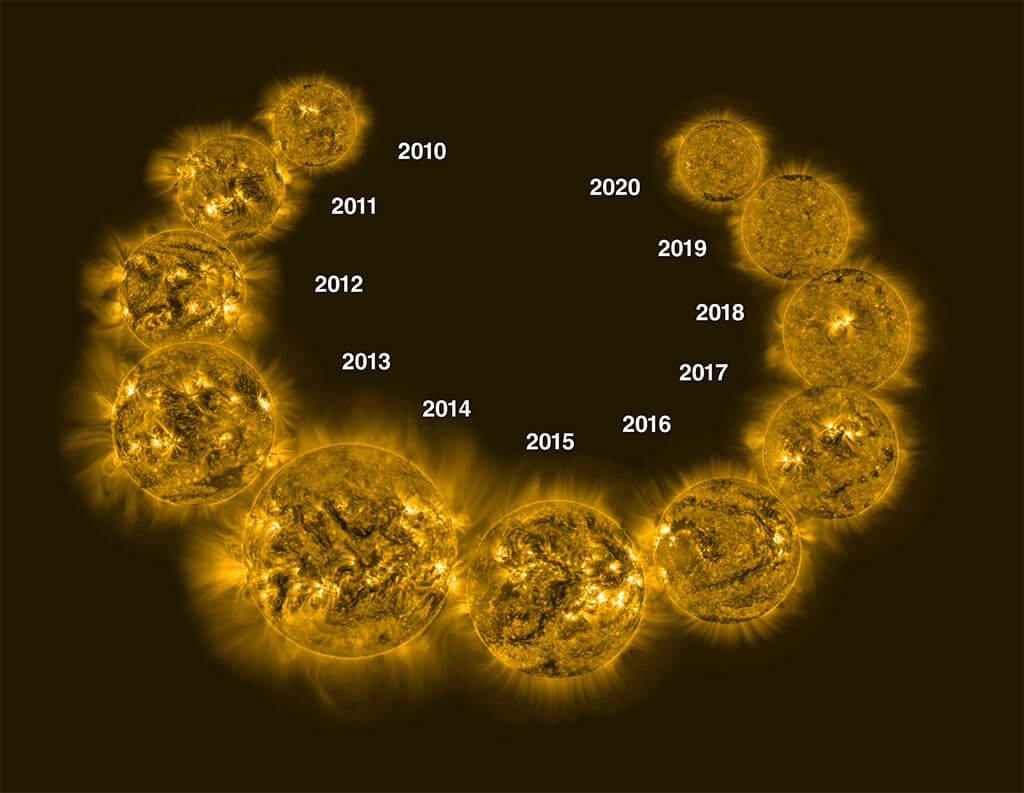 Evolution of the Sun in extreme ultraviolet light from 2010 through 2020, as seen from the telescope aboard Europe's PROBA2 spacecraft. Credit: Dan Seaton/European Space Agency (Collage by NOAA/JPL-Caltech)
According to NASA, a solar cycle is "the cycle that the Sun's magnetic field goes through approximately every 11 years ... when the magnetic field flips poles"! NASA continues, "The solar cycle affects activity on the surface of the Sun, such as sunspots which are caused by the Sun's magnetic fields".
Sunspots can interfere with the electrical grid, GPS signals, and satellites along with radiation threats to astronauts & airlines. For example, according to NOAA, "even minor space weather events can have major impacts. After a successful launch from Cape Canaveral, Florida in early February 2022, minor geomagnetic storming caused 38 of 49 SpaceX Starlink satellites to fail to reach their final orbit, instead burning up during unplanned reentry into Earth's atmosphere."
In addition to impacting the magnetic field of Earth and radiation the Peak of Solar Cycle 25 will occur around the same time as the total solar eclipse over the United States on April 8, 2024. This means we could see a more impressive corona (outer atmosphere of the sun only visible in an eclipse) due to enhanced solar activity.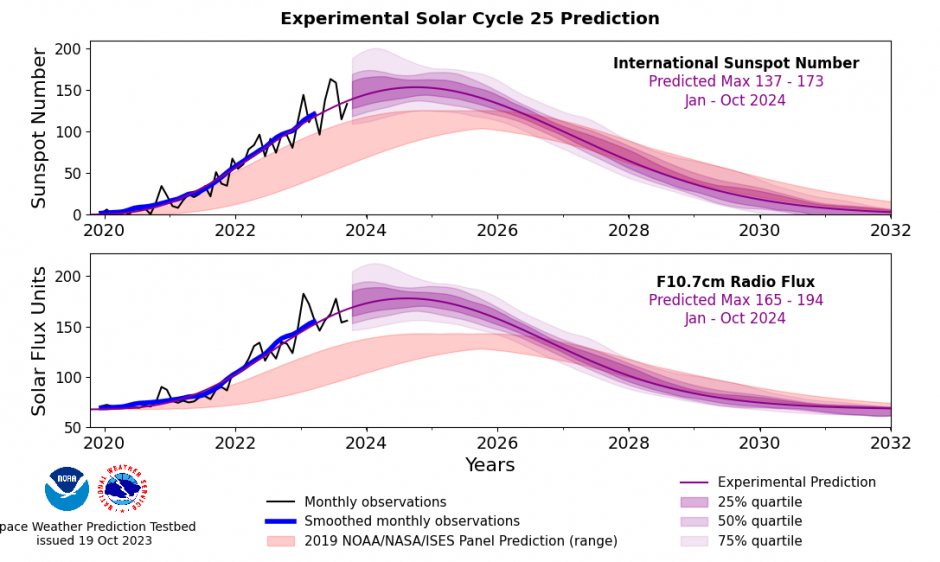 The last time the Solar Cycle forecast was updated was in 2019 when it was released, but new forecasts will be updated monthly to improve accuracy. This is thanks to better observations of sunspots & solar flares that give real-time data of sun activity.