A
powerful storm system will bring flooding rain, severe thunderstorms, snow, and ice
to the southern United States as the week wraps up.  This storm has already brought rain and snow to the southwestern part of the country.  In fact,
flooding and mudslides
were a concern Thursday in the wildfire burn scar areas west of Los Angeles. Higher up in elevation, snow will continue to coat mountain ranges from California to Colorado into Friday morning.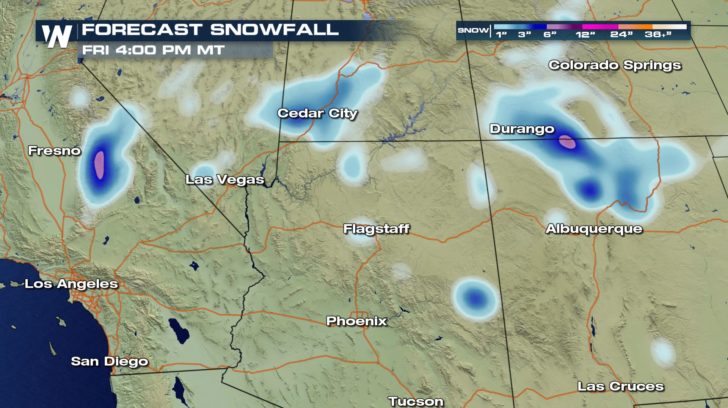 In southern California, several mountain ranges---including the San Bernardino, Ventura, and Los Angeles County mountains---can expect several inches of snow.  Above 4,000 feet, snow will accumulate between 2 and 4 inches.  Above 6,000 feet, snow accumulations will range between 3 and 6 inches.  Mountain elevations above 7,000 feet may potentially pick up 5 to 10 inches of snow.  Near Las Vegas, the Spring Mountains can expect 6 to 10 inches of snow above 6,000 feet.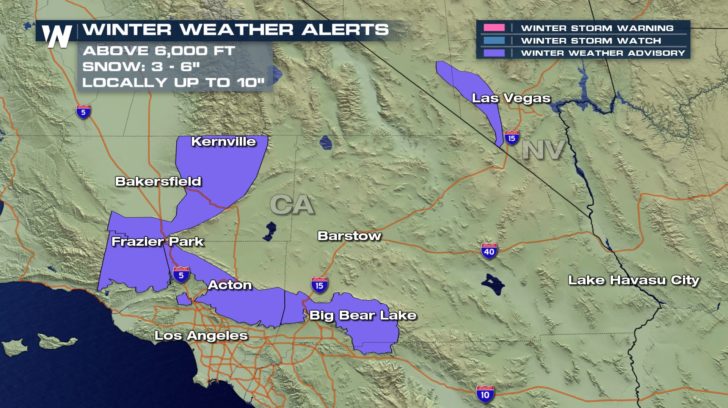 Further east in Arizona, the White Mountains of Graham and Greenlee Counties, the Galiuro and Pinaleno Mountains, and the Catalina and Rincon Mountains will pick up a few inches of snowfall.  Above 8,000 feet, 2 to 6 inches of snow is expected.  A few isolated locations above 8,500 feet may accumulate up to 12 inches of new snow.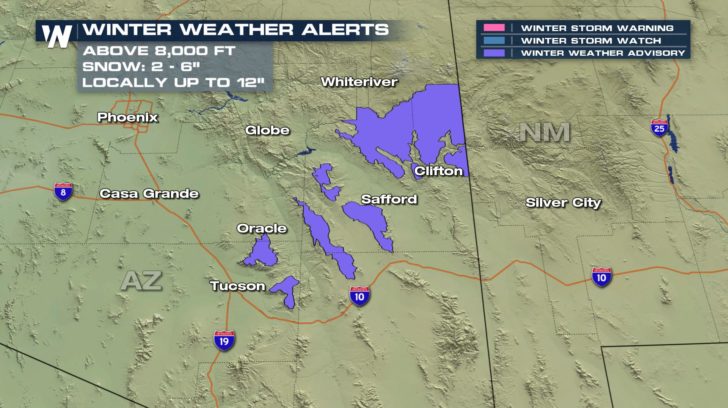 North into Colorado, the San Juan Mountains will add some fresh powder to their base.  Total snow accumulations of 3 to 8 inches are likely in the mountains.  In lower elevations, such as the San Juan River basin and Animas River basin, snow totals will be between 2 and 5 inches.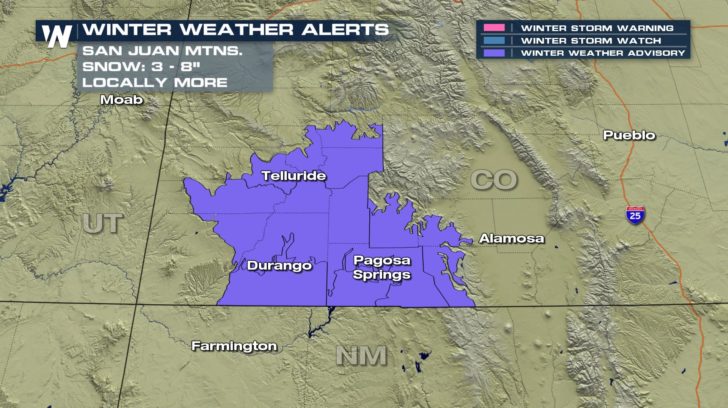 Be sure to track this storm as it moves across the southern United States with
WeatherNation
.  You can watch us live and follow us on
Facebook
and
Twitter
for the latest information. -
Meteorologist Joe Astolfi