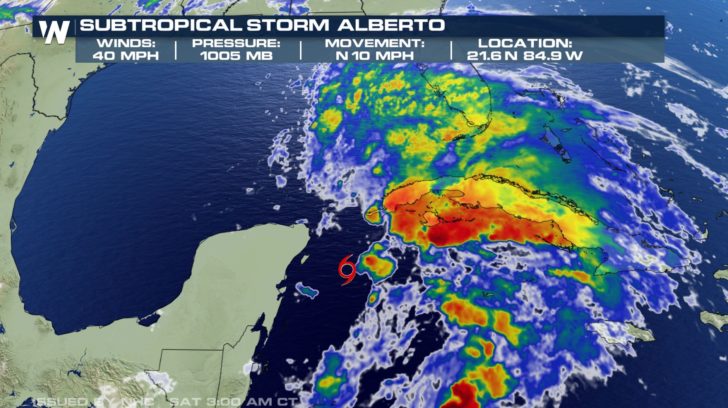 The state of Florida has declared a
state of emergency
in anticipation of the affects from Alberto. On Saturday morning, Governor Rick Scott made the statement covering all 67 Florida counties as the state continues to monitor and prepare for Subtropical Storm Alberto. By declaring this state of emergency, Governor Scott is ensuring that state and local government has ample time, resources and flexibility to get prepared for this storm.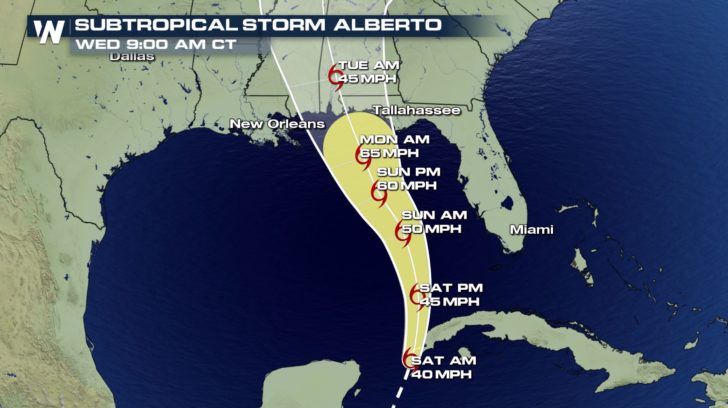 Governor Scott said, "As we continue to monitor Subtropical Storm Alberto's northward path toward Florida, it is critically important that all Florida counties have every available resource to keep families safe and prepare for the torrential rain and severe flooding this storm will bring." Flood watches have been issued for Florida with 3-5" of rain expected widespread, with locally high amounts. This comes on top of a very wet 2 weeks past for the Sunshine state.
Key West, FL set a monthly record for rainfall for May (click for story
)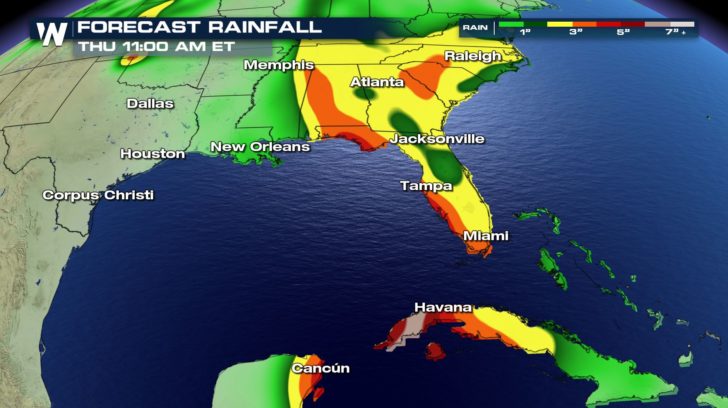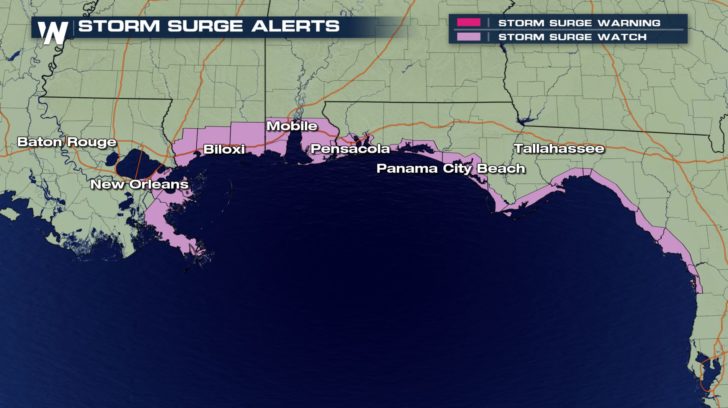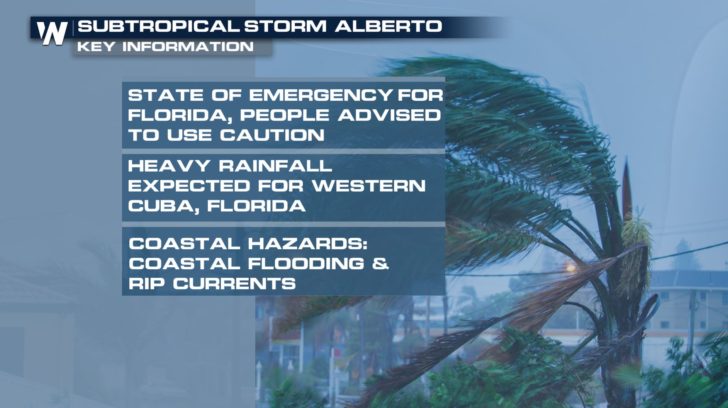 The latest on Subtropical Storm Alberto as of Saturday morning from the National Hurricane Center.
Subtropical Storm Alberto Advisory Number 5 NWS National Hurricane Center Miami FL AL012018 1100 AM EDT Sat May 26 2018 ...ALBERTO FORECAST TO STRENGTHEN WHILE MOVING NORTHWARD OVER THE GULF OF MEXICO... ...HEAVY RAINFALL EXPECTED TO AFFECT WESTERN CUBA...FLORIDA...AND THE NORTHEASTERN GULF COAST THROUGH THE WEEKEND... SUMMARY OF 1100 AM EDT...1500 UTC...INFORMATION ----------------------------------------------- LOCATION...21.6N 84.9W ABOUT 20 MI...35 KM S OF THE WESTERN TIP OF CUBA ABOUT 250 MI...400 KM SSW OF THE DRY TORTUGAS MAXIMUM SUSTAINED WINDS...40 MPH...65 KM/H PRESENT MOVEMENT...N OR 10 DEGREES AT 10 MPH...17 KM/H MINIMUM CENTRAL PRESSURE...1005 MB...29.68 INCHES HAZARDS AFFECTING LAND ---------------------- RAINFALL: Alberto is expected to produce total rain accumulations of 10 to 15 inches with isolated totals of 25 inches across western Cuba. These rains could produce life-threatening flash floods and mudslides. Rainfall accumulations of 3 to 7 inches with maximum amounts of 10 inches are possible across the Florida Keys and southern and southwest Florida. Heavy rains will begin to affect the central Gulf Coast region into the southeastern United States on Sunday and continue into the middle of next week as Alberto moves northward after landfall. Rainfall totals of 5 to 10 inches with maximum amounts of 15 inches are possible along the track of Alberto from eastern Louisiana, across much of Mississippi, Alabama, western Tennessee and the western Florida panhandle. Rainfall totals of 3 to 5 inches with maximum totals of 8 inches possible from the southern Appalachians into the coastal southeast. WIND: Tropical storm conditions are expected within portions of the warning area in Cuba through this evening. Tropical storm conditions are expected in the Dry Tortugas later today and tonight. Tropical storm conditions are possible in the watch area along the Florida west coast on Sunday, and along the northern Gulf Coast by Sunday night or early Monday. STORM SURGE: The combination of storm surge and the tide will cause normally dry areas near the coast to be flooded by rising waters moving inland from the shoreline. The water could reach the following heights above ground somewhere in the indicated areas if the peak surge occurs at the time of high tide... TORNADOES: A tornado or two may occur over the Florida Keys and parts of southwestern Florida late this afternoon through tonight. SURF: Swells generated by Alberto are affecting portions of the coast of eastern Yucatan Peninsula and western Cuba. These swells are likely to cause life-threatening surf and rip current conditions. Hazardous surf conditions are likely to develop along much of the central and eastern U.S. Gulf Coast through the weekend. For more information, consult products from your local weather office. NEXT ADVISORY ------------- Next intermediate advisory at 200 PM EDT. Next complete advisory at 500 PM EDT.