Thunder-Sleet and Thunder-Ice In the Midwest, Oh My!!
Just about anyone interested in the weather has heard of thunder-snow.  But Tuesday afternoon, places like Davenport and Clinton Iowa heard and saw a slightly different weather phenomenon. While it was sleeting, and freezing rain was forming at the surface…. thunder could be heard overhead!  Thunder-sleet and Thunder-ice was actually happening.  Very rare, and very exciting in the world of weather!
The National Weather Service Office in The Quad Cities had the forecast pegged…  "A mix of sleet and freezing rain with embedded thunderstorms".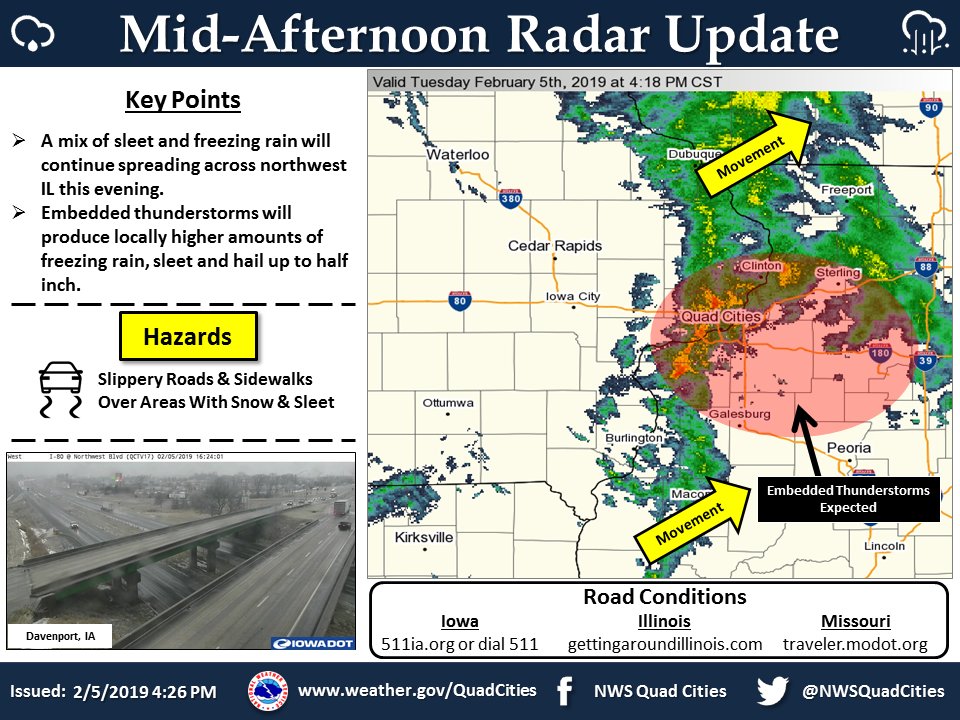 Here at WeatherNation, our doppler Vipir Radar picked up on the winter mix.  It also clearly saw the multiple lightning strikes near Clinton and Davenport.  So all the meteorologists at WeatherNation knew a unique winter weather event was underway.
Hail was falling too!  Luckily it was smaller than a penny, (and smaller than an inch in diameter), so it was not considered a severe weather event.  Hail smaller than an inch doesn't usually cause any damage to roofs or cars.
Impressive picture showing sleet, hail and freezing rain on a vehicle in Muscatine! There was enough instability in the storm to produce hail just under penny size. #iawx pic.twitter.com/xHp7q5AMZ8

— NWS Quad Cities (@NWSQuadCities) February 5, 2019
But how does all of this work?  How do we get thunder and hail amidst a winter weather storm?  The answer is quite complicated.  But in the simplest terms, it has a lot to do with vertical temperature profiles and dynamic energy in the atmosphere.  For sleet and freezing rain to happen, temperatures need to be below freezing just above and at the surface.  But for thunder and hail to occur, there needs to be a warmer layer of air above the sub-freezing layer.  This warmer air can then rise, much like hot air rises in the spring and summer.  This buoyant parcel of warmer air has more dynamic energy and lift.  This is the convective energy needed to form lightning, thunder, and hail.
So in short, the bottom level of the storm has winter-like components, while the mid to upper levels of the storm has features that resemble a spring or summer storm with warmer rising air.
Of course, with this latest storm system, there's a lot of concern over freezing rain. This can lead to black ice and treacherous driving conditions.  And the ice can cause many people to fall and injure themselves.
Check out the ice which quickly accumulated Tuesday afternoon in the parking lot outside the National Weather Service Office in the Quad Cities of Iowa.
Ice quickly accumulating on surfaces outside the office with the passing storm. Parking lot is also extremely slippery. Use caution if out! #iawx #ilwx #mowx pic.twitter.com/oxJhNM3zwb

— NWS Quad Cities (@NWSQuadCities) February 5, 2019
Ice Storm Warnings are in effect into the early morning hours on Wednesday for all the areas shaded in  dark purple.  This includes towns like Davenport, Rockford, and Chicago.  Ice accumulations are expected to be in a range from a tenth-of-an-inch, up to four-tenths of an inch.  Anytime ice accumulations reach a quarter inch, there's enough weight to snap tree branches.  Downed branches and limbs can take out power lines, leading to power outages.  So this could be another potential problem with this storm.  Thousands could be left in the dark, and the cold.
Our team of meteorologists will be tracking this storm through the night, and all day on Wednesday.  You can watch WeatherNation's coverage on the Dish Network, Roku, Fire TV, Apple TV, and Pluto TV.
For WeatherNation:  Meteorologist Matt Monroe