[
A tornado is captured on camera in Pittsfield, Illinois from December 2018. Credit: Troy Mooney
] [
NIU
] A 
recent study
 finds that over the past four decades, tornado frequency has increased over a large swath of the Midwest and Southeast and decreased in portions of the central and southern Great Plains, a region traditionally associated with Tornado Alley. The study, by meteorology professor 
Victor Gensini
 of Northern Illinois University and Harold Brooks of 
NOAA's National Severe Storms Laboratory
 in Norman, Okla., found significant decreasing trends in frequencies of both tornado reports and tornado environments over portions of Texas, Oklahoma and northeast Colorado. Tornado Alley remains the top zone for tornadoes in the United States, but other areas, including the so-called Dixie Alley that includes much of the lower Mississippi Valley region, are catching up. The researchers identified significant increasing trends of tornado reports and tornado environments in portions of Mississippi, Alabama, Arkansas, Missouri, Illinois, Indiana, Tennessee and Kentucky.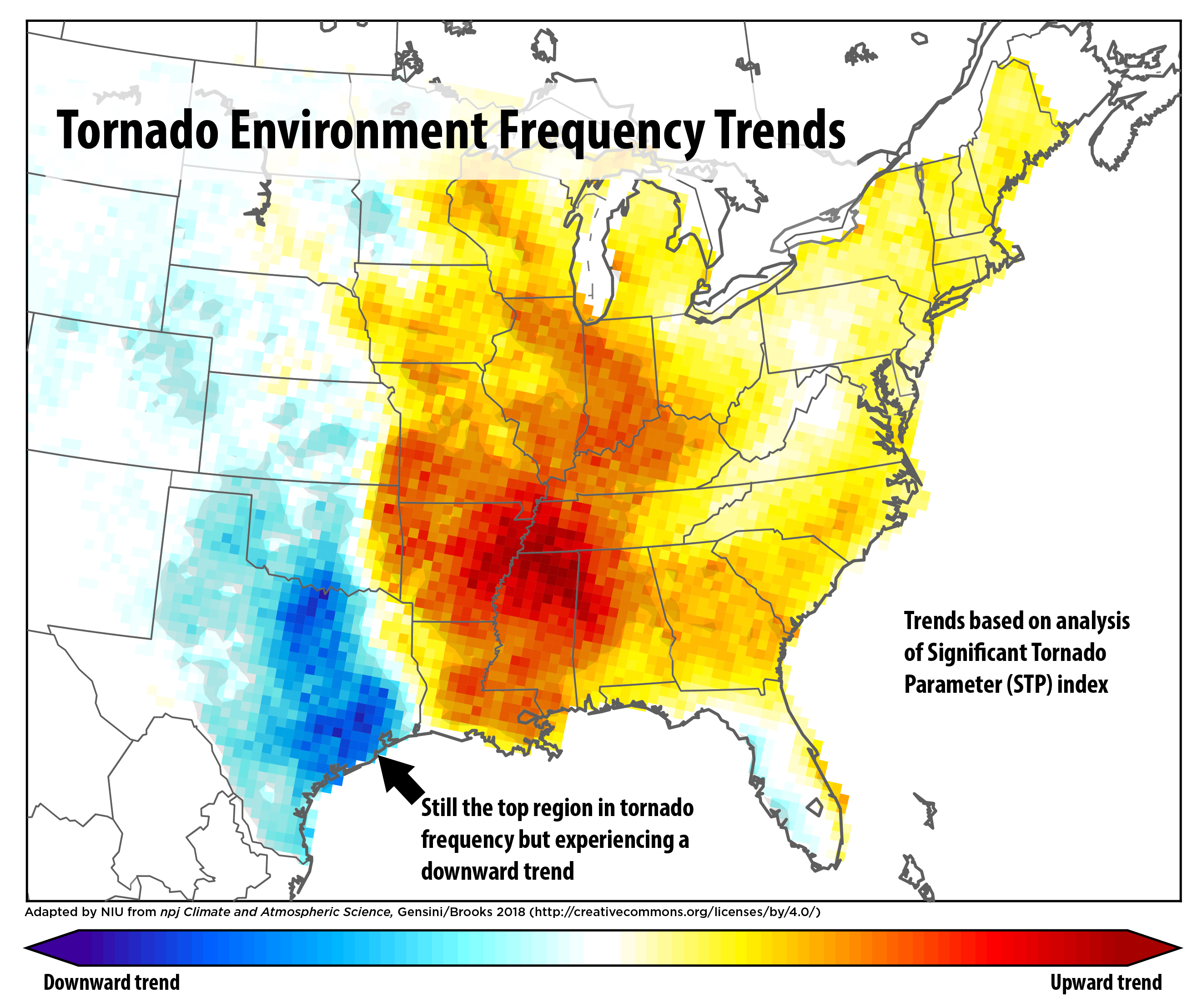 "Regions in the Southeast and Midwest are closing the gap when it comes to the number of tornado reports," said Gensini, who led the
study published Oct. 17 in the Nature partner journal, Climate and Atmospheric Science.
"It's not that Texas and Oklahoma do not get tornadoes," Gensini said. "They're still the number one location in terms of tornado frequency, but the trend in many locations is down over the past 40 years." The study examined tornado frequency trends in fine-scale resolution using two separate approaches, Gensini said. The researchers tracked the number of tornado reports from 1979 to 2017, while also investigating regional trends in the daily frequency of tornado-environment formation over the same time period, using an index known as the Significant Tornado Parameter (STP). Frequently used for predicting severe weather, the index captures the coexistence of atmospheric ingredients favorable for producing tornadoes. Both the number of actual tornado reports and the historical STP analysis showed the eastward uptick in tornado frequency. https://www.youtube.com/watch?v=6CtXAnMr-BU [
Tornado in Baton Rouge, Louisana. From May 12, 2017, credit Todd Ray
] "One could argue that because a region's population has increased, more tornadoes are sighted and reported," Gensini said. "But we also identified this eastward trend when using the STP index, which looks at the frequency of tornado environments and has nothing to do with people. This increases our confidence in the reporting trend that we're seeing." The trend is important for understanding the potential for future tornado exposure, damage and casualties. Severe thunderstorms accompanied by tornadoes, hail and damaging winds cause an average of $5.4 billion of damage each year across the United States, and events with $10 billion or more in damages are no longer uncommon. Previous research, including 
2007
 and 
2016
 studies by NIU professor Walker Ashley, has identified the Southeast as particularly vulnerable to tornadoes. Because of factors such as longer and larger tornado paths, expanding population density, mobile-home density and higher nighttime tornado probabilities, most tornado fatalities occur in the Southeast, particularly the mid-South region.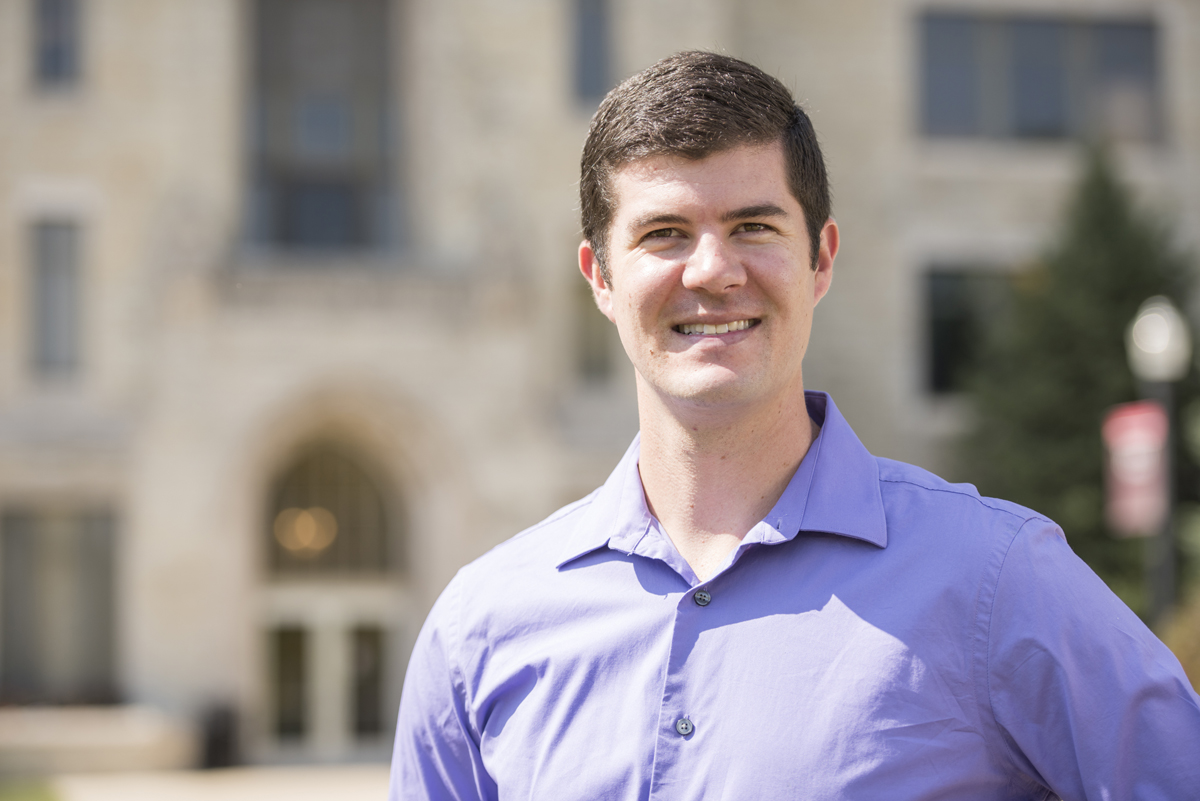 [
Researcher Victor Gensini is an NIU professor in the Department of Geographic and Atmospheric Sciences. From NIU
] "We've shown the tornado frequency trend is increasing in the Midwest and Southeast," Gensini said. "While tornadoes can happen in all 50 states, if more tornadoes are happening in your area, you're more susceptible to one of these disasters. "This could be taken into consideration when adopting building codes, identifying potentially impacted community assets, creating awareness and making emergency preparations," he added. The researchers cannot say for sure what's creating the eastward shift in tornado reports. Gensini said, "What's causing the change is still an open question." Edited for WeatherNation by 
Meteorologist Mace Michaels