[
NASA
and
KUSA
] Large storms can create waves of energy called gravity waves. A new NASA study found these waves in the atmosphere the morning before a large, deadly tornado in 2013. The scientists believe they have uncovered a method to detect and map the waves, which may help in forecasting events that cause violent tornadoes. https://www.youtube.com/watch?v=2SfHs3O8Y7M The
Atmospheric Infrared Sounder (AIRS)
instrument on NASA's Aqua satellite detected the gravity waves in the troposphere and stratosphere 12 hours before a deadly EF5 tornado in Moore, Oklahoma. Even stronger waves were detected 11 hours later during AIRS' next pass. The tornado and waves were produced by a long-lived storm system. In the visualization above, these ionospheric disturbances are shown in greens and yellows. Gravity waves can spread upward for hundreds of miles and outward for thousands of miles in concentric rings, like ripples in a pond. The waves were created by a large convective storm in 2013 that  spawned the deadly tornado. The visualization above shows near-simultaneous measurements of the gravity waves in the troposphere, stratosphere and ionosphere.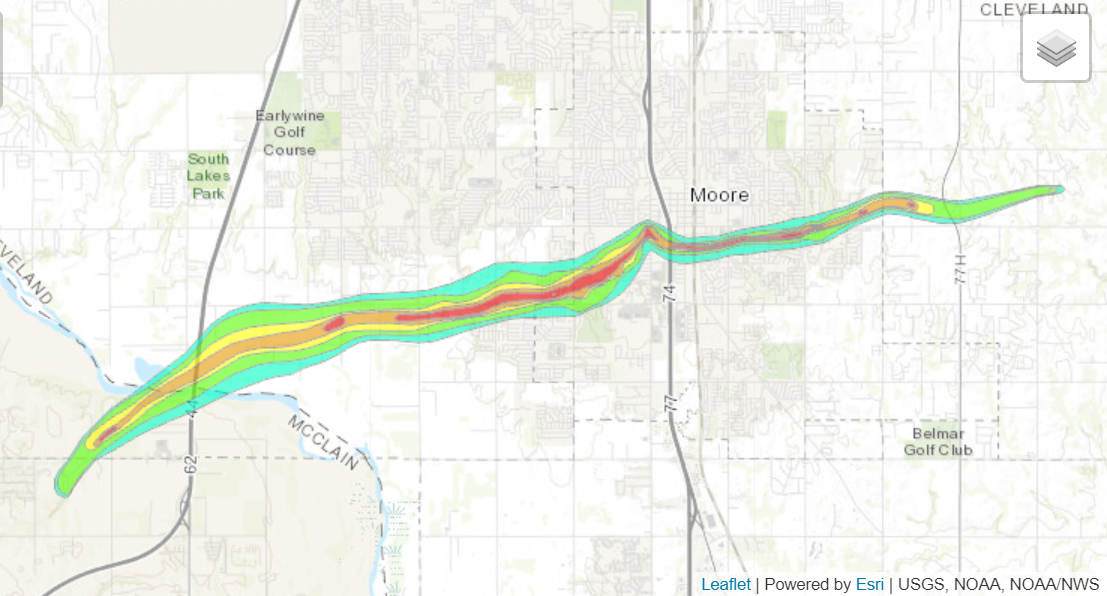 [
Track of Moore, OK tornado from 2013. From NWS Norman
] In the ionosphere 250 miles above Earth's surface, the gravity waves appear as traveling ionospheric disturbances (TIDs) -- disturbances in the electron content of the region. These were observed in Total Electron Content measurements by ground-based GPS receivers throughout the south central United States.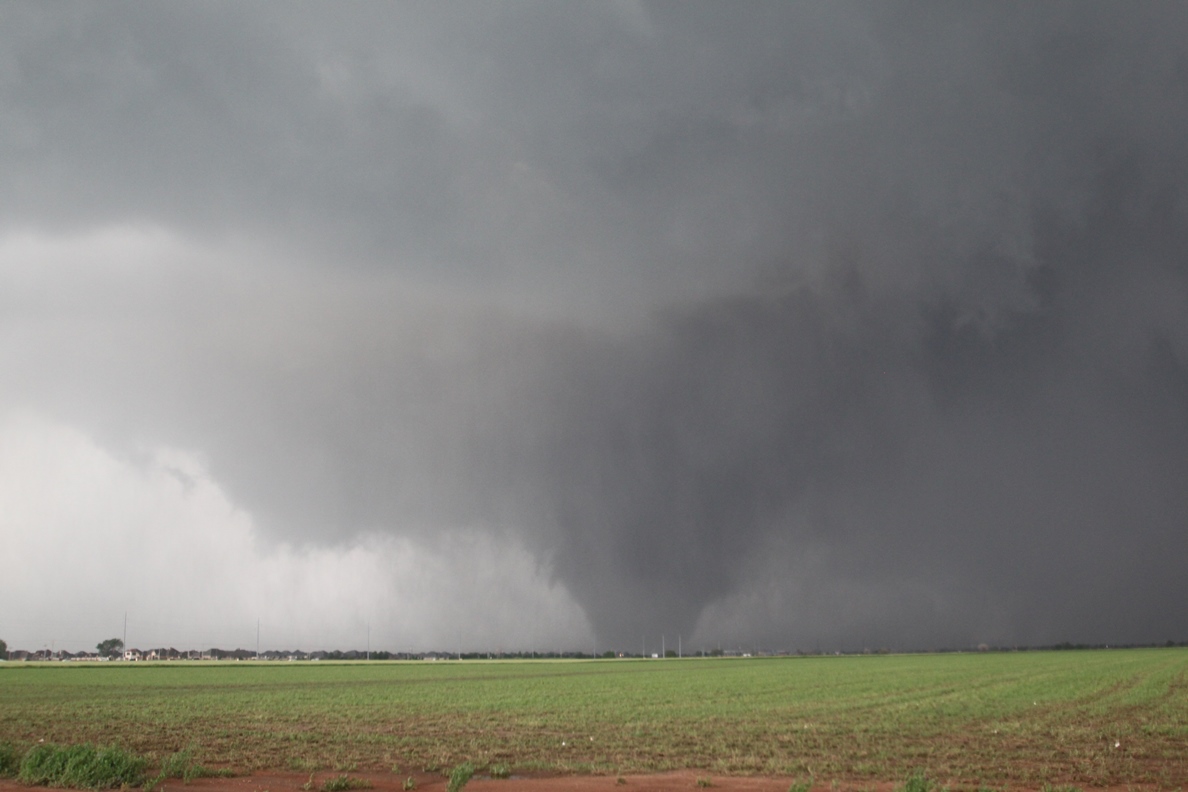 [
Photo of the May 20, 2013 Moore EF-5 Tornado. Courtesy of Gabe Garfield via NWS Norman.]
Gravity waves are formed when a disturbance causes air to be displaced into a region of different air density. There are many common causes for this besides storms -- for example, an air current strikes a mountain and is pushed upward. As gravity waves grow and propagate upward, they play important roles in the upper levels of the atmosphere. In the stratosphere, gravity waves help drive the atmospheric circulation and move ozone from the tropics to the poles.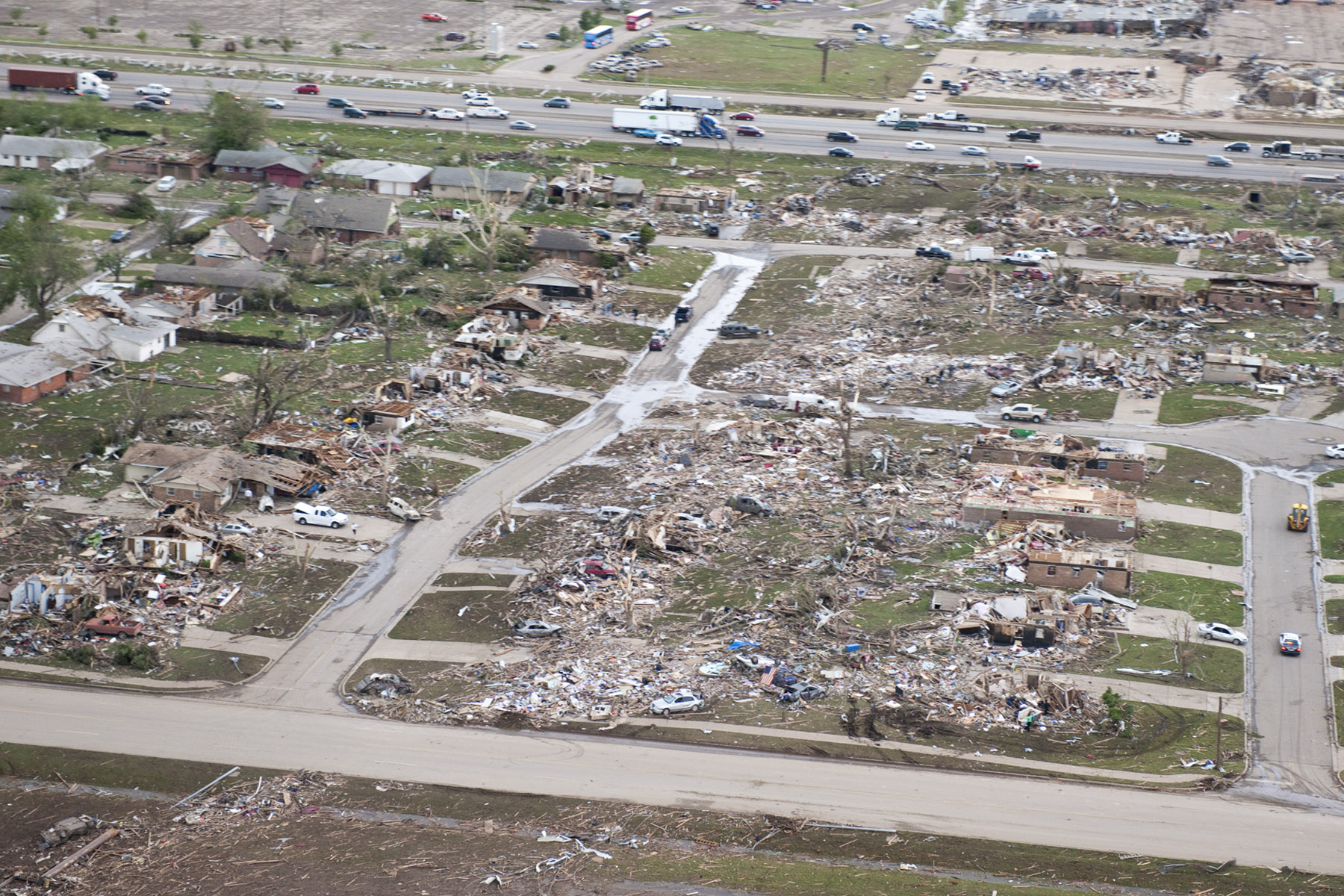 [
Pictured is a flyover of some of tornado damage from the May 20, 2013 tornado in Moore, Ok., near I-35. Photo by Major Geoff Legler, Oklahoma National Guard Public Affairs
] Observations such as these at multiple heights in the atmosphere provide a unique perspective on how atmospheric layers are linked together. Understanding the spread of gravity waves improves global weather forecasting and space weather forecasting.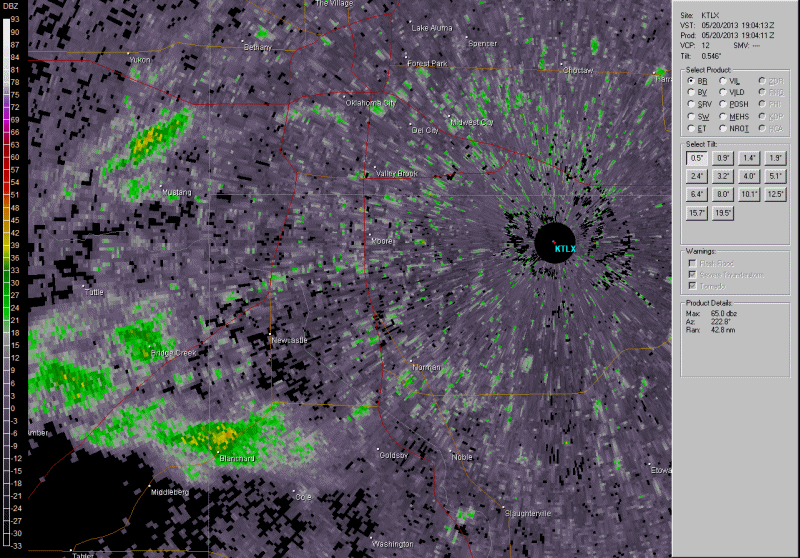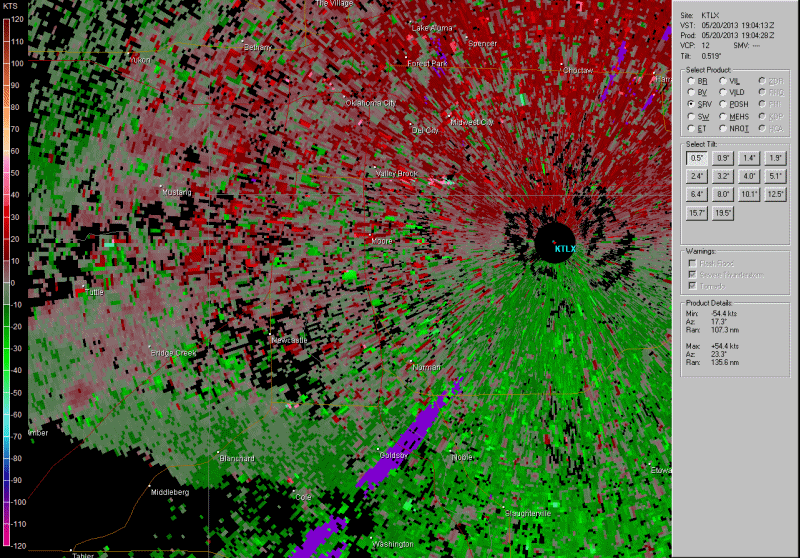 [
Radar imagery from NWS Norman of the tornado. Top loop is reflectivity, bottom loop shows wind velocity.
] NASA scientists just published a paper saying they can now detect these gravity waves that occur in concentric rings in near real-time.
According to WeatherNation affiliate KUSA
, the scientists have created a ring detection algorithm using a combination of data from the NASA Aqua satellite, and the powerful ECMWF weather computer model (the European Model), that can identify these ring-shaped gravity waves. Edited for WeatherNation by Meteorologist Mace Michaels