Tropical Storm Wilfred continues to move quickly west in the eastern Atlantic Ocean Saturday after forming earlier Friday. The storm is very lopsided on satellite and thunderstorm activity around the center is limited. The storm has maximum sustained winds of 40 mph and movement is west-northwest at 17 mph.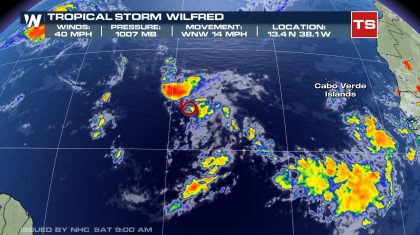 Wilfred is in an area with warm waters right now, but increasing dry air and upper level shear into the next 36 hours will limit any further strengthening.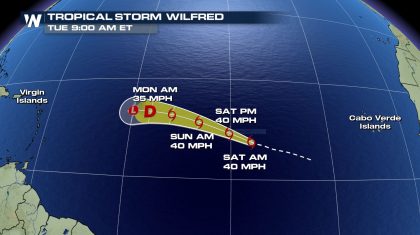 The storm will not impact any land, including the United States or Caribbean. Wilfred is the 22nd named storm of the Atlantic hurricane season and the earliest 'W' named storm on record. It is the last name on the alphabetical list of names for the Atlantic basin and one of three storms named within a 24-hour time period, another record for the Atlantic basin. Subtropical Storm Alpha and Tropical Storm Beta were named shortly after Wilfred on Sept. 18, starting the Greek alphabet for only the second time on record.