Hurricane season in the Atlantic basin officially kicked off on June 1st.  In late May, even before the season began, the first named storm formed, Alberto.  But since then, things in the Atlantic have remained very quiet.  The National Hurricane Center was watching an area of interest this week, just off the coast of North Carolina for possible development.  But earlier today, the chance of a storm forming in that area was brought down to zero percent.  So presently, we are not expecting any tropical storm development in the Atlantic over the next five days.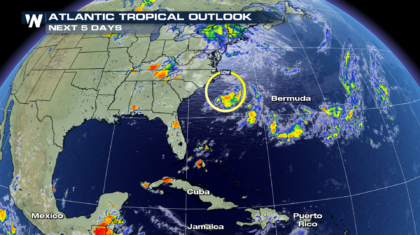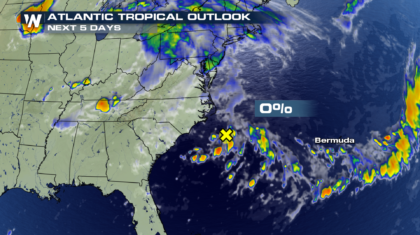 However, things are very different an ocean away in the mighty Pacific.  We have already seen four named storms this year, and two more are extremely likely to form in the next few days.  There are two areas of high interest off the coast of Mexico.  A third area, off the coast of Central America, only has a 20 percent chance of forming a named tropical storm.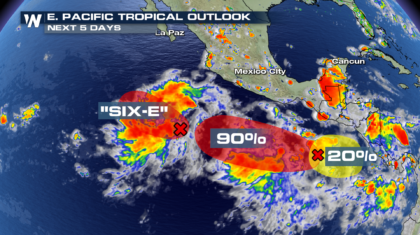 Earlier today, the western most area of interest formed Tropical Depression Six-E.  Sustained winds are at 35 mph, and it is moving to the west-northwest at 15 mph, away from Mexico.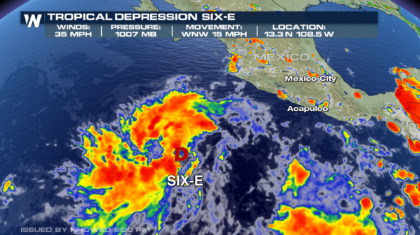 The latest forecast cone has it becoming a tropical storm sometime on Thursday.  This will happen if sustained winds reach 39 mph.  The forecast has it remaining a tropical storm through Sunday, and continuing to track to the west, away from Mexico.  So some good news there.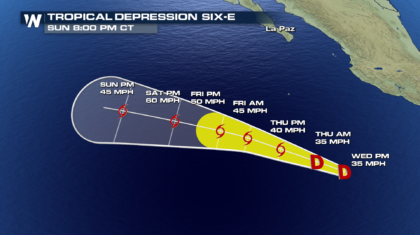 To the east of Depression Six-E, there two more areas of interest.  The areas have a 90% and 20% chance respectively of developing into named tropical storms sometime in the next 5 days.  Right now, the potential tracks of both storms have them staying far off the coast of Mexico.  Choppy surf and rip currents along the Mexican coast would be the primary impacts.  However, storm tracks can change, sometimes dramatically depending on environmental conditions.  We'll be watching closely.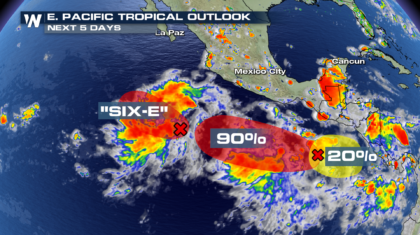 Should Depression Six-E develop into a tropical storm, its name would be Emilia.  That's the next name up on the 2018 list of storm names in the Eastern Pacific.  Fabio and Gilma will follow Emilia in the 2018 season.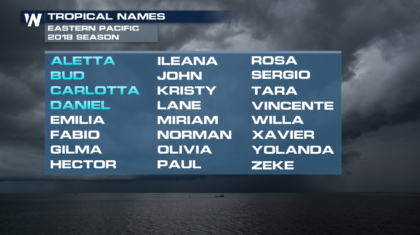 We have already had 4 named storms in the Eastern Pacific this year... Aletta, Bud, Carlotta, and Daniel.  More than likely, the fifth storm will form on Thursday.  Usually we don't see five storms form in the eastern Pacific until July 22nd.  So the Pacific hurricane season has been relatively active, and the tropical action looks like it will continue for at least the next several days.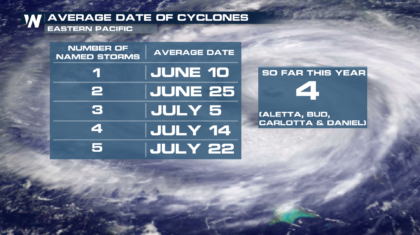 Stay tuned to WeatherNation on-air, online, and on social media for the latest tropical updates. For WeatherNation:  Meteorologist Matt Monroe