[A bird's-eye view of snowy conditions in a business complex south of Dallas-Fort Worth Airport (near HWY 360) in Texas the week of February 14. A historic winter storm hit most of Texas and brought brutally cold temperatures and crippling ice and snow to the state. Image from National Weather Service, Dallas-Fort Worth Office]
[Written by NOAA]  Temperatures plunged to historic lows in some parts of the country last month, including nearly all of Texas, as an Arctic air mass gripped much of the nation.
Despite the chilly February, winter wrapped up warmer than normal, according to scientists at NOAA's National Centers for Environmental Information.
Here are more highlights from NOAA's latest monthly U.S. climate report:
February temperatures and precipitation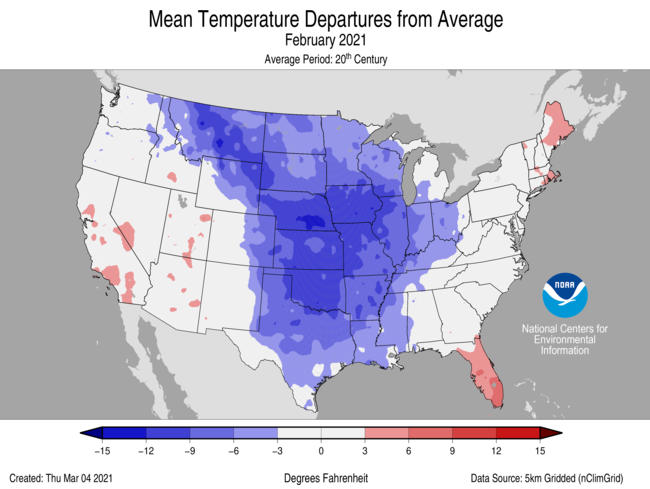 The average temperature across the contiguous U.S. last month was 30.6 degrees F, 3.2 degrees below the 20th-century average, making it the 19th-coldest February in the 127-year record. It was also the coldest February since 1989.
Below-average temperatures dominated much of the nation from the Northwest to the Great Lakes and south to the Gulf of Mexico. For six states — Arkansas, Iowa, Kansas, Missouri, Nebraska and Oklahoma — February 2021 placed among the top 10-coldest Februaries on record. Texas had its 11th-coldest February.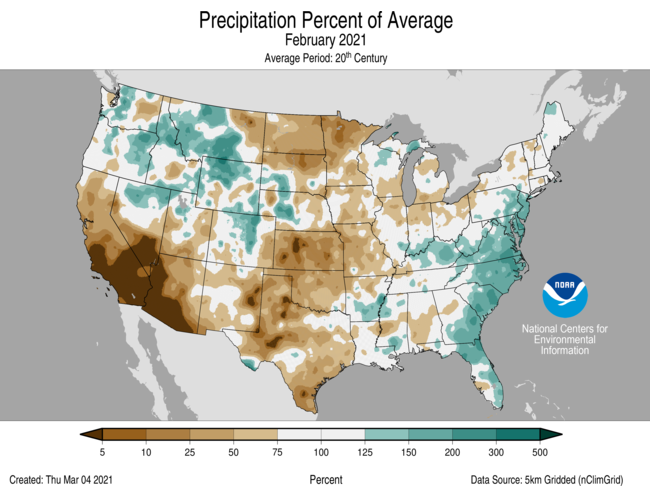 February's average precipitation was 1.99 inches (0.14 of an inch below average), which ranked in the middle-third of the historical record.
Above-average precipitation fell across much of the Northwest, as well as portions of the East Coast and Ohio Valley. North Carolina saw its eighth-wettest February on record for the month, while South Carolina had its 10th wettest.
More notable climate events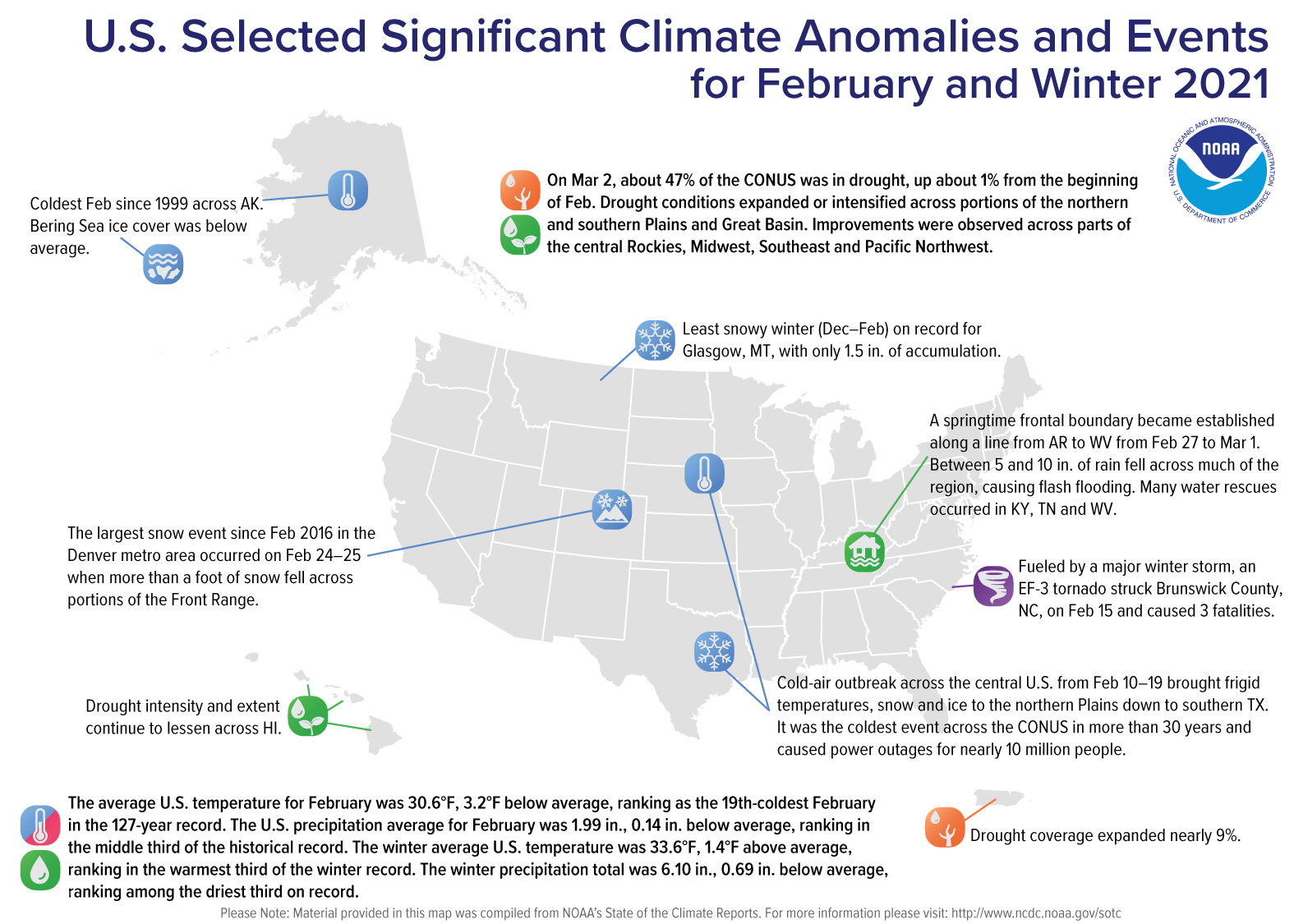 A brutally cold month for Texans: February 2021 brought the coldest air since December 1989 to much of the state. Several locations across central Texas — including Austin and Waco — broke records for the longest streak of below-freezing temperatures. Every county in Texas was under a Winter Storm Warning in mid-February and experienced wind chill values below zero as far south as the Rio Grande River and northeastern Mexico.
Alaska was colder than usual: Alaska saw its coldest February in 22 years. In Anchorage, the temperature never rose above 30 degrees F for the entire month, the first month since December 1998 with all daily high temperatures remaining below freezing.
Drought got a bit worse: According to the U.S. Drought Monitor report, 46.6% of the contiguous U.S. was in drought at the beginning of March, up slightly from 45.8% at the beginning of February. Drought expanded or intensified across portions of the northern and southern Plains, and Great Basin.