[Written from NOAA and NCEI] From January through the end of September of this year, the U.S. has experienced 16 weather and climate disasters with losses exceeding $1 billion each. Eleven were due to severe storms—which occurred across more than 30 states—and the remaining 5 comprised one wildfire, one drought and three tropical cyclones.
With 16 disasters so far, 2020 has already tied with 2011 and 2017 for the largest number of disasters in a calendar year. This is also a record sixth-consecutive year (2015-2020) where 10 or more billion-dollar disasters have struck the U.S  — the only such occurrence on record.
The recently added six events from the summer months include: Western Wildfires, Western/Central Drought and Heatwave, Hurricane Sally, Hurricane Laura, Central Severe Weather Derecho and Hurricane Isaias.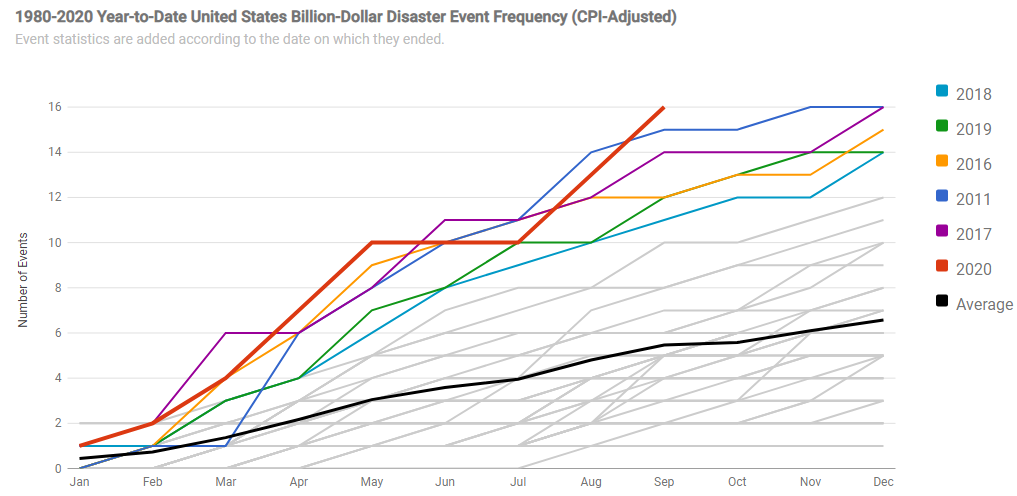 Since records began in 1980, the U.S. has sustained 279 separate weather and climate disasters where overall damages/costs reached or exceeded $1 billion (based on the CPI adjustment to 2020) per event. The total cost of these 279 events exceeds $1.825 trillion.
Disaster costs over the last five years (2016-2020) exceed a record $550 billion. These costs do not yet include the 2020 Western Wildfires, Drought/Heatwave or Hurricane Sally.
The U.S. has been impacted by slow moving tropical cyclones that produced extreme rainfall and damaging floods for four consecutive years (2017-2020). These storms include: Harvey, Florence, Imelda and Sally.
Edited for WeatherNation by Mace Michaels