[
From
iStock via NOAA]
[Written from
NOAA
and
NOAA NCEI
]   A top-10 warm August capped off a distinctly hot summer, as the U.S. saw its third-hottest meteorological summer on record. Here's a breakdown of the temperature and precipitation numbers from NOAA's National Centers for Environmental Information.
Meteorological summer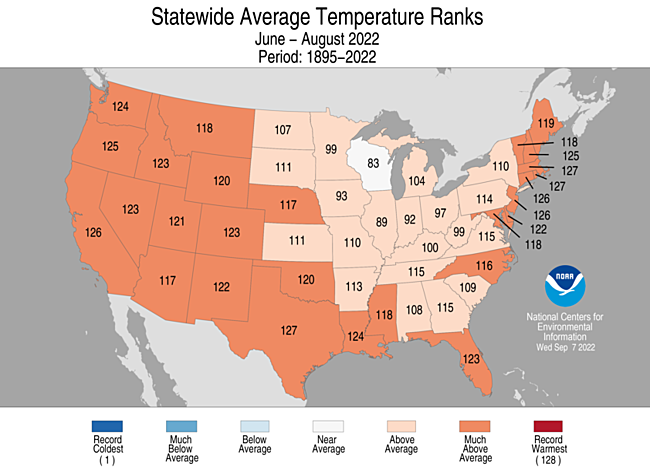 For meteorological summer (June 1 through August 31), the average temperature for the contiguous U.S. was 73.9 degrees F, 2.5 degrees above average, ranking as the third-hottest summer in 128 years. Summer temperatures were above average across most of the contiguous U.S. Massachusetts, Rhode Island and Texas each saw their second-warmest summer on record, while seventeen additional states across the West, South and Northeast saw their top-10 warmest summer on record.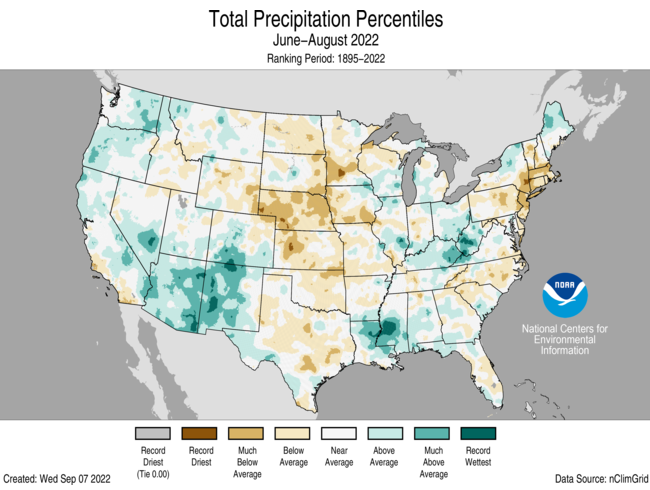 The summer precipitation total across the contiguous U.S. was 8.18 inches — 0.14 of an inch below average — ranking in the middle third in the historical summer record. Precipitation was above average along the West Coast, parts of the Southwest, Midwest, lower Mississippi Valley and northern New England. Meanwhile, precipitation was below average across the Great Plains, southern New England, and portions of the East Coast. Arizona had its seventh-wettest summer on record as Nebraska saw its third-driest summer.
Year to date (January through August 2022)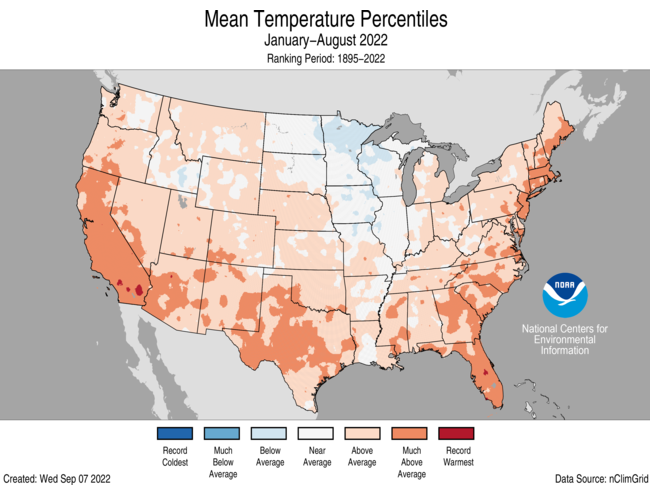 The average U.S. temperature for the first eight months of 2021 was 55.4 degrees F — 1.5 degrees above the 20th-century average — ranking in the warmest third of the climate record.  
Temperatures
were above average from Oregon to the Gulf Coast and from the Gulf to New England. Florida had its fourth-warmest such year to date (YTD) on record and California saw its fifth warmest. Temperatures were below average across parts of the Upper Midwest.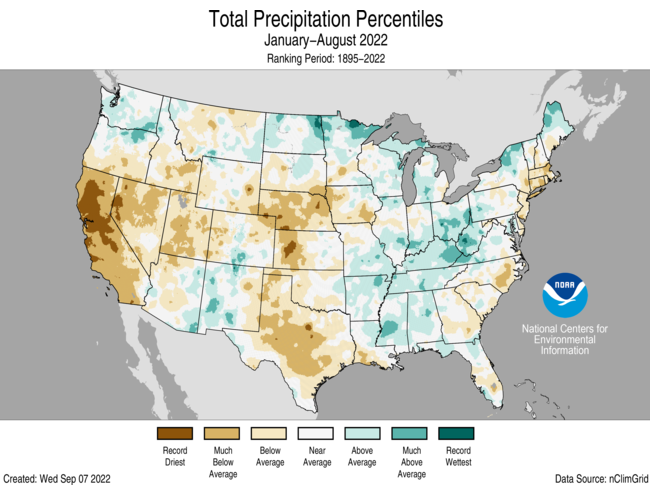 The nation had 19.68 inches of precipitation for the YTD, 1.03 inches below average, ranking in the driest third of the January–August record.  
Precipitation
 was above average across parts of the northern Plains, Midwest, and much of the southern Mississippi, Tennessee and Ohio valleys. Precipitation was below average across much of the West, central and southern Plains and parts of the Northeast during the January-August period. California ranked driest YTD on record, while Nebraska ranked fifth driest and Nevada ranked seventh driest for this YTD.
Edited for WeatherNation by Mace Michaels