[
Written by NOAA
]  After deadly tornadoes struck the Southeast in March, NOAA researchers for the first time successfully captured aerial photos and video of storm damage from hard-to-reach locations using remote-controlled, uncrewed aircraft. The new imagery helped the community's response and recovery efforts and enabled forecasters to more accurately map the paths of destruction from multiple tornadoes. For example, they were able to identify the beginning of an 80-mile tornado track in a remote area with limited road access near a river. Scientists hope images from the research drones will improve our understanding of tornadoes and 
lead to better forecasts
. https://www.youtube.com/watch?v=f1FOkyGAGB8 [
This video, captured with a research drone deployed by NOAA researchers, shows sweeping tornado damage in remote and heavily-wooded areas.  (NOAA)
] A team from the 
NOAA National Severe Storms Laboratory
, in collaboration with the Cooperative Institute for Mesoscale Meteorological Studies at the University of Oklahoma, deployed the drones during tornado outbreaks on 
March 17
 and 
March 25
 in Mississippi and Alabama. Forecasters with NOAA's National Weather Service Birmingham, Alabama, forecast office are excited about the potential for using aerial images for post-storm damage surveys in heavily-wooded and sometimes inaccessible rural areas where onsite damage assessment is difficult.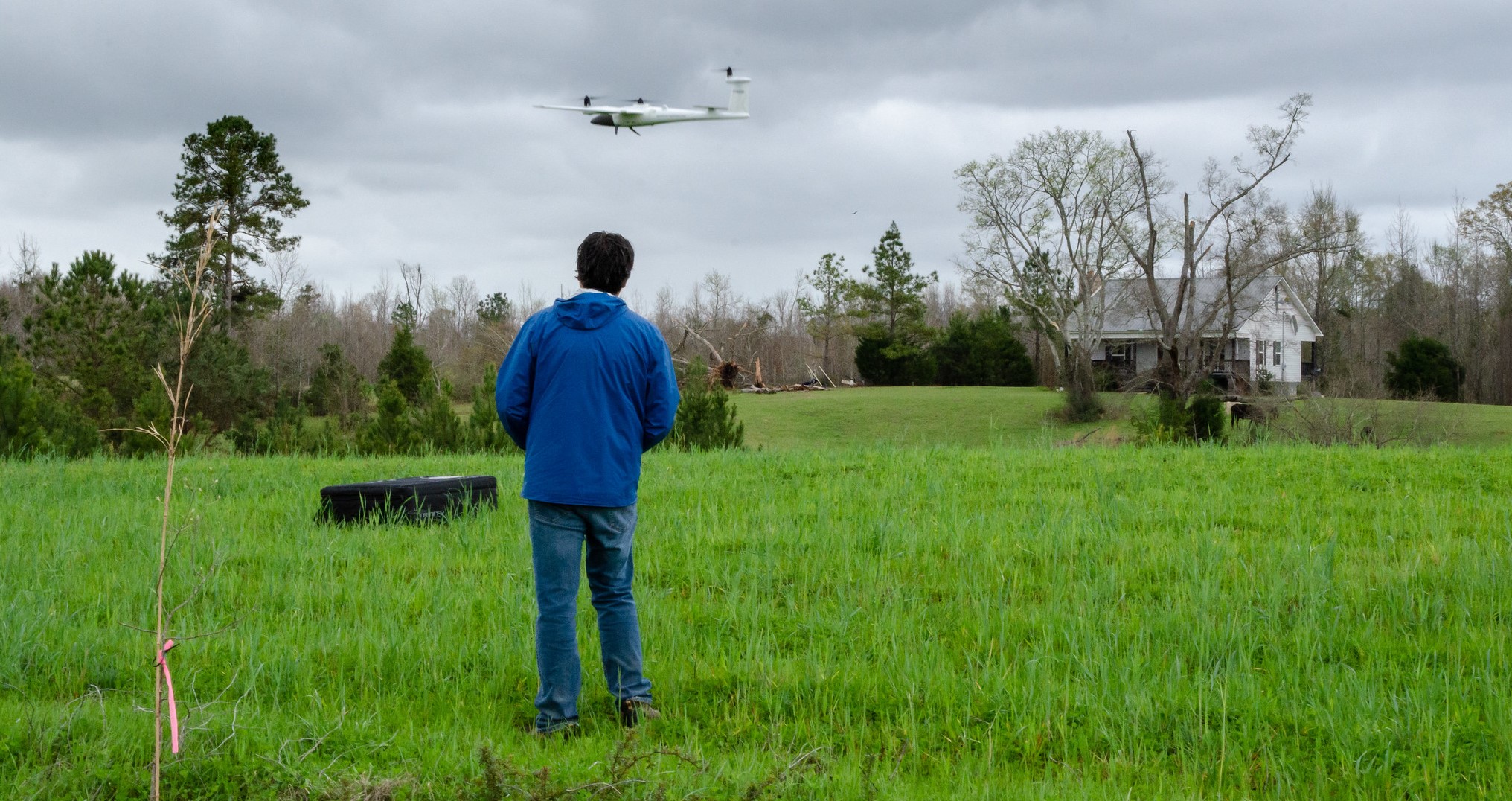 [
A researcher with the NOAA National Severe Storms Laboratory flies a drone near tornado damage in Alabama in April 2021. Scientists hope aerial images of tornado paths of destruction can better characterize high-wind damage to vegetation and in rural areas to improve disaster response and recovery. (Tyler Bell/CIMMS/NSSL)
] "This imagery could be a huge benefit to our office as we will be able to provide more detailed documentation of these impacted areas to other core partner government agencies," said Alex Sizemore, a meteorologist at the NWS Birmingham Weather Forecast Office. "It also would allow us to get the information much more quickly, saving us time." Researchers expect the data will also help them better characterize high-wind damage to vegetation; storm damage and vegetation stress can be underestimated, and drones provide a more complete picture for rural regions. Better observations of these impacts may lead to an improved understanding of the relationship between 
what forecasters see on Doppler radar
 and the actual strength of a given tornado.