Have you ever wondered what the weather is like on Mars? We are now able to get routine reports from the Red Planet thanks to a system that arrived earlier this year on
NASA's Perseverance rover
!  Even though we are millions of miles apart, NASA engineers will be able to monitor and analyze weather conditions on Mars and begin to start logging data that will help us better understand the climate in decades to come! Just one day after Perseverance landed on Mars, the Mars Environmental Dynamics Analyzer (MEDA) was turned on for a short span of thirty minutes, and within 24 hours began sending back data.  "After a nail-biting entry descent and landing phase, our MEDA team anxiously awaited the first data that would confirm our instrument landed safely," said Jose Antonio Rodriguez Manfredi, MEDA principal investigator with the
Centro de Astrobiología
(CAB) at the
Instituto Nacional de Tecnica Aeroespacial
in Madrid. "Those were moments of great intensity and excitement. Finally, after years of work and planning, we received the first data report from MEDA. Our system was alive and sending its first meteorological data and images from the
SkyCam
."
READ: Perseverance Rover Successfully Lands on Mars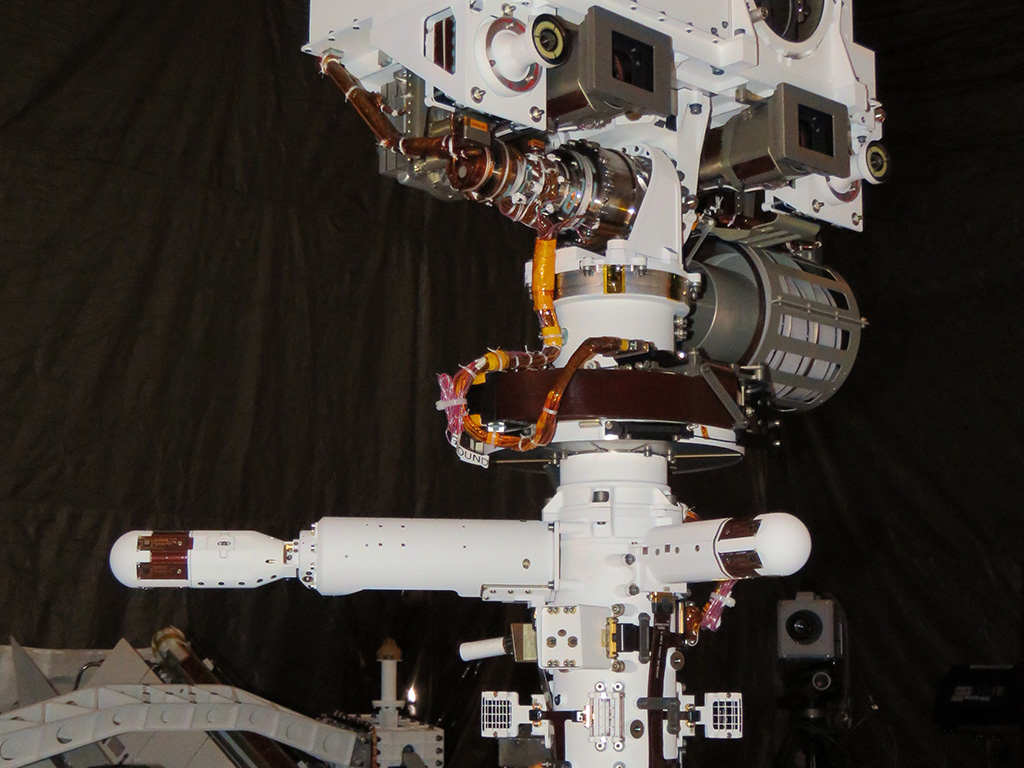 A pre-launch photo of the Mars Environmental Dynamics Analyzer (MEDA) system, which is now providing atmospheric measurements to engineers from Jezero Crater on Mars.  Credits: NASA/JPL-Caltech
The MEDA system weighs in at about 12 pounds and is packed with sensors to help capture the data.  According to NASA, this "suite" of detectors will document dust levels and six atmospheric conditions – wind (both speed and direction), pressure, relative humidity, air temperature, ground temperature, and radiation (from both the Sun and space).  It operates on it's own separately from the rover recording and storing data every hour around the clock.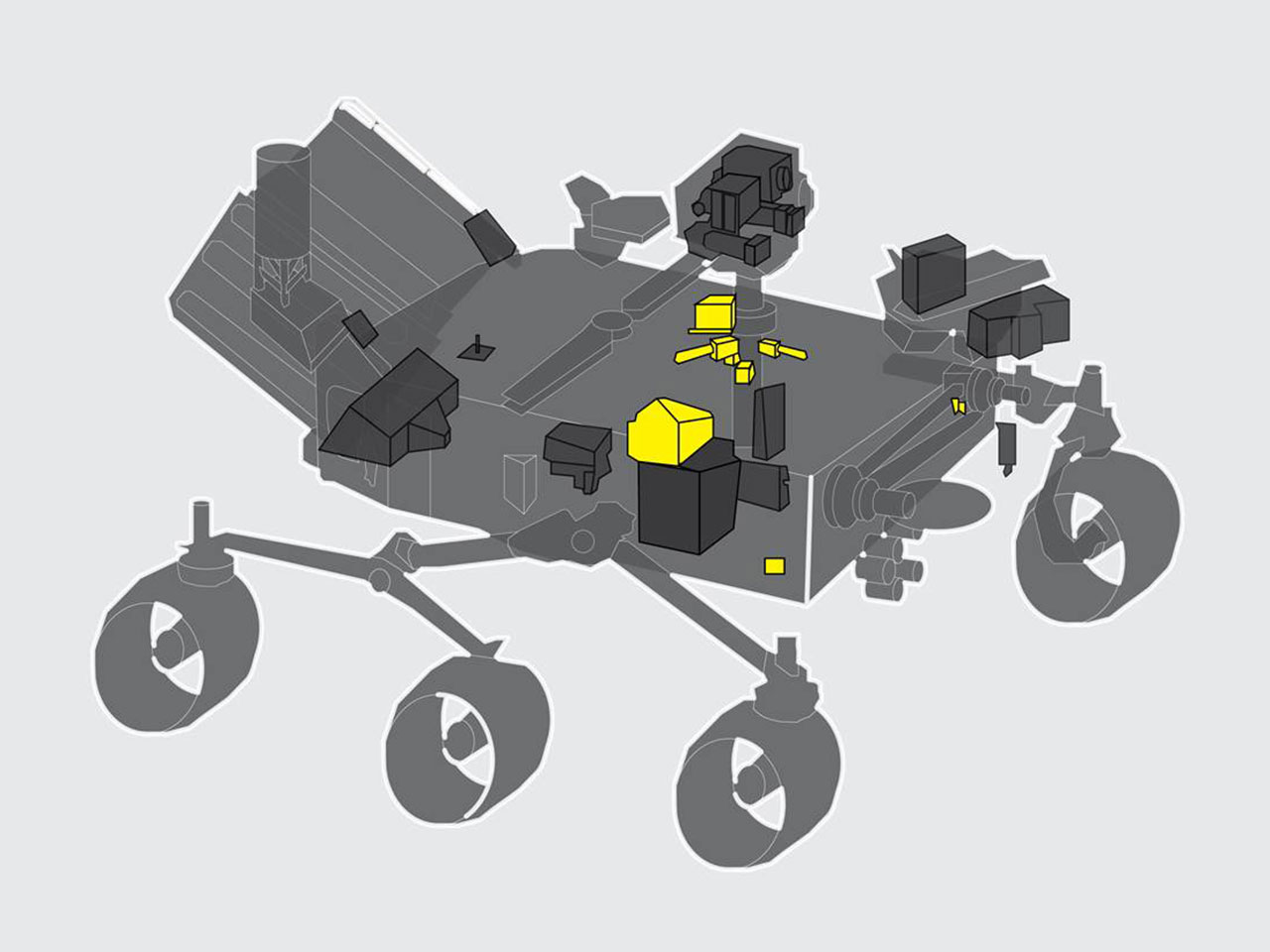 MEDA highlighted on the Mars 2020 rover.  Credits: NASA/JPL-Caltech
The first weather report came in from the Jezero Crater on Mars and documented a temperature reading of just below minus 4 degrees Fahrenheit (minus 20 degrees Celsius) on the surface when recording began with the temperature dropping to minus 14 degrees Fahrenheit (minus 25.6 degrees Celsius) throughout the 30 minute observation. Now that we have weather reports coming in from MEDA, that makes three different spots on Mars we are obtaining atmospheric data from – Perseverance,
NASA's Mars Curiosity rover
, and
NASA's Mars Insight
.  By being about to combine this data, we will not only begin to start climate records for the Red Planet, but use the information to plan future missions to Mars and aid in flight planning for the 
Ingenuity
Mars Helicopter flights. "We're very excited to see MEDA working well," said Manuel de la Torre Juárez, deputy principal investigator for MEDA at
NASA's Jet Propulsion Laboratory
in Southern California. "MEDA's reports will provide a better picture of the environment near the surface.  Data from MEDA and other instrument experiments will reveal more pieces of the puzzles on Mars and help prepare for human exploration.  We hope that its data will help make our designs stronger and our missions safer."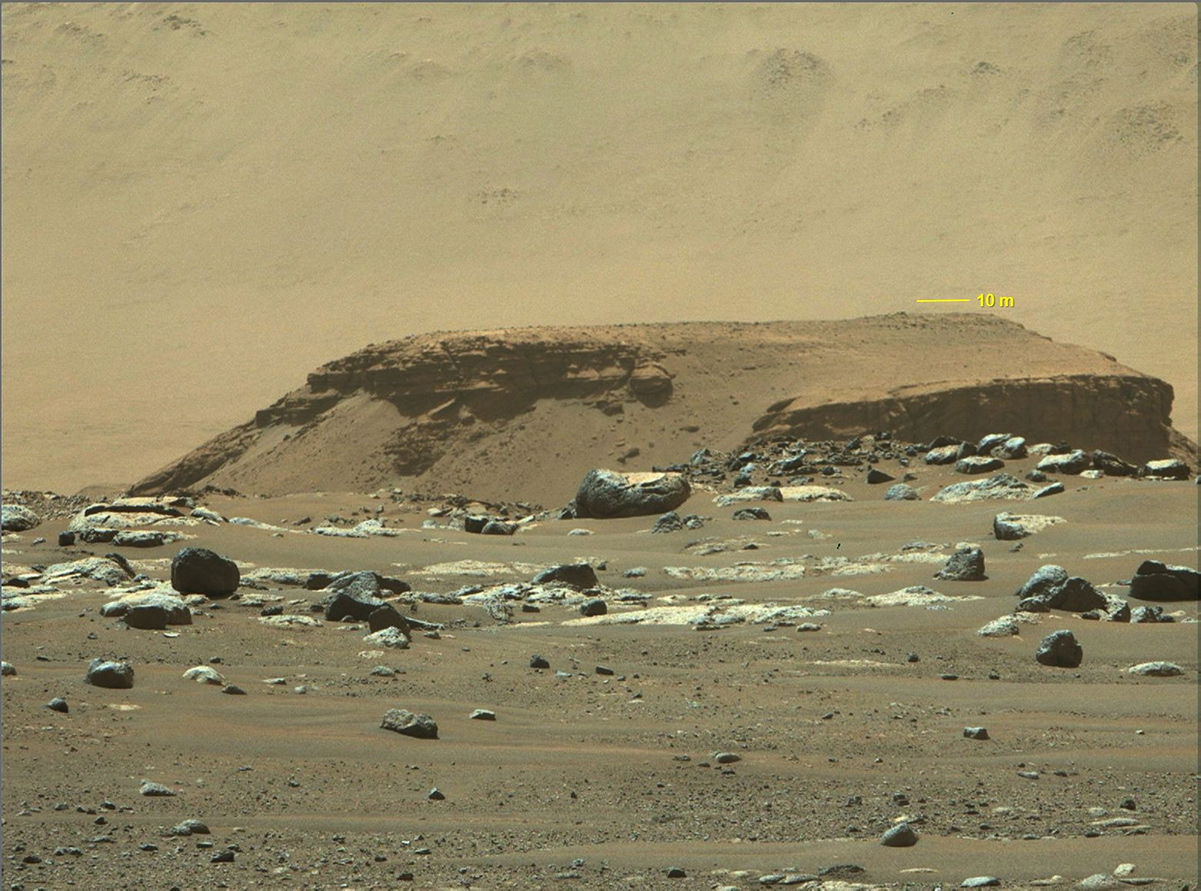 From its landing site, "Octavia E. Butler Landing," NASA's Perseverance rover can see a remnant of a fan-shaped deposit of sediments known as a delta with its Mastcam-Z instrument. Scientists believe this delta is what remains of the confluence between an ancient river and a lake at Mars' Jezero Crater.Credits: NASA/JPL-Caltech
The Mars 2020 Perseverance mission is part of NASA's Moon to Mars exploration approach, which includes 
Artemis
 missions to the Moon that will help prepare for human exploration of the Red Planet.