The nights are finally warmer in the Northern Hemisphere, and although the nighttime hours are getting shorter, the Milky Way and other summer sky favorites are finally coming into view.

Here's a look at some of the notable night sky/space related events for the month of May.
May 5-6: Eta Aquarids Meteor Shower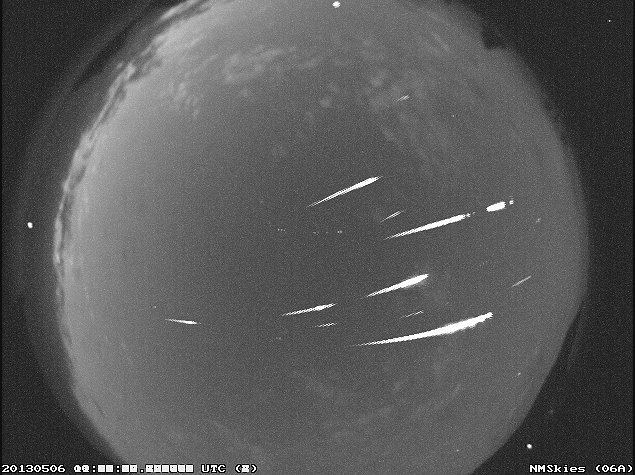 An image of an Eta Aquarid meteor from the NASA All Sky Fireball Network station in Tullahoma, Tennessee in May, 2013. Credit: NASA
Originating from Halley's Comet, this is typically a solid show in the Southern Hemisphere, but this year's nearly full moon is expected to wash out all but the brightest Eta Aquarids. In the Northern Hemisphere, these meteors are typically slow movers, also known as earth grazers, and can produce about 10-15 meteors or hour. Unfortunately, the same full moon will also wash out all but the brightest meteors.
If you still want to try your luck with this meteor shower, peak viewing is expected around the morning hours on 6th of May, but you can also try the day before and after. The radiant, or point where meteors appear to originate, doesn't rise above the horizon until the last few hours before dawn in the east, so best viewing will be in those pre-dawn hours. Look at the entire sky with your feet pointing toward Aquarius in the east.
Image created with Stellarium
TBD: Launch of TROPICS Satellites to Monitor Tropical Cyclones
Rocket Lab and NASA are teaming up with MIT to send a series of small satellites into orbit to study factors involved with the intensification of tropical cyclones, also known as hurricanes.
The series of satellites are expected to provide minute updates of temperature, precipitation, and humidity to give researchers a better look at how moisture content changes during the lifespan of one of these incredibly power storms.
A launch of the first two of four satellites was expected on May 1st, but was postponed due to inclement weather. A backup date has yet to be announced.
May 13th
Saturn and the Moon will appear close to one another around the middle of the month in the eastern pre-dawn sky. Jupiter will also be visible in the eastern sky on these mornings, but much closer to the horizon.

To catch the waning crescent moon and Saturn, look toward the east in the mornings around the 13th.
Image created with Stellarium
May 23-24th
Toward the end of the month, Venus, Mars, and the Moon will appear close to one another near the western horizon after sunset. The moon should just be a sliver of itself, allowing Venus and Mars to steal the show. Look to the west as night falls around the third weekend of the month.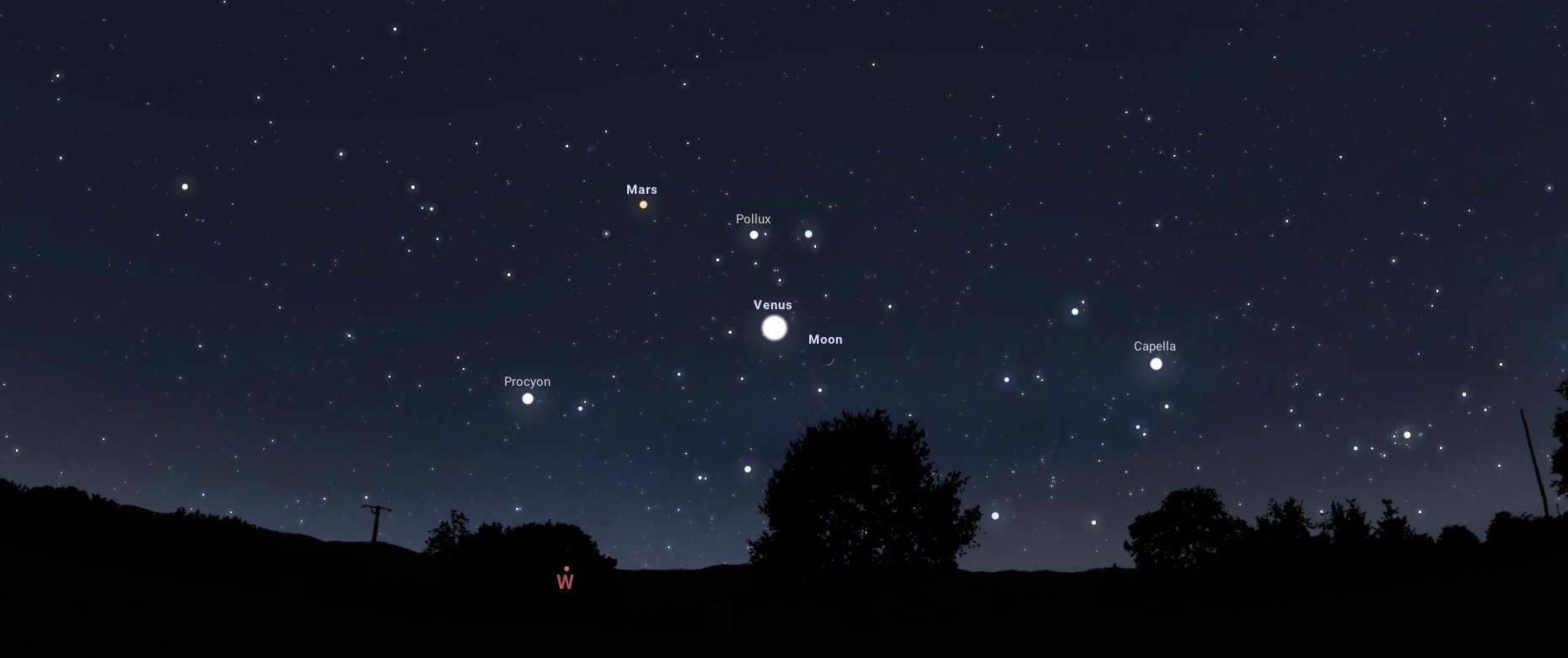 For an update on sky conditions in your region, check out your latest regional forecast from east to west a :10, :30, and :50 past the hour. Or enter your location in the WeatherNation app.