The biggest winter storm of the season continues to drop snow across a large section of the central and eastern U.S.  Places like Columbia and St. Louis Missouri have already seen over ten inches of snow.  Interstate 44 around the St. Louis area is either closed, or backed up for hours.  The snow is spreading east, and winter weather alerts are in effect from Omaha all the way to the Jersey shore!  This is a big storm!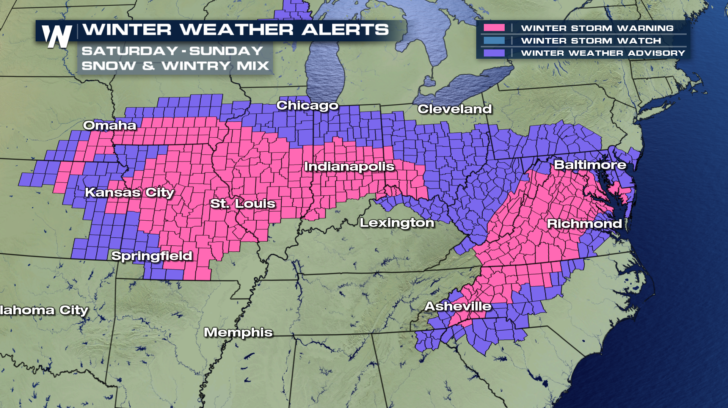 Around dinner time tonight, snow will be falling in a line between Des Moines, Iowa and Washington, D.C.  Washington and Baltimore could pick up 5 inches of snow.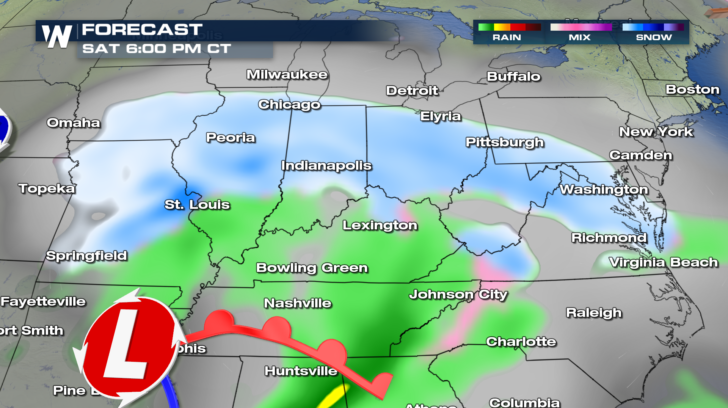 Snow will gradually taper off in Iowa and much of Missouri overnight.  But snow will still be possible in St. Louis, adding to their totals even further.  Light snow will fall in parts of Illinois, Indiana, and Ohio.  Heavier snow will be the trend in West Virginia, Virginia, and across Delaware and Maryland.  Also, notice the pink shading in western North Carolina.  There could be some  ice accumulation in towns like Asheville.  Power outages could be a problem.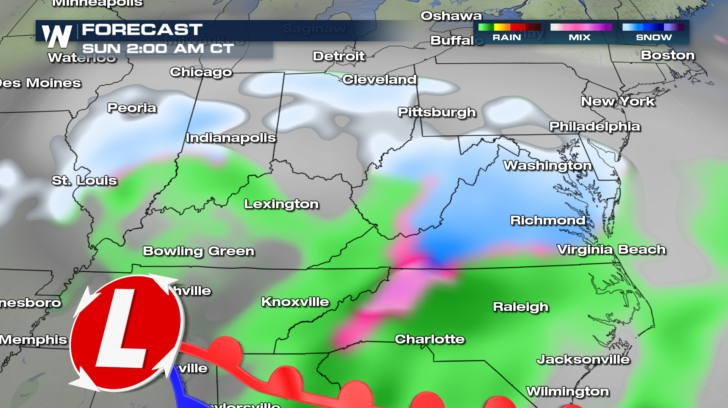 By early Sunday afternoon,  snow, and possibly some freezing rain, will be confined mainly to Virginia.  Virginia Beach will see rain.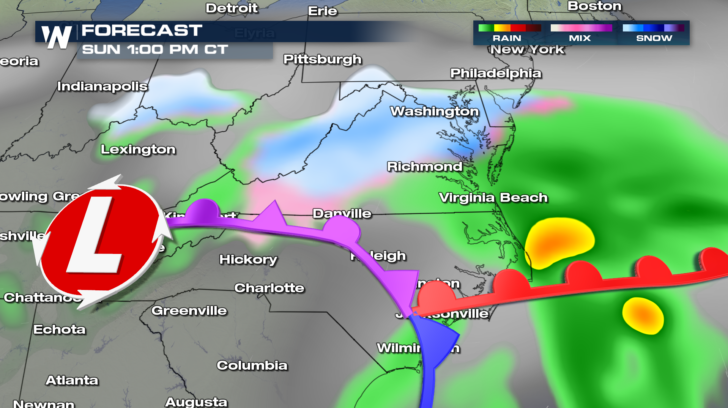 Overnight Sunday, the last of the snow will fall in eastern Virginia, including Richmond, Washington D.C., Baltimore, Annapolis, and Salisbury.  By Monday morning, all of the moisture will be out to sea.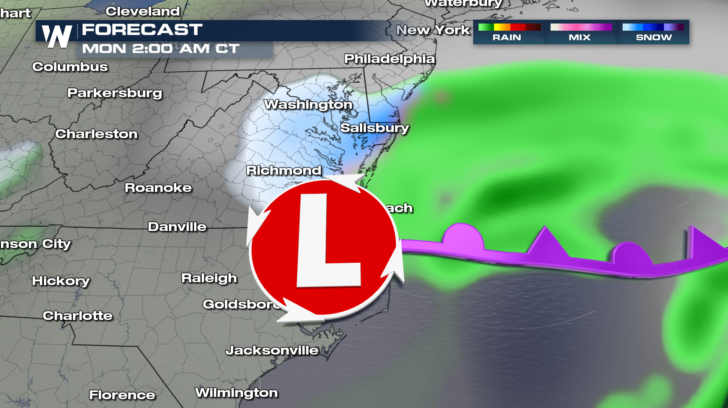 Snow creates enough headaches, but ice is a real problem.  Roads can become treacherous, and tree branches can snap over power-lines causing outages in many areas.  The greatest likelihood of accumulating ice will be in western North Carolina, western Virginia, and southern West Virginia.  We will have to watch this area very closely through Sunday night.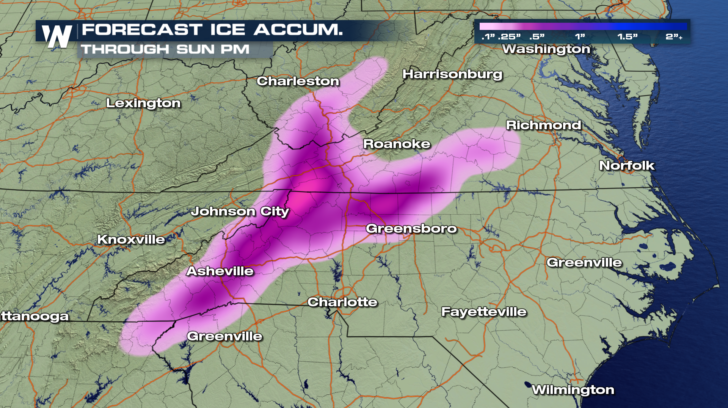 Between Saturday afternoon and Monday morning, the areas shaded in purple could see an additional 6 inches of snow.  Parts of northern Virginia could see even more.  Areas shaded in blue will generally see between 2 and 5 inches of additional snow.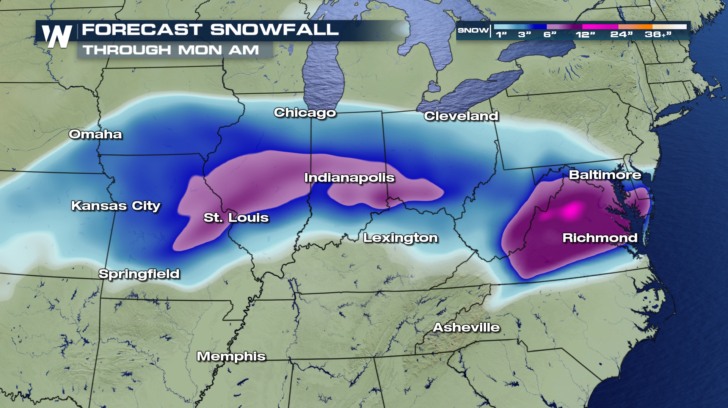 Once the storm is over, beautiful weather moves back in for several days.  St. Louis will enjoy plenty of sunshine Monday through Friday.  Temps will be on the chilly side though, mid 30's and lower 40's.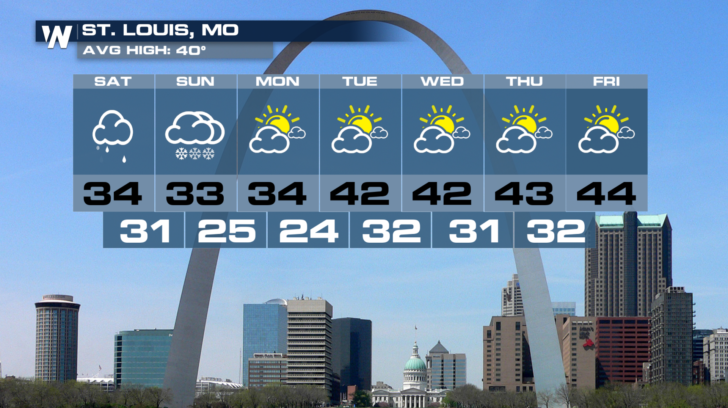 Indianapolis will get rid of the snow a little faster than St. Louis.  Sunday through Thursday should be beautiful.  Like St. Louis, it will be chilly with highs mainly in the 30's.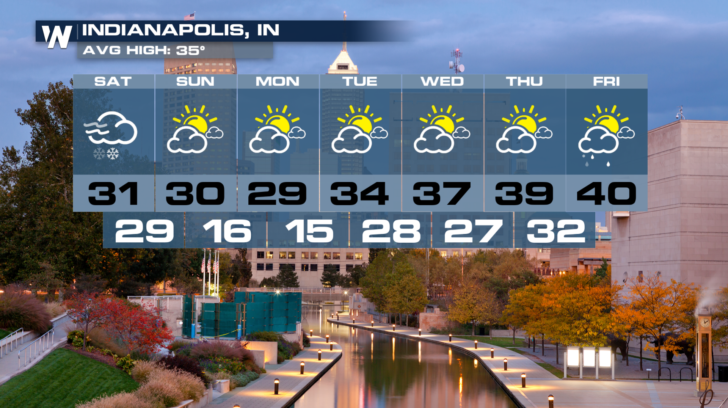 Baltimore will have clouds and snow showers right through the weekend.  Sunshine returns on Monday after the storm pushes out to sea.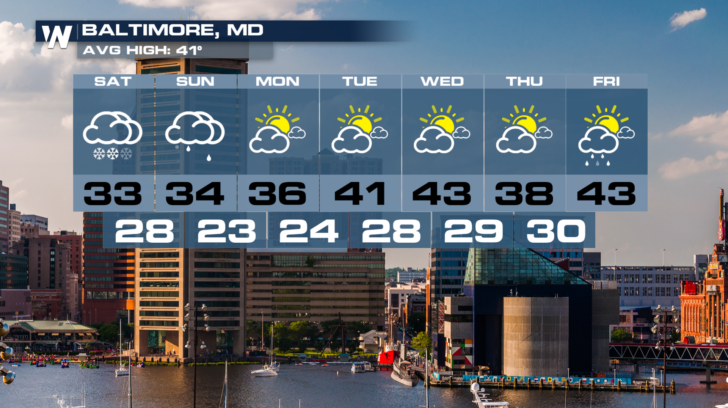 Stay with WeatherNation for the latest information on this winter storm.  You can watch on the Dish Network, Pluto TV, Fire TV, Roku, and Apple TV. For WeatherNation:  Meteorologist Matt Monroe