The weather is beautiful today in cities like Omaha, Kansas City, and Chicago.  But winter weather will be making an appearance in all three places very soon.  In fact, the storm is already dumping plenty of snow over the mountains of Utah and Colorado.  The storm is moving east very quickly, and by Saturday night, snow will be falling over eastern Nebraska. You can follow the path of the storm just by looking at the winter alerts posted ahead of it. Blizzard Warnings are in red. Winter Weather Advisories are in purple.  Winter Storm Warnings are in pink.  Winter Storm Watches are in blue.  Generally, 2 to 5 inches of snow are expected in the purple shaded areas.  4 to 8 inches are expected in the pink shaded areas.  And at least 6 inches of snow are on the way for the blue shaded areas.  The snow will start in Nebraska and Kansas, and spread east.  The arrival of the snow and amounts may differ in each location, but all areas will have one thing in common... WIND! Winds out of the Northwest will be howling!  Gusts up to 40 mph are expected, which will cause plowed snow to blow back over roads, making driving conditions even more hazardous.  And with winds over 35 mph, white out conditions are possible.  Visibility will be reduced to zero at times throughout the entire winter alert area.  Obviously, this will also cause particularly dangerous driving conditions.  Even locations that receive just an inch or two of snow will be susceptible to greatly reduced visibility.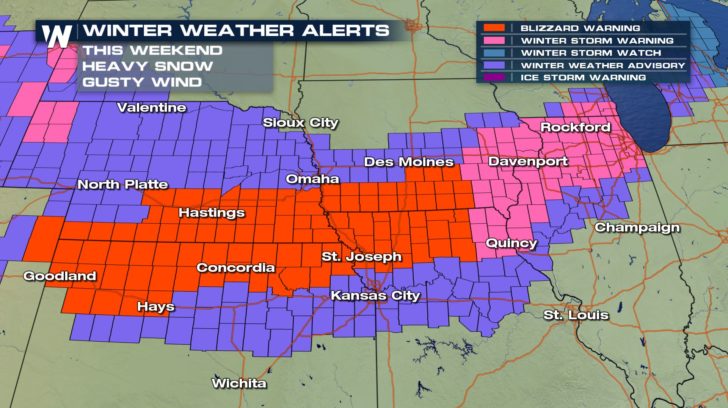 Below are storm details for several cities in the path of the storm.  Omaha will begin to see snow tonight.  The storm will wrap up Monday morning in Michigan.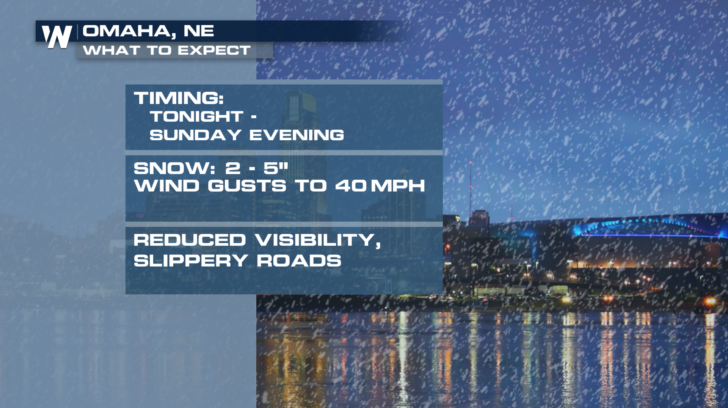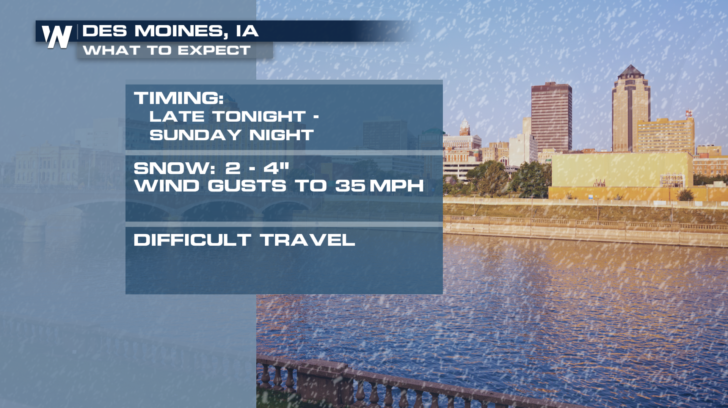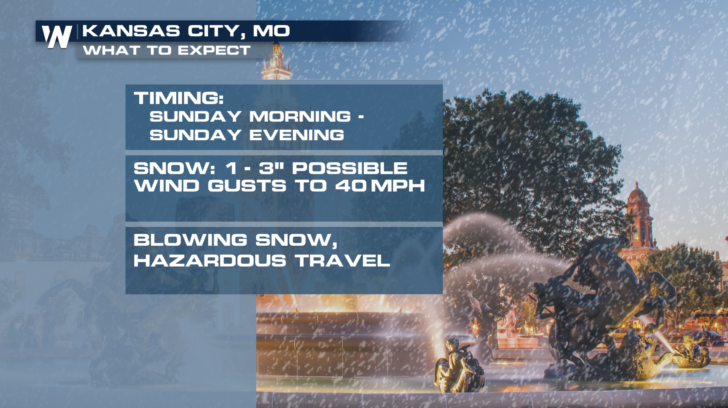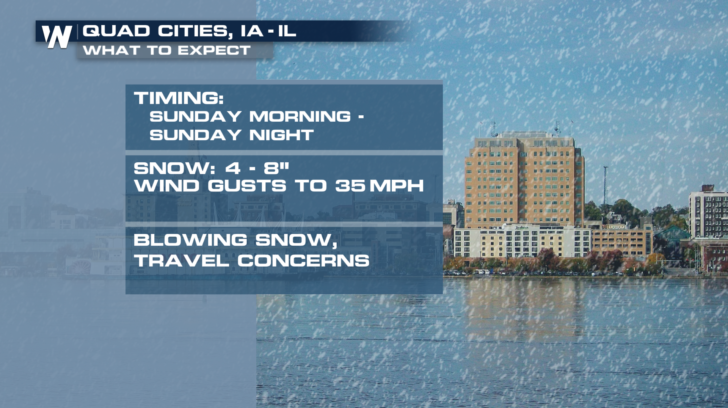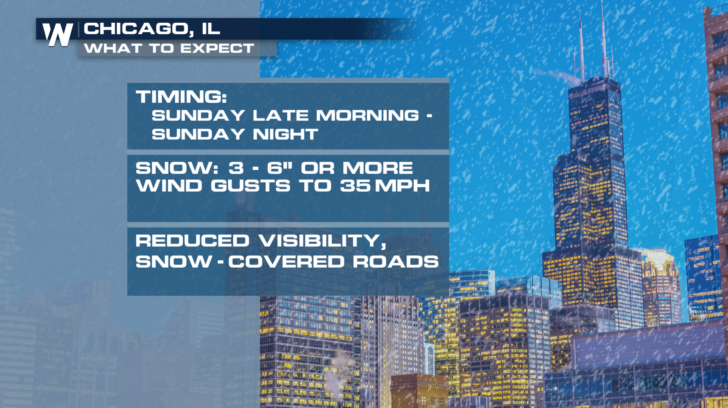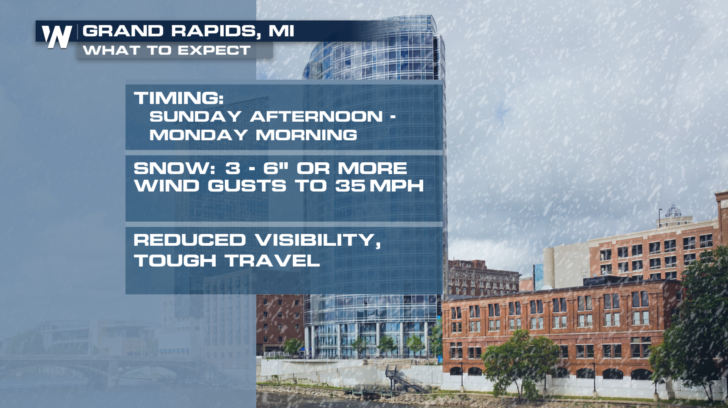 It's interesting to look at various forecast models for this winter event.  The BAMS is our in-house model here at WeatherNation.  It puts the heaviest axis of snow in a line along the Iowa/Missouri boarder, across northern Illinois, (including Chicago), into southern Michigan.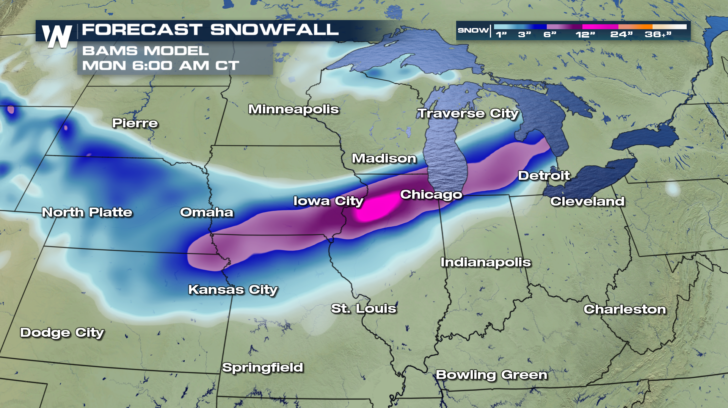 The GFS Model also shows a heavy band of snow, with similar amounts of 4 to 8 inches.  But this model has the axis of heavy snow slightly farther to the north.  If this model is correct, cities like Omaha, Madison, and Traverse City would see more snow, while Chicago would see lighter snow amounts.  It will be very interesting to see which model handles the storm with more accuracy.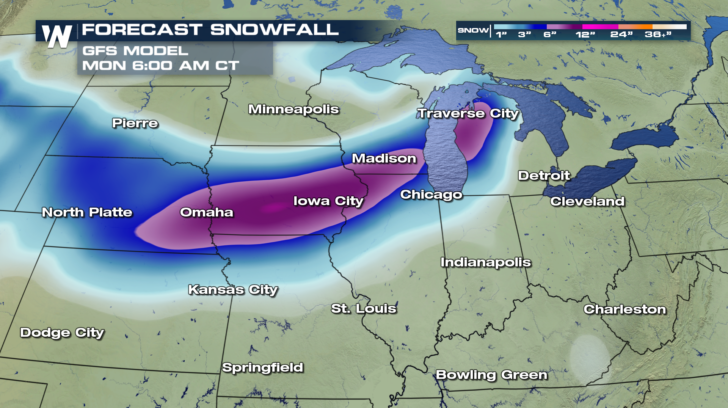 WeatherNation will be tracking this latest winter storm throughout the weekend.  You can watch WeatherNation on the Dish network.  You can also watch live coverage on Amazon Fire TV, Roku, and Apple TV. For WeatherNation:  Meteorologist
Matt Monroe