With the month of July quickly wrapping up, our attention now turns to August.  What will the last month of meteorological summer bring?  According to the National Oceanic and Atmospheric Administration's
Climate Prediction Center
, much of the country will experience above normal temperatures with near normal precipitation chances.  This is due in part to the El Niño Southern Oscillation's current neutral pattern,
which is expected to change by Fall
. While nationwide temperatures should trend above normal, certain areas are most likely to experience warmer-than-average conditions.  These areas include the Pacific Northwest, coastal New England, the immediate Gulf Coast region, and southern and western Alaska.  Above average air temperatures are expected for August due to warmer sea surface temperatures in these ocean-influenced locations.  The north central part of the United States, in contrast, will likely see temperatures remain near normal for the month.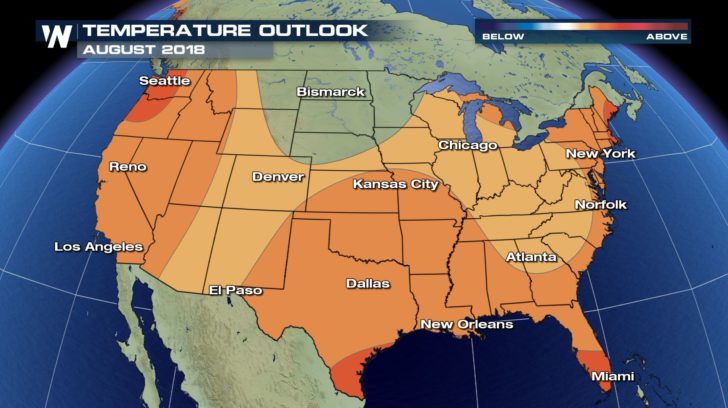 The precipitation outlook includes two distinct areas of drier than normal conditions.  One such area is the coastal Pacific Northwest.  The other is the south central Plains, where dry soil conditions persist.  Above normal precipitation is likely in the Desert Southwest, where an influx of Eastern Pacific moisture may enhance monsoonal thunderstorms.  Another region that will contend with above normal precipitation is the Southeast coast, especially the coast of the Carolinas.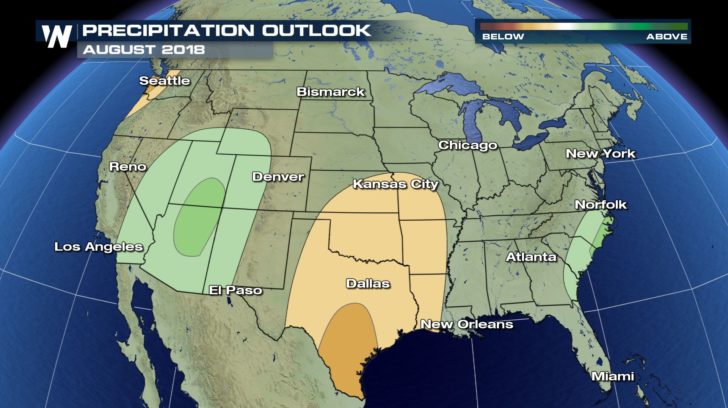 The Climate Prediction Center's monthly outlook is a broad forecast trend.  This information looks at the month of August as a whole.  There can and will be small variations from day to day....and you can be sure that we'll keep you up to date here at WeatherNation. -
Meteorologist Joe Astolfi