in 2019. These included eight severe storm events, three flooding events, two tropical cyclones, and one wildfire event in multiple locations. It was also the fifth consecutive year in which 10 or more billion-dollar weather and climate disasters affected the U.S. Overall, these events caused at least 44 casualties and had significant economic impacts.
Many more less-extreme weather and climate events touched the nation last year, but no matter how large or small, satellite imagery and data were the foundation of 2019's life-saving forecasts. For federal, state, and local emergency managers, those same satellites provided critical, up-to-the-minute information as well.
NOAA's Perspective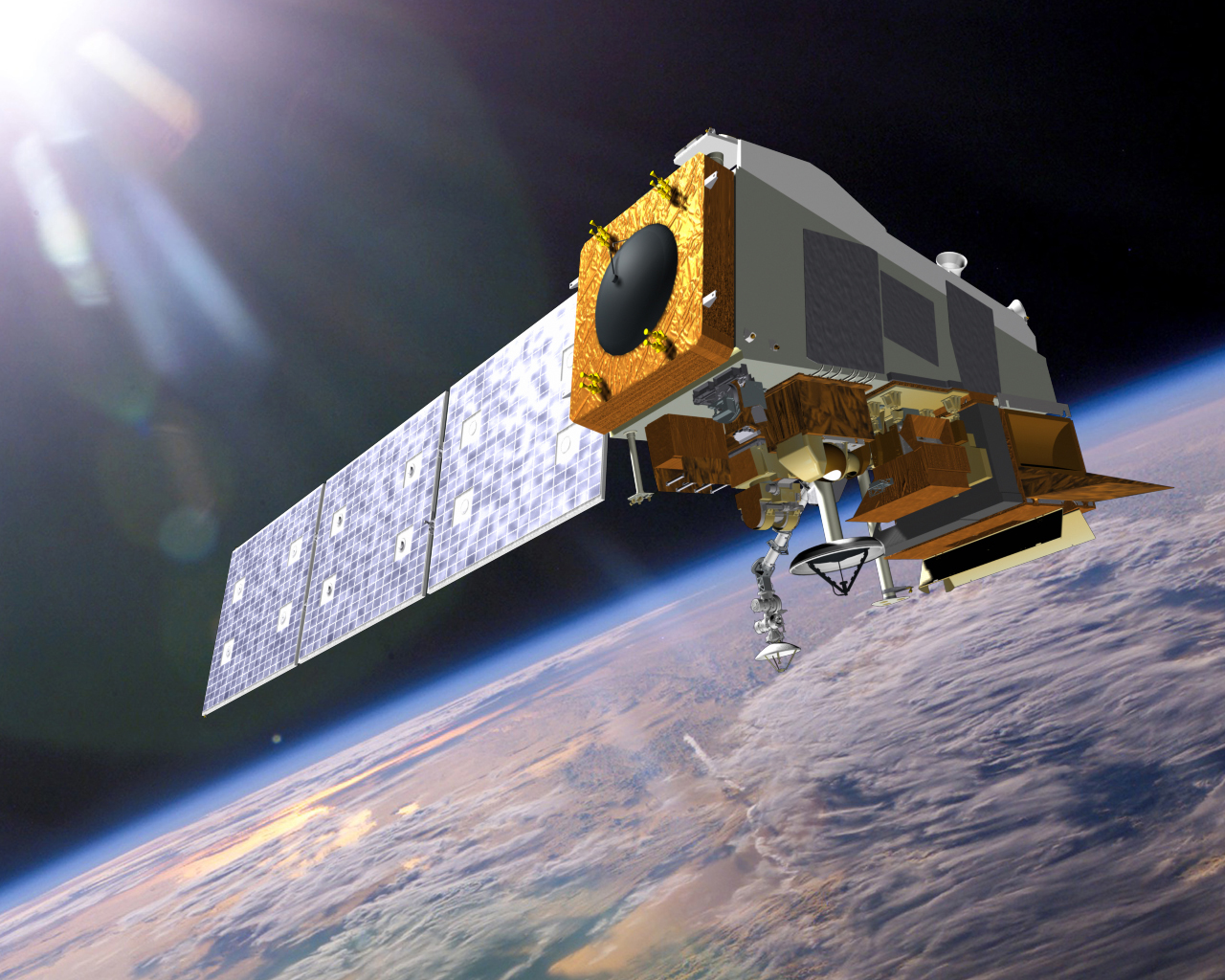 [
A rendering of NOAA's JPSS satellite, NOAA-20.
] From orbit, our next-generation satellites bring better data for weather prediction and provide a more comprehensive scope of disasters after they happen. NOAA satellites assist emergency responders with all parts of a disaster—from preparing the public and protecting infrastructure, to timely and targeted response and recovery. NOAA's newest geostationary satellites—the next-generation GOES-R series—view the globe from an orbital position located 22,300 miles up and are constantly watching the Earth from eastern Australia to western Africa. Equipped with the Advanced Baseline Imager (ABI) instrument, both GOES-16 and GOES-17 image much of the planet's weather, oceans, and environment in unprecedented detail. Data from the ABI instruments help meteorologists better track severe storms and provide earlier warnings ahead of extreme weather events. ABI data also leads to more preparation time ahead of tropical storms and hurricanes, enabling emergency managers to make quicker and better-informed decisions, including ordering effective evacuations. NOAA's newest polar-orbiting satellites—the Joint Polar Satellite System (JPSS)—provide full, global imagery twice a day from about 500 miles up. Polar satellites are considered the backbone of our weather prediction capabilities, and NOAA's National Weather Service (NWS) uses JPSS data as an essential part of its 3- to 7-day forecasts that the emergency management community depends upon. "Using polar satellite data, we have been able to provide emergency managers with more accurate forecasts, allowing them to pre-position equipment and resources days before a storm," said NWS Director Dr. Louis Uccellini.
Monitoring a Busy Tropical Season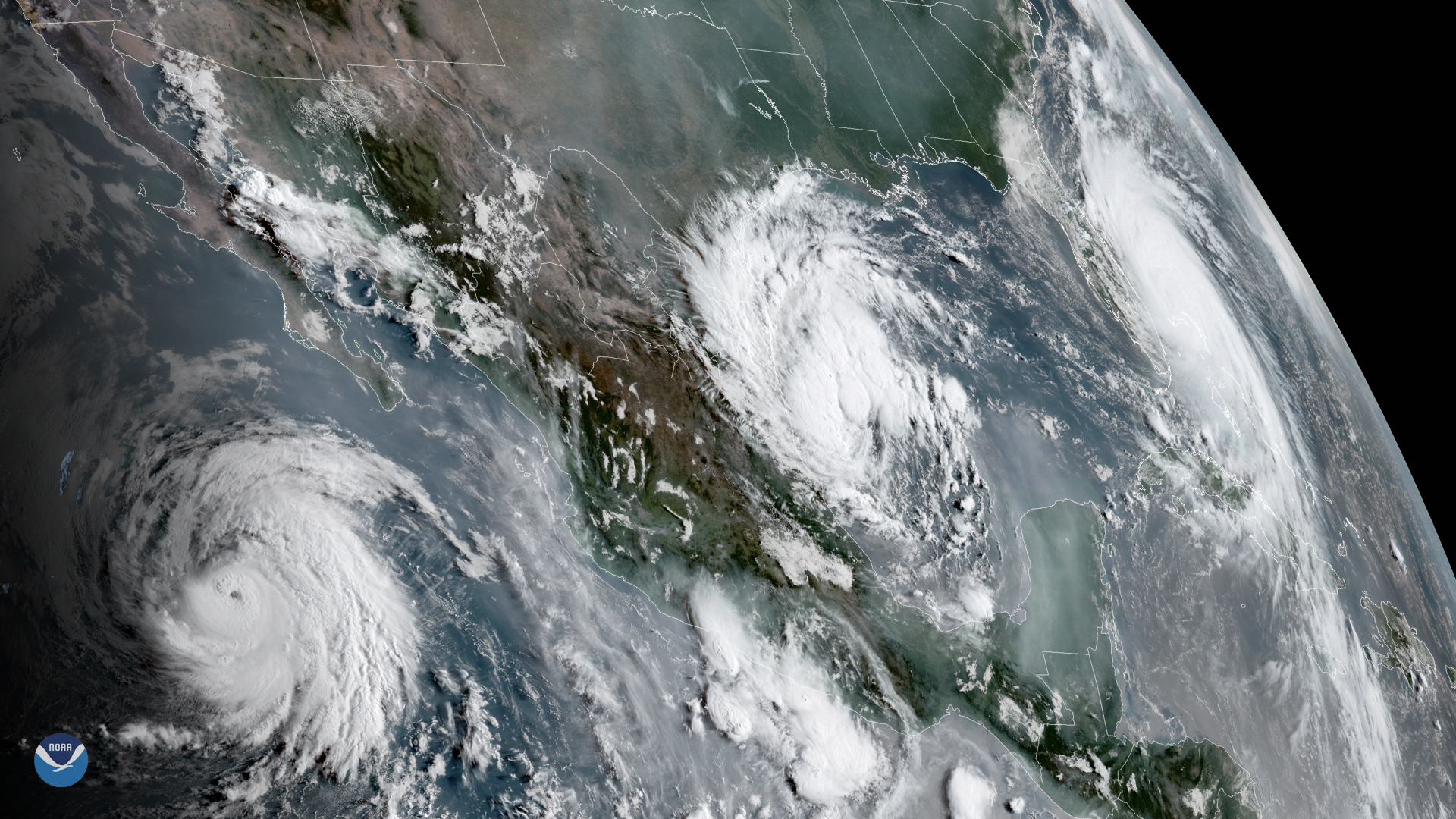 [
A view from GOES-17 of three tropical systems in the Eastern Pacific and Atlantic basin in September 2019.  From left to right, Hurricane Juliette, Tropical Depression 7, and Hurricane Dorian.
] The 2019 Atlantic Hurricane Season was an unusually 
busy one
, with 18 named storms, including six hurricanes. Three storms—Dorian, Humberto and Lorenzo—were major hurricanes, meaning their sustained winds hit 111 mph or higher. Since 1980, hurricanes and tropical storms have accounted for 46 billion-dollar disasters in the U.S. Tropical cyclones have caused the most damage and also have the highest average event cost on average ($22.3 billion per event, CPI-adjusted) of all disasters. Because these systems have the potential to be so destructive, emergency managers depend on crucial satellite information as their eyes in the sky. "During major events, we coordinate our efforts with NOAA and other federal partners daily," said Travis Potter, a remote sensing coordinator for the Federal Emergency Management Agency (FEMA), Region IV. "Most recently, NOAA provided pre- and post-event imagery during [Hurricane] Dorian." While Dorian was raging in the Atlantic—but before its U.S. landfall—NOAA provided FEMA with data as a component of FEMA's coordination plan with state and local partners. With this imagery, FEMA created baseline pre-landfall products to better understand the impacts from a land-falling Dorian. Once Dorian made landfall in North Carolina, Potter said, "We were able to use NOAA satellite imagery, in addition to manned and unmanned aircraft imagery, to produce analysis and assessment products to satisfy internal and external requests for situational awareness."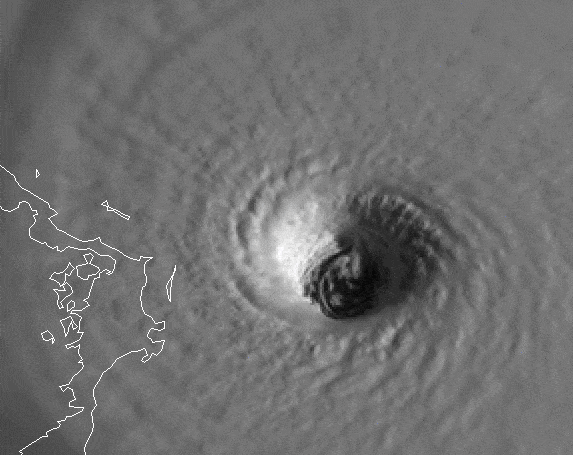 [The eye of major Hurricane Dorian approaching Abaco Island, Bahamas, on September 1, 2019, as seen by NOAA's GOES-16 satellite.] As for this close collaboration with NOAA, he added, "This partnership is important because the imagery provided by NOAA is a key component of the overall collection plan that is used to give decision-makers the most current data and provide our GIS department with imagery to produce products that are used by federal, state, local and tribal partners."
Finding and Mapping Floods
Flooding accounted for three out of the 14 billion-dollar disasters in 2019, including devastating flooding along the Mississippi, Missouri, and Arkansas rivers. NOAA satellites offer a unique vantage point for detecting and assessing floods across the U.S. A partnership between NOAA and George Mason University has developed flood mapping products that use data and imagery from the NOAA-NASA Suomi NPP, NOAA-20, GOES-16, and GOES-17 satellites. 
These maps
 are changing how we measure the evolution and dynamics of flooding by providing high resolution detail over vast areas. Along with aircraft, unmanned drones, and ground assets, NOAA's flood maps give FEMA, local emergency managers, and first responders important information about the location and extent of the flooding. The maps also allow officials to quickly determine where to issue evacuations, where to employ limited resources, when it's safe for people to return to their homes, and where to focus recovery efforts.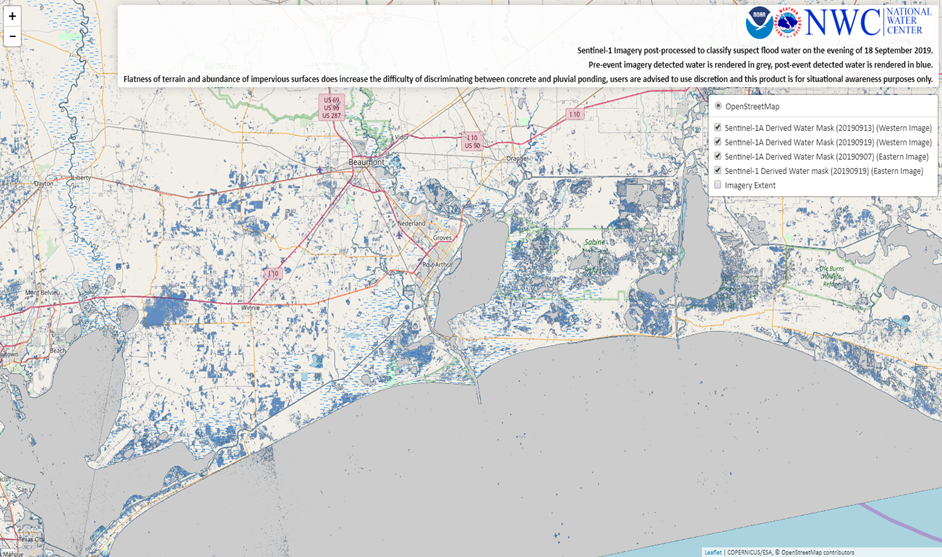 [
Map of suspected flood waters (blue areas) from the remnants of Tropical Storm Imelda on September 18, 2019, as detected by the Sentinel-1A satellite. Image courtesy of NOAA's National Water Center.
] When cloud-cover or nighttime conditions make flood mapping difficult, NOAA can also turn to our partners' satellites. In September 2019, the remnants of Tropical Storm Imelda dumped copious amounts of rain on eastern Texas and southern Louisiana over a period of several days. As some communities were submerged under several feet of water, NOAA's Center for Satellite Applications and Research (STAR) utilized Europe's Copernicus Sentinel 1A satellite. Sentinel 1A provides Synthetic Aperture Radar (SAR) data from orbit, which allows scientists to view areas of water on land during overcast skies and at night. "SAR imagery assists NOAA in seeing where flood waters are located by penetrating the cloud-cover that can block an optical satellite's visibility," said Sean Helfrich, a water surface conditions specialist at NOAA STAR. "It also operates in a spectrum that doesn't require sunlight to view surface features. Imelda remained over Texas for days, but the SAR was able to provide flood estimates through the cloud cover." Scientists at NOAA's 
National Water Center (NWC)
 use SAR as their "sensor of first choice," according to Shawn Carter, a physical scientist from NWC. "Often, floods are obscured by the very thing that generates the flood—namely, storm clouds. It's really a game changer in terms of producing graphics to describe the extent and severity of flooding for our colleagues and partners."
Assisting with Wildfires
There were numerous destructive wildfires across the U.S. in 2019, from California to Texas and northward to Alaska. California in particular was hard hit, with the devastating Kincade Fire being the state's largest of the year. At the forefront of these blazes were firefighters and first responders. From a loftier perspective, NOAA satellites were providing them guidance.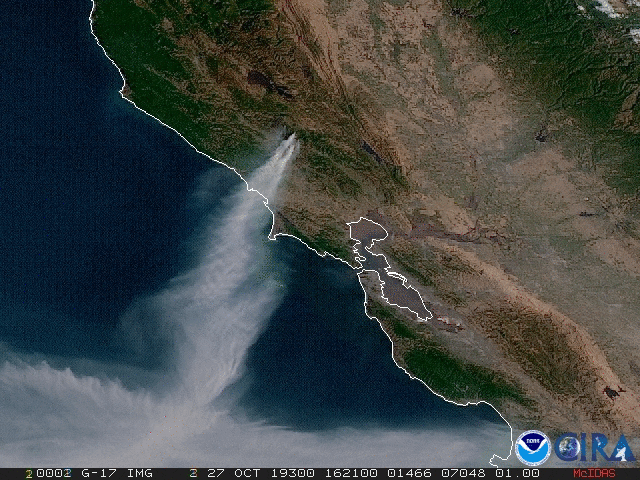 [
A view from GOES-17 of the smoke plume from California's Kincade Fire, October 27, 2019.
] NOAA's GOES satellites frequently detect fires before they are spotted on the ground, especially in remote regions like the Alaskan wilderness. NOAA satellites are also used to pinpoint the exact location of a fire after reports of smoke. "We use the satellites to inform decisions on where to stage assets across the country," said Brad Quayle of the Forest Service's 
Geospatial Technology and Applications Center
, which plays a key role in providing satellite and other remote-sensing data for active wildfire suppression. "When there's high competition for firefighters, tankers and aircraft, decisions have to be made on how to distribute those assets." The benefits from GOES-R Series satellites aren't just seen during a fire but are also important in monitoring burn scars and predicting flash flooding from rain after a fire. Indeed, satellites provide essential data for the entire lifecycle of a wildfire disaster—from drought to fire, to floods and landslides. With ever-evolving satellite technology, not only has disaster response become better targeted, but forecasts are more accurate and warnings are coming sooner. This on-going collaboration between NOAA and emergency managers will continue to be vital for any weather events—big or small—that come our way in 2020. As the director of emergency management in Hennepin County, Minn., Eric Waage, emphasized, "Partnership with NOAA has revolutionized the emergency management community from one that reacts to events to one that proactively prepares and stays ahead of extreme events."