CALIFORNIA -  Heavy rainfall continues to bring hazards to California including flash flooding, mud and rockslides, and debris flow. Flood reports cover the area as continuous rain brings issues such as sinkholes, bridges being washed out, boulders crashing along the highway, and much more. All because of the power of heavy rain. Sadly, flooding has turned deadly, with over a dozen people killed. Another round of heavy precipitation will be expected for California this weekend, for more information, click
here
. The entire town of Montecito, CA was under an evacuation order Monday and Tuesday due to rising flood waters. January 9th marked the five-year anniversary of the deadly mudslide caused after wildfires scarred the region. Numerous flood reports (green dots) and debris flow (dark blue dots) were seen throughout California since Sunday. Since the first atmospheric river, we have seen a tremendous amount of rainfall - some cities in California seeing half a year's worth of rain in just 3 weeks.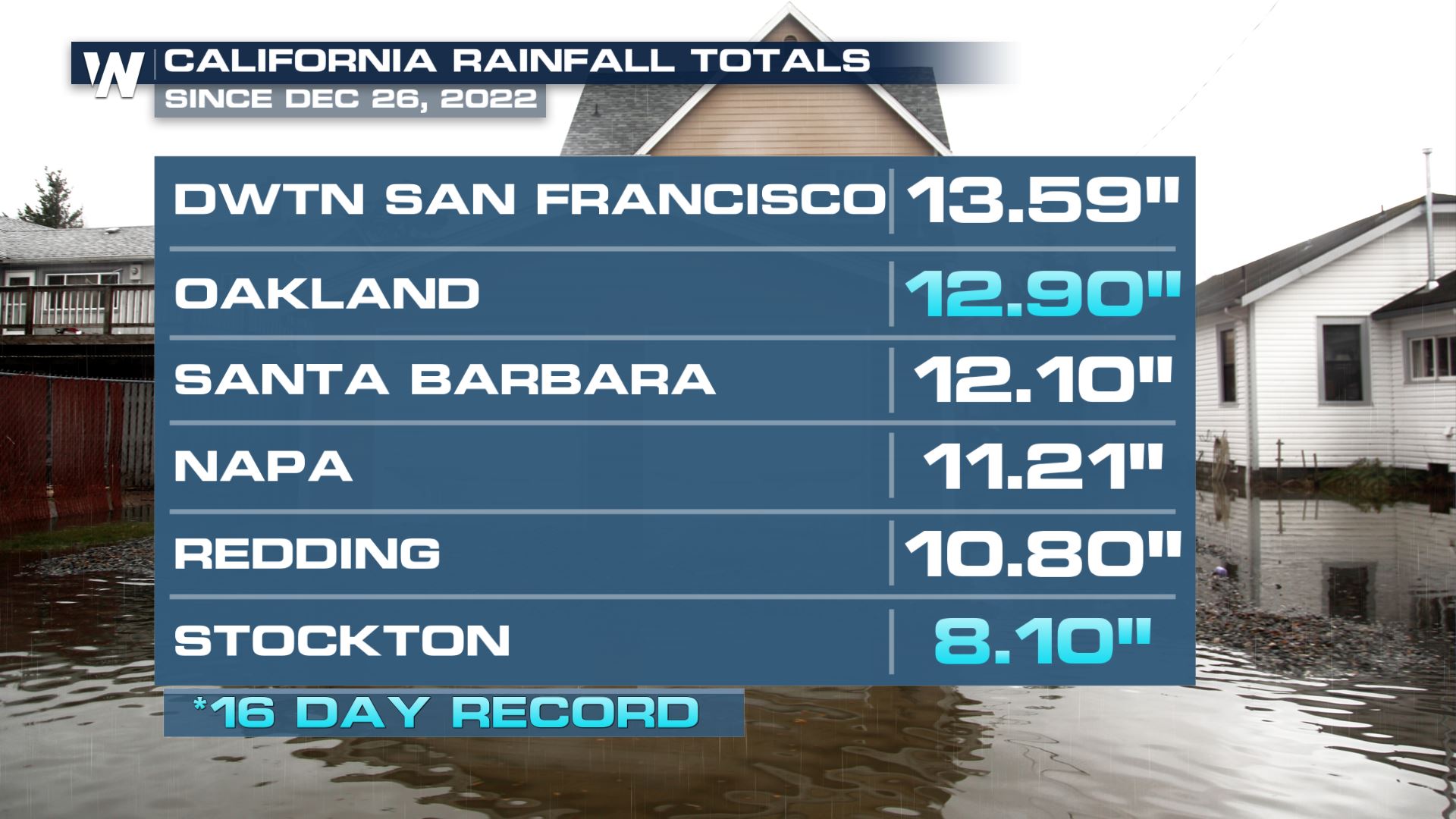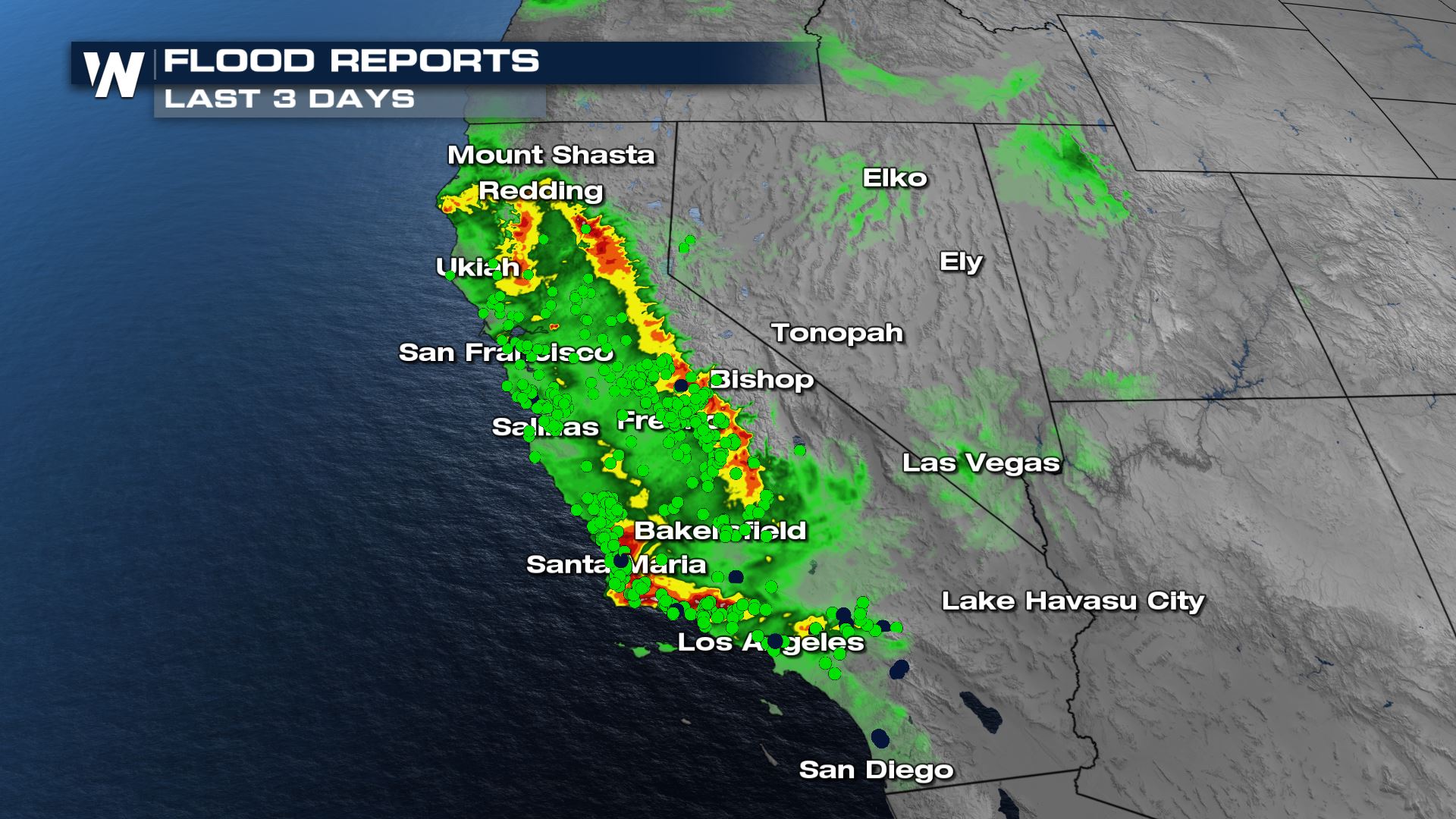 Widespread snowfall totals over 3-4 feet have been seen across the highest peaks. The snowpack for the Sierra Nevada is at a statewide 215% of normal for this data and 94% of where it should be by April 1st. While this is amazing news for the reservoirs, this much snow all at once is making travel nearly impossible along with weakened slopes and heightened avalanche dangers. Check out what we've seen since teh first atmospheric river on December 26 - over 15 FEET of snow in 3 weeks at Mammoth, CA.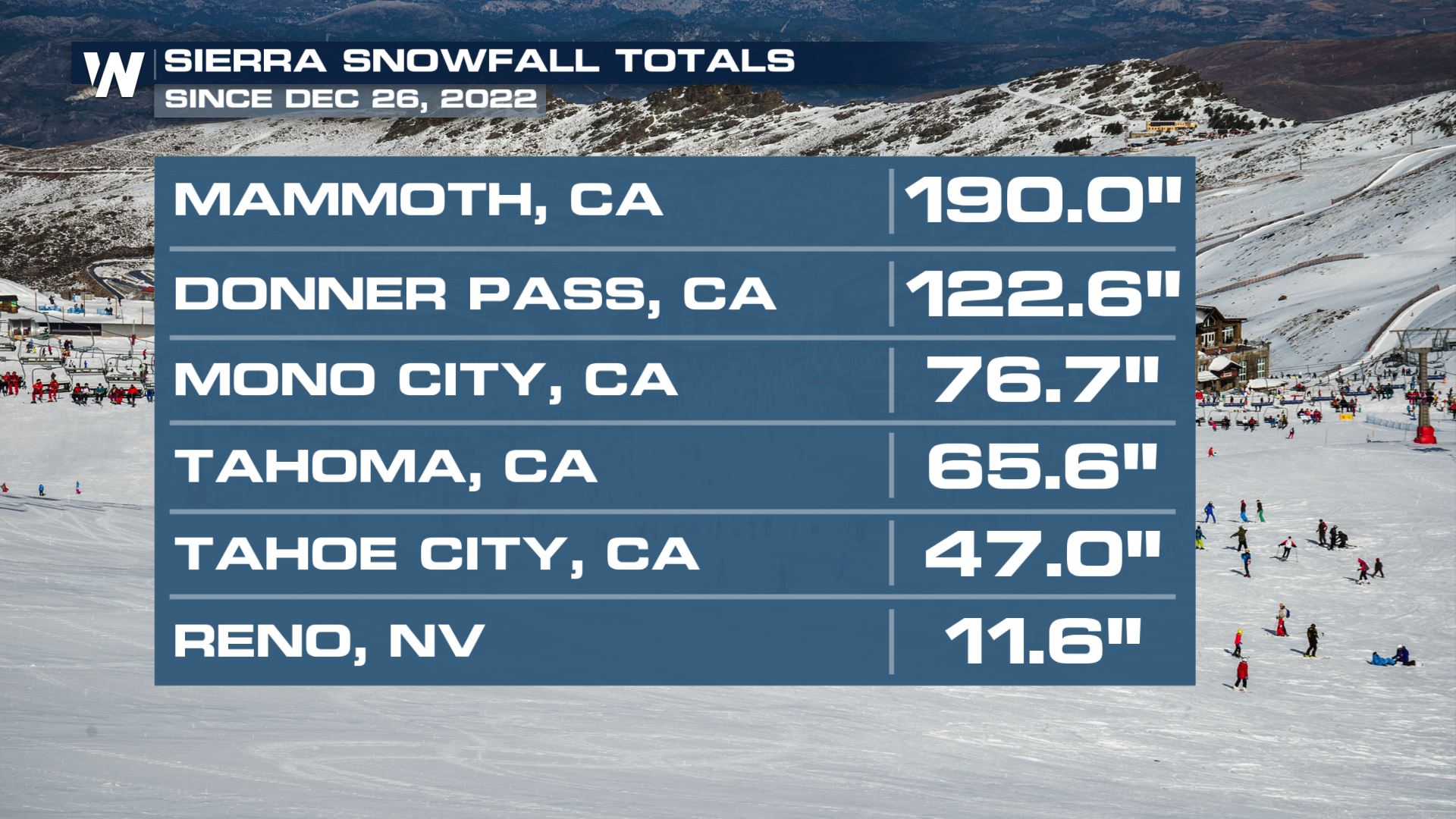 Additional rounds of heavy rainfall will continue over the next few days for northern California thanks another wave of Pacific Moisture moving onshore. Rainfall totals are expected to surpass another 1-3" inches for the northern California and southern Oregon coast. The Weather Prediction Center has drawn out outlooks for excessive rainfall today through northern Coastal California due to the heavy rain. These locations highlighted have the potential for not only urban flooding, but also the risk of mudslides, debris flows, and overflowing rivers, creeks, and streams.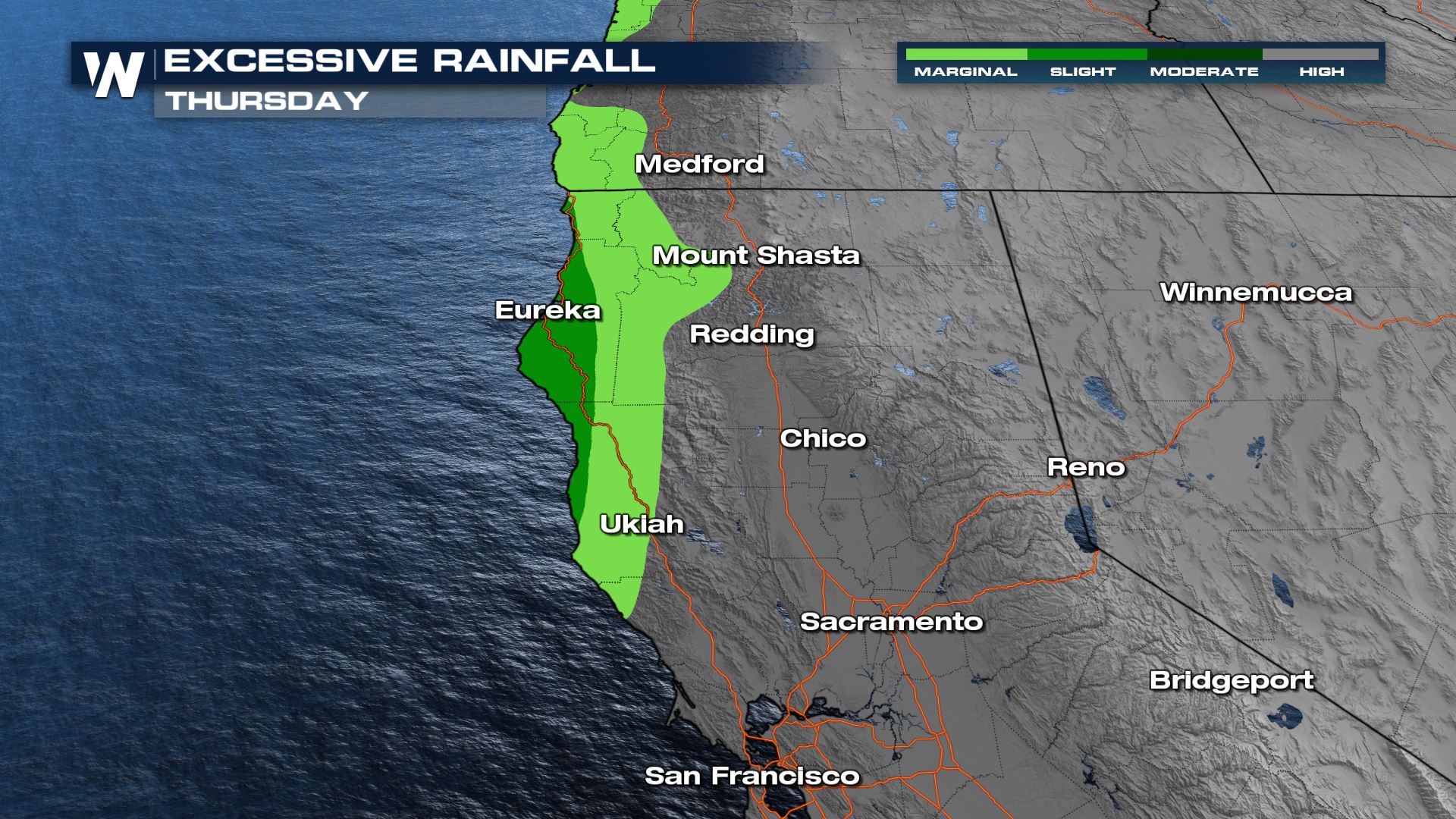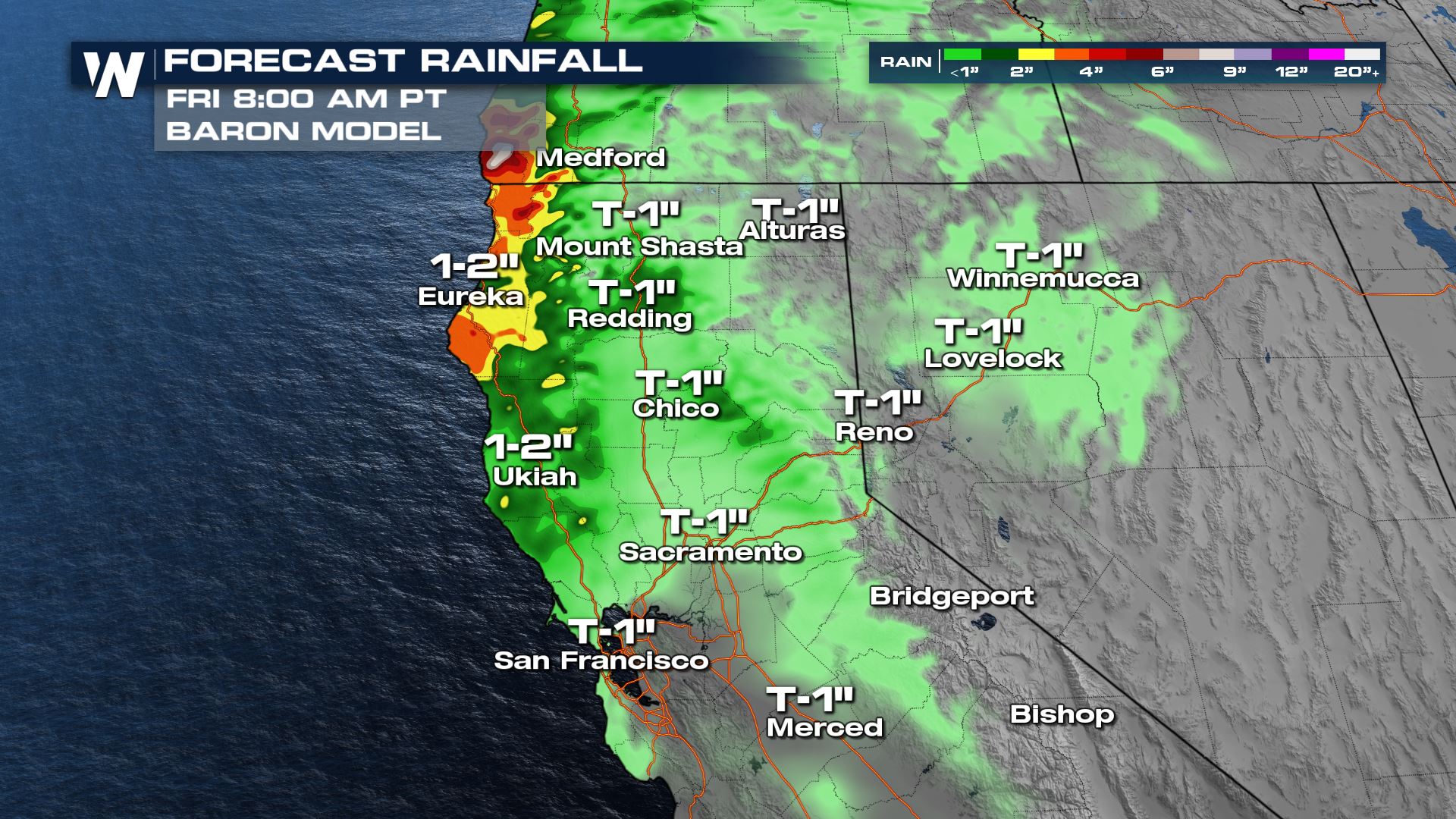 Today we see an area cold front just offshore, that continues to stream moisture in to the far northern regions of the state and into southern Oregon. The coastline will deal with more rainfall, which could lead to additional mudslides and debris flow around recent area burn scars in addition to high elevation snowfall. What makes the risk of rain so dangerous in these situations is that it is hitting higher elevation locations and gravity naturally pulls the water town. By the time the water descends even just 100' in elevation, it is rushing and creating a torrent that is extremely dangerous at lower levels. Many roads are blocked and impassable due to the high water from urban and river flooding. More potent moisture looks to return on Friday as another weak shortwave of energy slides in. Bottom line, we are far from done with the wet weather forecast, and continue to respond and prepare for the heavy rain and difficult travel impacts.