It was a hot day in Denver, Colorado on Thursday.  In fact, it has never been hotter in the history of the city!  At least not since weather records have been kept since 1872.
Denver officially made it to 105 degrees.  It happened at 2:20pm at Denver International Airport.  That's where official temperatures are recorded.  It not only sets a new daily high temperature record for June 28th, but it also ties the all-time record high temperature!
The previous record high for June 28th was 99 degrees set in 1986.  And 87 degrees is the average high temp for June 28th.
As far as all-time record highs for the city, Denver has reached 105 degrees three times before.  The city hit 105 degrees in 1878, 2005, and 2012.
https://twitter.com/WeatherNation/status/1012438499725750272
BUT WHY SO HOT? 
Basically, there are three reasons.  First, there was a dip in the jet stream across the west coast.  This amplified and lifted the jet stream north over Colorado, helping heat surge in from the south.  Second, the wind was coming off the Rocky Mountains and descended into the Denver area.  This sinking air heated rapidly.  And third, a large ridge of high pressure was just to the east of the Denver.  Clockwise atmospheric circulation around the center of the high brought up very warm air from the south.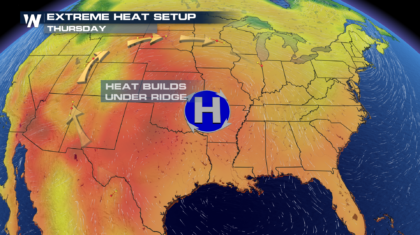 But there's good news.  It looks like this heat event will be relatively short lived.  The extended forecast for Denver has temperatures dropping into the mid 90's on Friday, and into the upper 70's for Saturday.  That's almost 10 degrees below average!  But the mid 90's are back in time for 4th of July celebrations on Tuesday and Wednesday.  So enjoy the cooler weather while it's in town.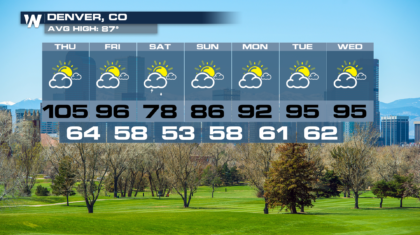 For WeatherNation, Meteorologist Matt Monroe