[
Written by NOAA
]  When it comes to data collection, un-crewed aerial systems —  known as UAS or drones —  are critical research tools. They've 
helped
 scientists take surveys of fur seal and polar bear populations, mapped important salmon habitat, and are even in testing to improve hurricane forecasts. Drones can take large amounts of high-quality, high-resolution images, can reach areas that are dangerous or difficult for scientists to reach themselves, and can do so efficiently and cost-effectively. Now, these drones are helping NOAA scientists get a better understanding of two major weather events: derechos and flooding.
MAPPING FLOODING AFTER HURRICANE DELTA
A few days after Hurricane Delta made landfall in Louisiana on October 9, scientists from NOAA and the 
Northern Gulf Institute
 (NGI) —  a NOAA Cooperative Institute based out of Mississippi State University — launched a TigerShark XP3 UAS platform near the banks of the Mississippi River. The TigerShark — a large drone — flew over long stretches of the river, collecting imagery of the riverbanks that would give scientists details about the flooding impact Delta had caused. As it turned out, Delta didn't cause much flooding in the region. But the area is 
particularly vulnerable
 to flooding, so getting accurate data after events like Hurricane Delta is critical. The drone flight was part of an 
ongoing research partnership
 between NOAA and NGI to improve flooding forecasts while also providing forecasters real-time information about how severely an area is being impacted by flood. Imagery collected by the drone is sent to forecasters at the NOAA National Weather Service Lower Mississippi River Forecast Center (RFC) in Slidell, Louisiana, who then use the data to fine-tune their models and better predict the next flood.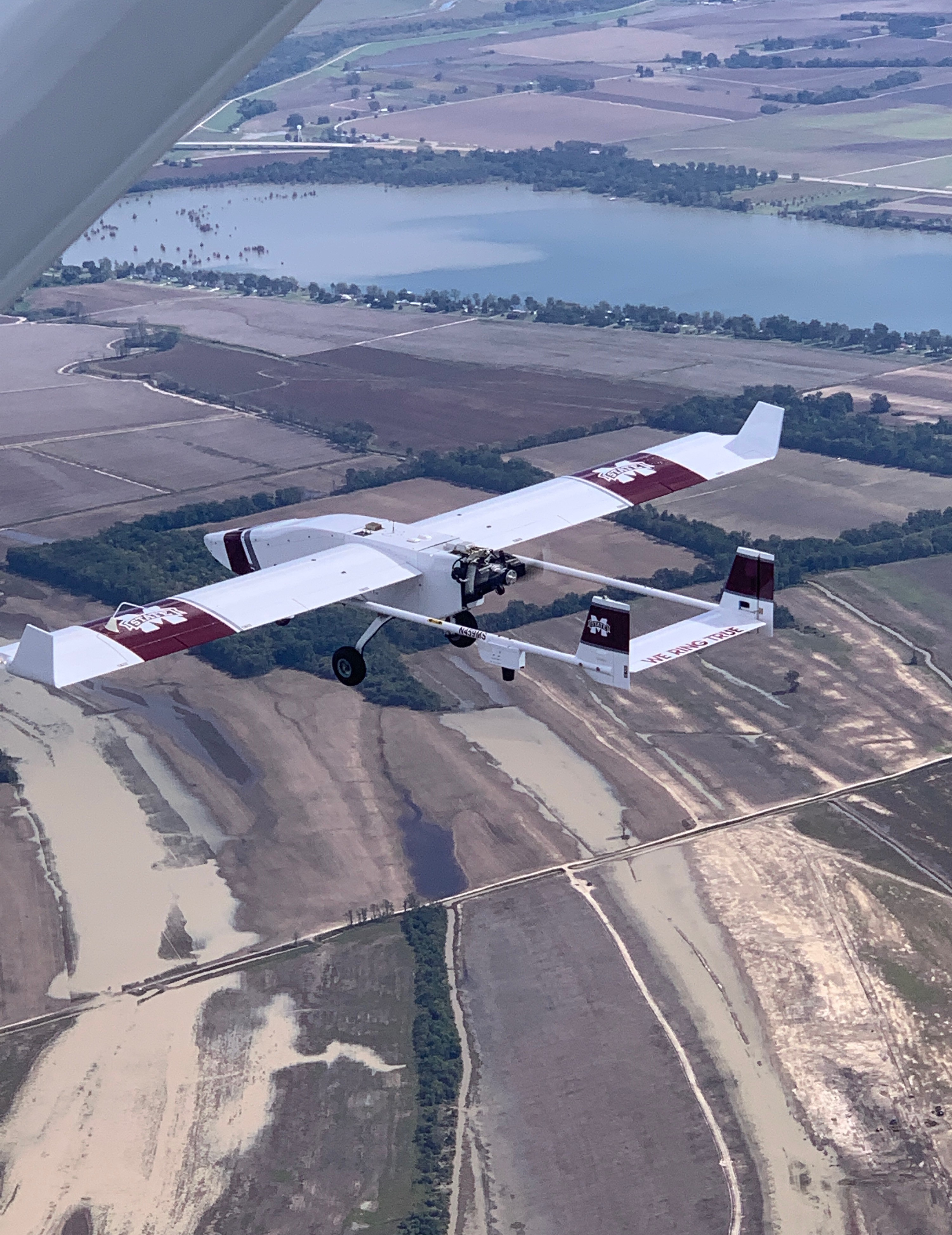 [
THE VIEW FROM ABOVE - The TigerShark XP3 UAS platform gathers data on flooding impacts along the banks of the Mississippi River. Credit: Northern Gulf Institute
] The flight was the latest in a series of efforts to use drones to collect imagery during a flood. Previous flights — in February and May of 2019 — also provided National Weather Service (NWS) forecasters real-time imagery of flooding in Mississippi, helping NWS experts update flood warnings and generate more accurate forecasts. "One of the goals is to get the information back to the River Forecast Centers as fast as possible," said NGI Director Robert Moorhead. "We can send that data as it's collected to the RFC, so as the flight moves along, the imagery is painted on their screen. It's really helping them understand the latest situation —  where the water is accumulating, where it is rising."
UNDERSTANDING DERECHOS' IMPACT ON RURAL AREAS 
On August 10, 2020, a 
derecho
 tore through the midwest U.S., bringing with it extreme winds, severe thunderstorms and multiple tornadoes. The derecho snapped power poles, blew semi trucks off the road and damaged 37.7 million acres of farmland. In total, it did an estimated 
$7.5 billion in damage
. With so much damage coming from a single event, scientists like Melissa Wagner are working to better understand derechos —  the term for a widespread, long-lived wind storm associated with a band of rapidly moving showers or thunderstorms — in the hopes of providing more accurate warnings in the future. Wagner, a 
Cooperative Institute for Mesoscale Meteorological Studies
 (CIMMS) scientist supporting the 
NOAA National Severe Storms Laboratory
, is leading a research effort that's using drones to gather data on the aftermath of the August derecho.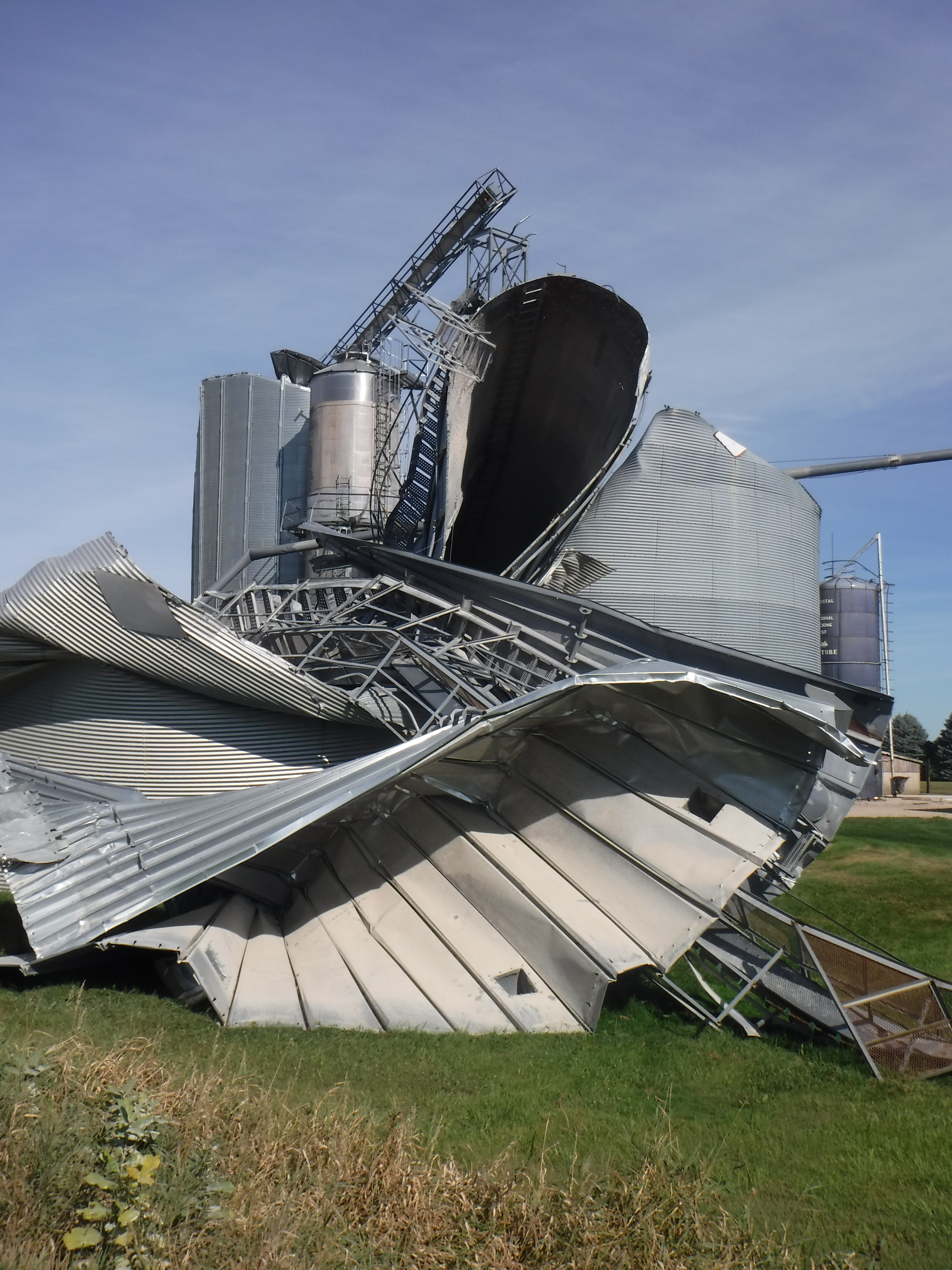 [
A DERECHO'S DAMAGE - A grain silo is seen twisted and crumpled by the strong winds of the August 2020 derecho. Image courtesy Melissa Wagner, CIMMS/NSSL
] "By flying drones over damage affected areas, we are able to efficiently obtain very detailed pictures and video that can help us better estimate storm intensity and relate associated hazards with information observed in radar," Wagner said. Wagner's team used a drone to collect imagery of rural parts of central Iowa hit hard by the derecho in late August and early September. Drones are particularly useful in gathering data on storm damage in rural areas, Wagner said. "Without buildings and other human-made structures, we have very few markers to estimate wind speeds from our current methods of surveying the damage at the ground," she said. Satellites can help, but satellite imagery can be obscured by cloud cover, and urban areas are often prioritized for gathering structural damage data via high-resolution satellites or ground surveys after storms. Drone imagery shows where damage has occurred from straight-line wind — when all the corn or other vegetation in a field has fallen in one direction — and from tornadoes, which can cause a circular or a braid-like pattern in the tree and corn fall. That imagery allowed scientists to identify the tracks of multiple tornadoes that were spawned from the derecho and was shared with the NWS Des Moines office to help with their damage assessment.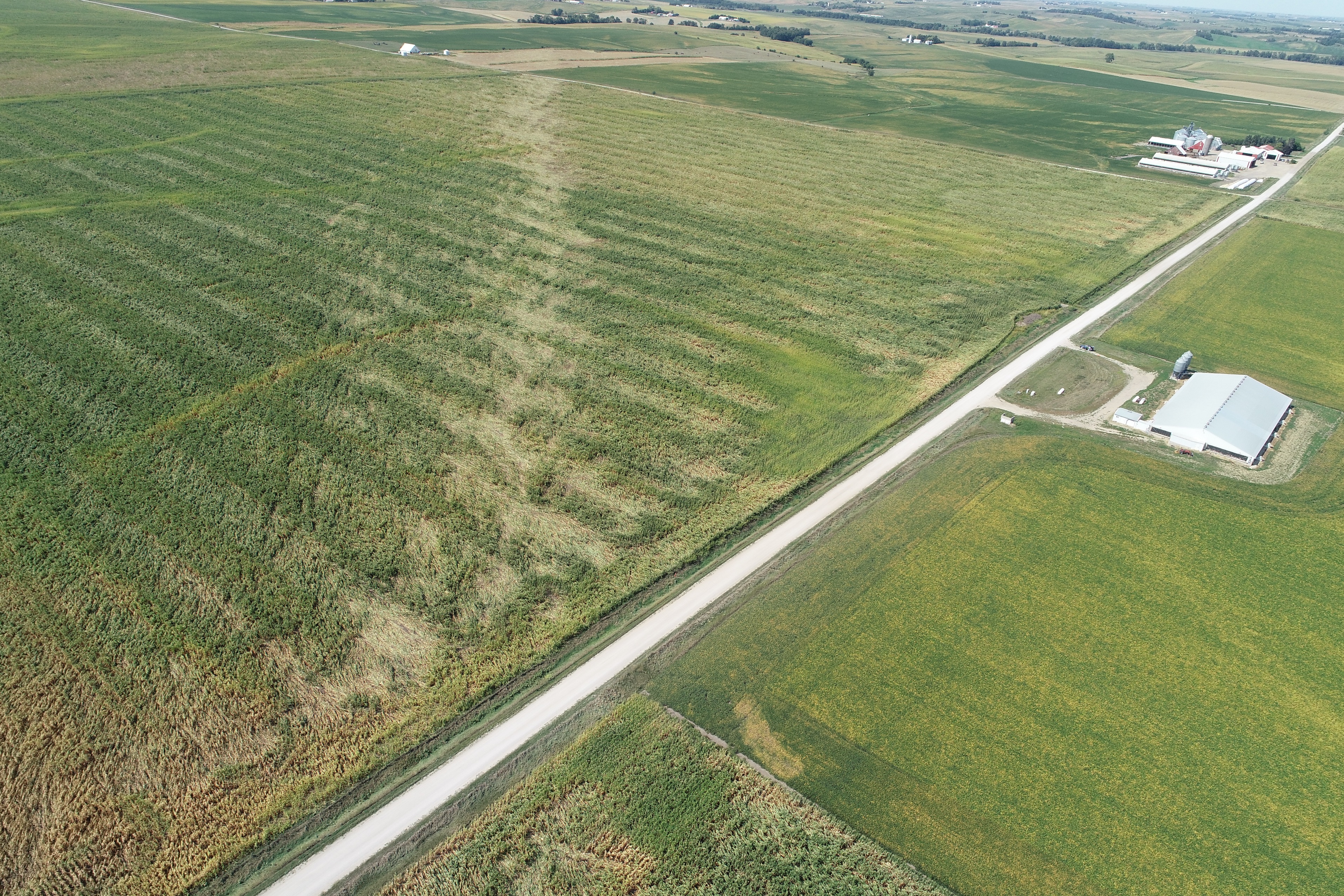 [
TORNADO TRACKS - The track of a tornado, seen in a corn field near Tama, Iowa. Image courtesy Melissa Wagner. CIMMS/NSSL
] "From the air, you're able to better capture and see what the actual damage extent is associated with an event," she said. "That's something we saw in the field — we saw a couple damage indicators on the ground, but as soon as we got the UAS up in the air, we were able to see the entire tornado damage path that we were not able to see from the ground." Understanding and documenting wind damage helps scientists like Wagner better understand what these storms are capable of and better communicate their risk in the future. It also helps scientists develop more damage indicators for vegetation that are better reflective of storm intensity in rural areas. Wagner's study is ongoing, and she plans to use UAS to gather this type of data on future derechos and other high-wind events. "It's kind of a game-changer, in my opinion," she said of using drones for this research. To Learn more about NOAA's use of drones, visit the 
UAS Program website
.