Dewpoints in the low 70s, high heat and warm ocean water - sounds like a typical weather pattern for south Florida, right? That's what San Diego, California - typically noted for its mild, temperate weather and relatively chilly ocean temperatures - has seen over the last few weeks. The National Weather Service in San Diego noted on Monday water temperatures off of the Scripps Pier, located in the San Diego community of La Jolla, were up to 78°, an incredibly high figure for an area where average figures are in the upper 60s this time of year. They peaked at 81.3° last week,
according to the NWS
. https://twitter.com/NWSSanDiego/status/1029082784701272064 Due to a strong monsoonal flow, dewpoint temperatures in San Diego have been hovering in the mid 60s to low 70s the last few days, making it unusually muggy in the area. Dewpoints, a measure of the amount of moisture in the air, are usually in the 50s to perhaps low 60s in San Diego. When dewpoints climb above the 60°-65° threshold, most people will feel it, and particularly in San Diego, which isn't used to this kind of humidity level. Finally, San Diego's also seen air temperatures that are running way above average so far this month. Through the first 12 days of the month, San Diego's had an average temperature of 80.7°, which, if drawn out over the full month, would make it by far the hottest month in the city's recorded history. The current record is September 1984, which had an average reading of 78.9°. So what's causing it all? The water temperature heat is the biggest mystery because the anomaly is highly concentrated in the San Diego area (see the tweet above), but the same persistent ridge across the west has kept San Diego on the hotter side, and the dewpoints have mainly owed to a shorter-term sharp pull in monsoonal moisture from the south. The week ahead, however, looks to feature a bit more of a "normal" weather pattern for the area, though those toasty water temperatures probably won't dissipate too sharply anytime soon. Temperatures will still be well above average in the area.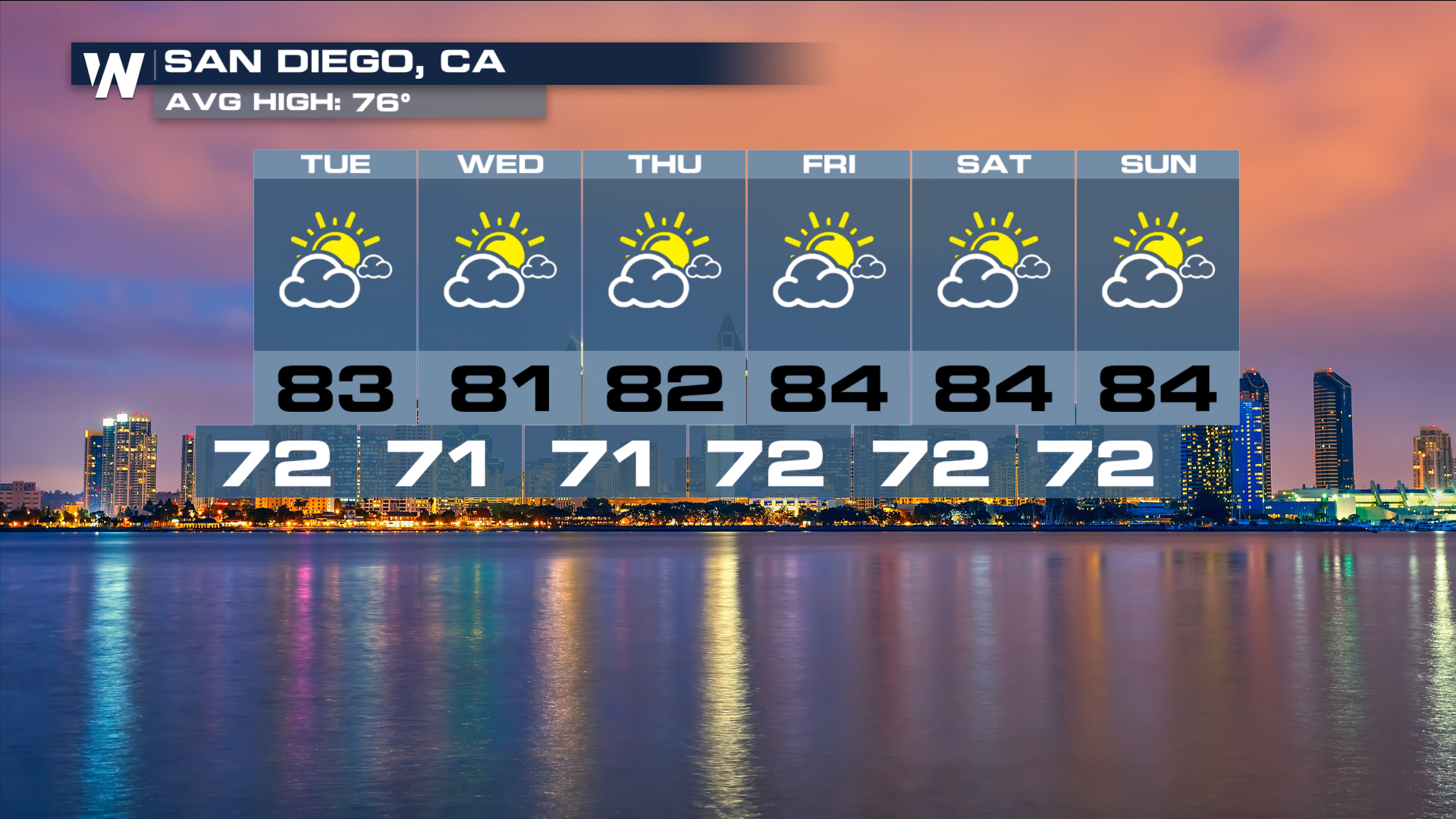 Stay with WeatherNation for the latest on this unusually muggy spell in the San Diego area. For WeatherNation: Meteorologist Chris Bianchi - Featured image: Courtesy of Surfline