The California wildfires continue to burn, and the resulting smoke has become another big problem across the state.  Smoky skies can be found from the Chico-Redding area, all the way down to southern California.  The smoke is thickest in northern California, near the Camp Fire, which is burning south of Redding, and north of Sacramento.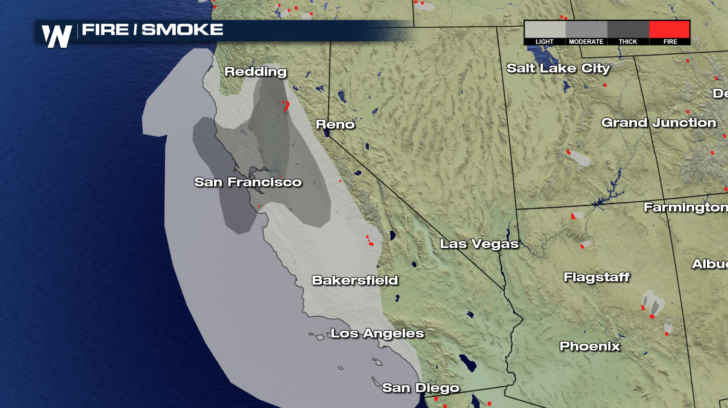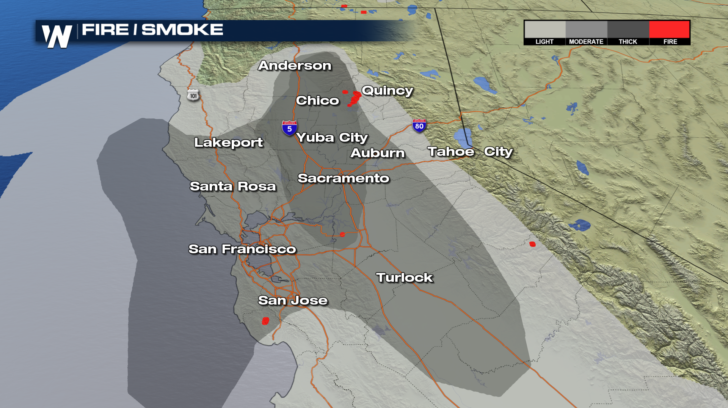 In the graphic below, air quality is the worst where the red dots are located.  Thick smoke can be found in the San Francisco Bay area, Sacramento, Yuba City, and Chico.  Air quality is also fairly  poor in cities with orange dots.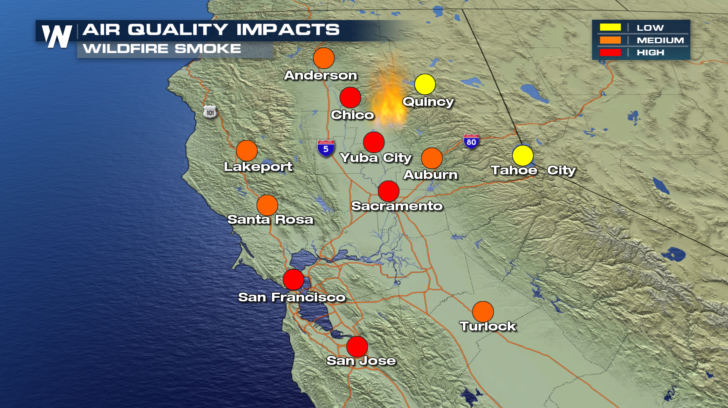 Air Quality Alerts have been issued by the San Joaquin Valley Air Pollution Control District.  The air quality in the San Joaquin Valley is expected to be very poor through Tuesday!  The alert is in effect through Noon on Tuesday.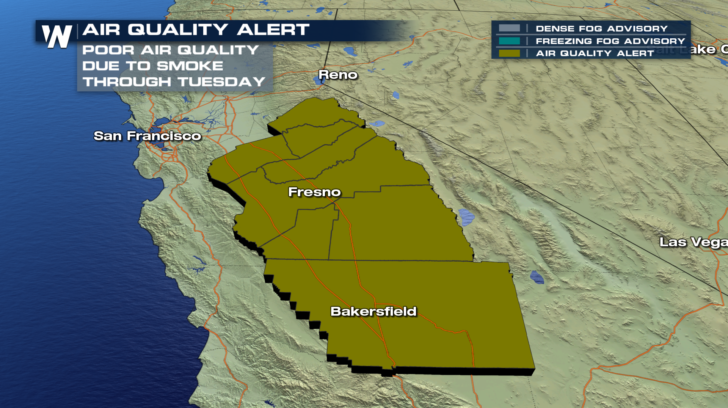 The Air Quality Alert stresses the serious heath problems that can result from exposure to particle pollution from the smoke.  These include asthma attacks, acute bronchitis, and respiratory infections.  Residents in the alert area are advised to avoid prolonged exposure to outdoor conditions.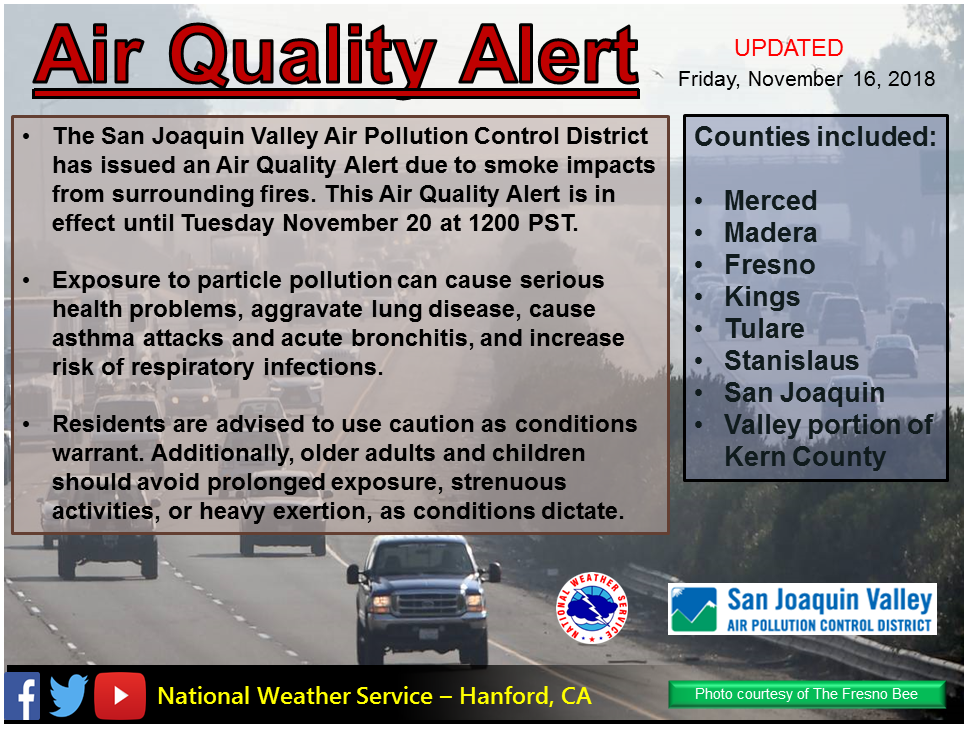 The National Weather Service in Sacramento has the below information on their homepage.  Smoky skies are expected in the Sacramento Valley this weekend.  Only marginal improvement is expected on Sunday.  Early morning hours, and late at night, will be the worst due to lighter winds.  Visibility will be substantially reduced in many areas.
But here's the good news...  rain may be on the way by mid-week!  This would help the fire fighting efforts with the Camp Fire, and also remove much of the smoke that's in the air. The National Weather Service in Sacramento has the below graphic on their homepage.  A series of storms could bring heavy rain to northern California Wednesday through Friday.  Several inches of rain could drop onto the Camp Fire, helping to douse the flames.  However, heavy rain would also fall on burn scar areas, possibly leading to flash flooding.  It's a weather story we'll be following very closely next week.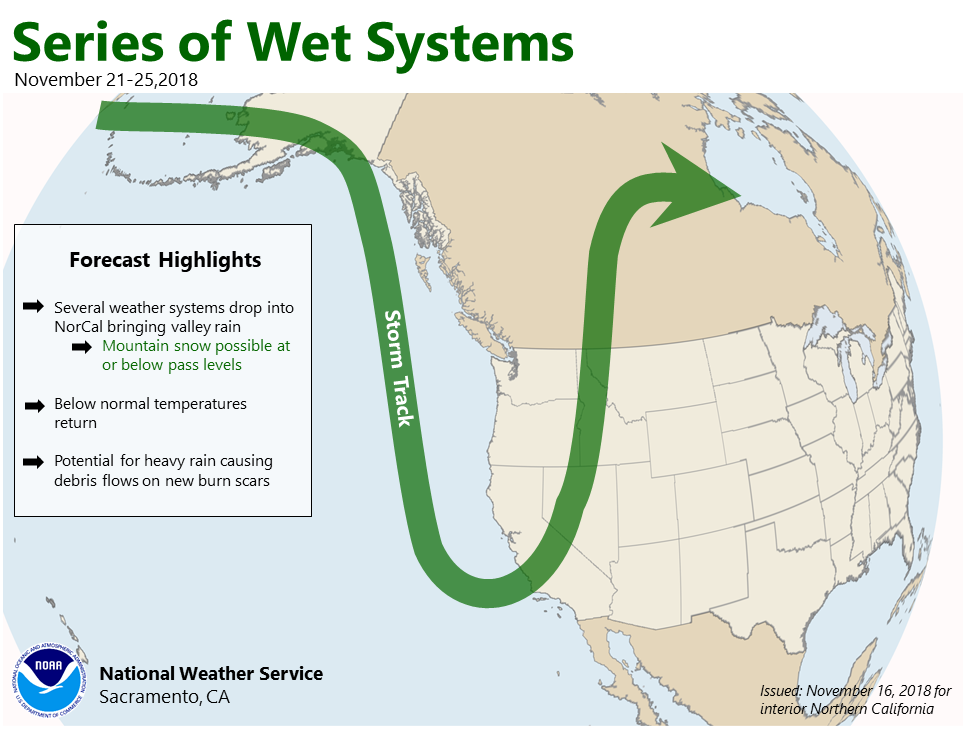 Stay tuned to WeatherNation on Dish Network, Amazon Fire TV, Roku, and Apple TV, for the very latest weather information. For WeatherNation:  Meteorologist
Matt Monroe