North Dakota just received a pretty good dose of snow on Wednesday and Thursday.  Over 19 inches fell at the Grand Forks Air Force Base.  Over the past 48 hours, there has also been snow in the mountains of Montana, Wyoming, and Colorado.  Now, another round of snow is set to visit places that have yet to see their first measurable snow of the season.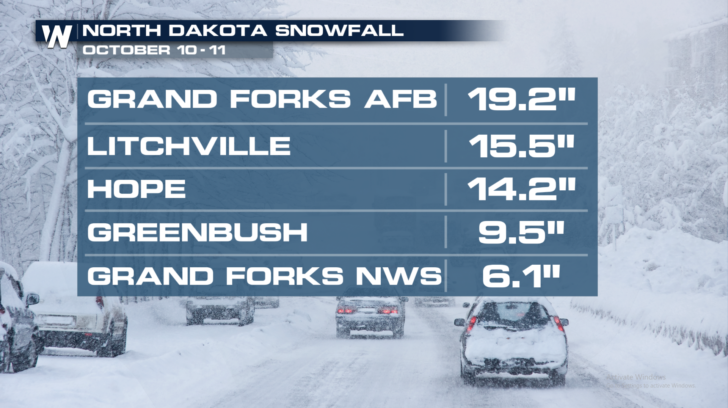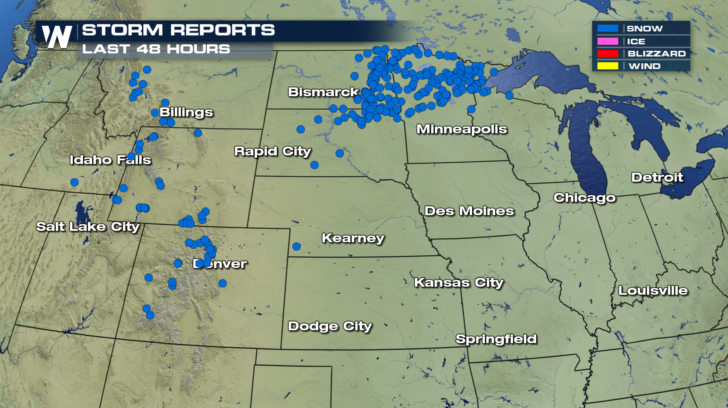 There's another blast of cold arctic air already on the way.  Notice the blue colors moving southward in the graphic below.  That represents cold air surging across the central U.S. Saturday into Sunday.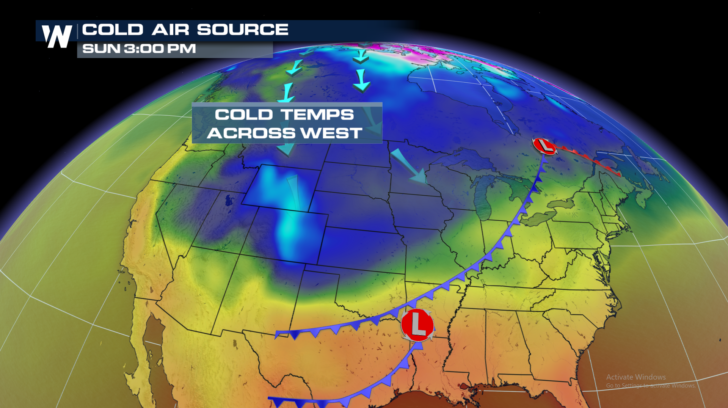 Check out the temps below.  By Sunday morning, temps in Cheyenne will drop to 16 degrees.  Denver will drop to 22 degrees. Pueblo will see lows near 31 degrees.  And locations in Nebraska, such as Kearney, will also be near the freezing mark of 32 degrees.  All of these temperatures will certainly be cold enough to support snow.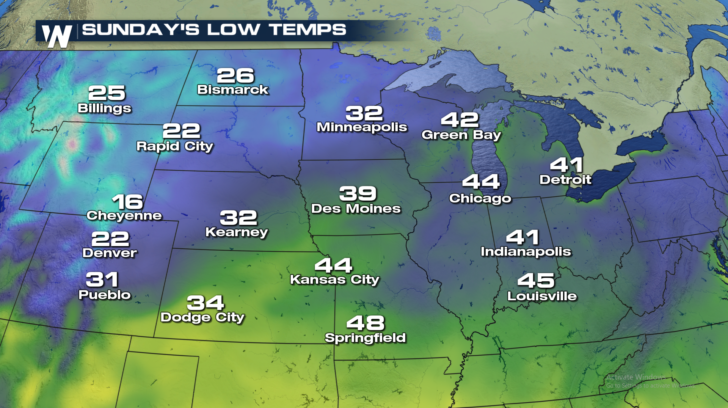 Temperatures will remain cold right through Sunday in all of these areas.  Cheyenne will only reach a high of 21 degrees.  Look how cold it will be in Denver... 24 degrees!  Bundle up if you're headed to the Broncos game!  Brrrr.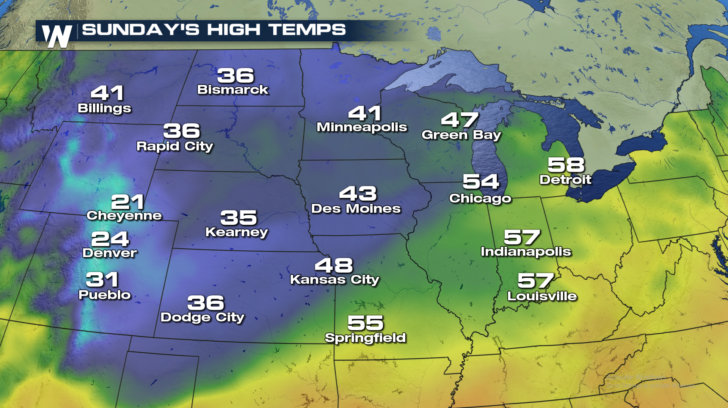 And along with the cold, they'll be moisture with the system.  Below freezing temps, plus moisture, equals snow.  You know the formula.  Watch it all unfold... Saturday night, snow will begin in central and southern Wyoming.  Jackson, Casper, Laramie, and Cheyenne will be some of the first towns to see the snow.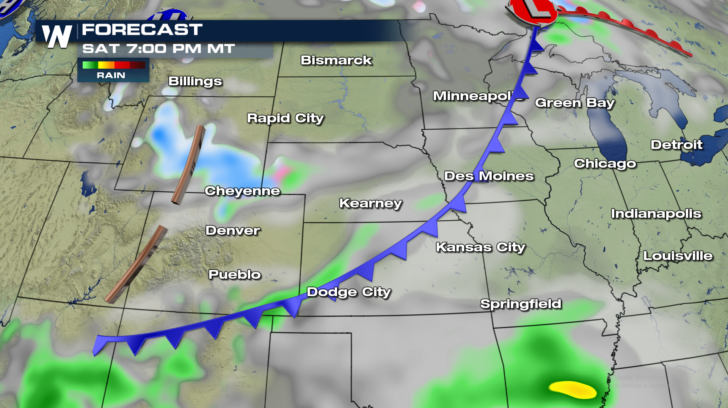 Overnight Saturday into Sunday morning, the snow will spread southward into Colorado.  The I-25 corridor, from Fort Collins, down through Denver and Colorado Springs, could pick up between 2 and 4 inches of snow.  But look at the darker blue shaded areas.  Southeastern Colorado, northern Kansas, and southern Nebraska could pick up substantially more snow.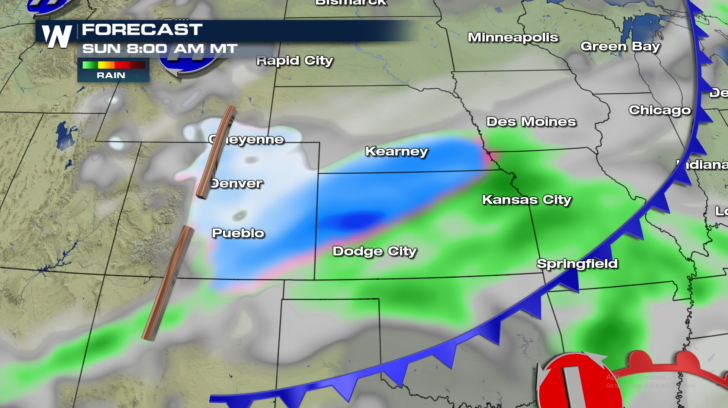 By Sunday night, most of the snow will come to an end.  Only a few pockets of snowfall will remain.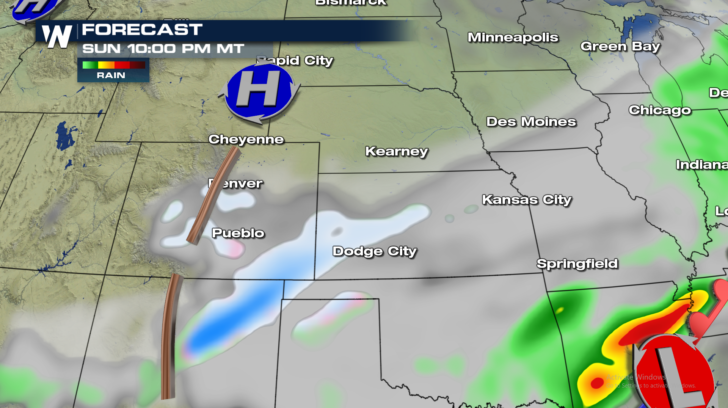 Total snow accumulation will be the highest in the areas shaded purple.  6 to 10 inches is very possible from northern New Mexico into southern Nebraska.  Snow could also be quite heavy in the Rocky Mountains north of Denver and north of Cheyenne.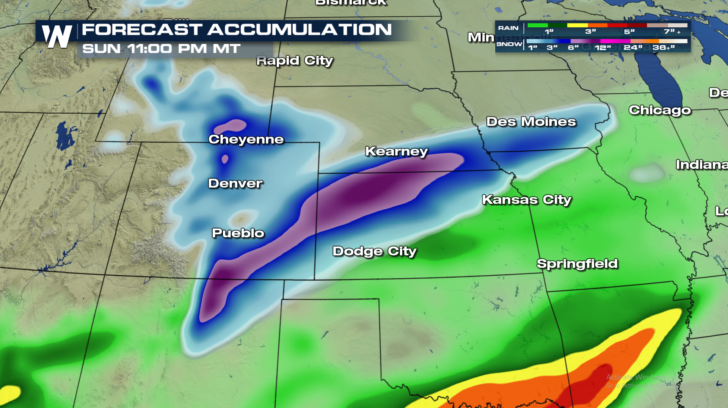 If you live in Denver, enjoy the weather today and tomorrow.  They'll be plenty of sunshine with temps in the lower 60's.  Then on Sunday, a blast of winter reality sets in.  Temps in the 20's, a few inches of snow, and overnight lows into Monday morning  plummet to 13 degrees!  Luckily, it's a one day event, with temps returning to the 50's by Tuesday.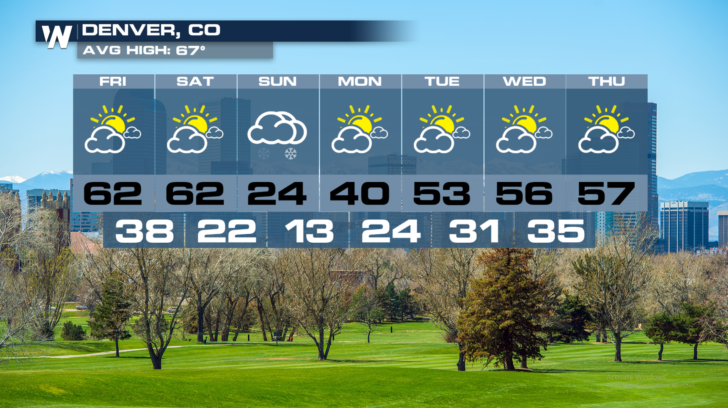 At the time of this article, there were no winter weather advisories in effect.  But the National Weather Service will very likely issue winter advisories either later on Friday, or Saturday.  Check out www.weather.gov  for the latest information.  Or, you can stay tuned to WeatherNation TV for the very latest weather information across the entire country. For WeatherNation:  Meteorologist Matt Monroe