Thanks to heavy rain and melting snow over the last several days, rivers are overflowing their banks and causing widespread flooding throughout parts of the Great Plains and Midwest.  Several states---including Nebraska---have been hard hit.  In addition to Nebraska, governors of the states of South Dakota, Iowa, and Wisconsin have declared a State of Emergency.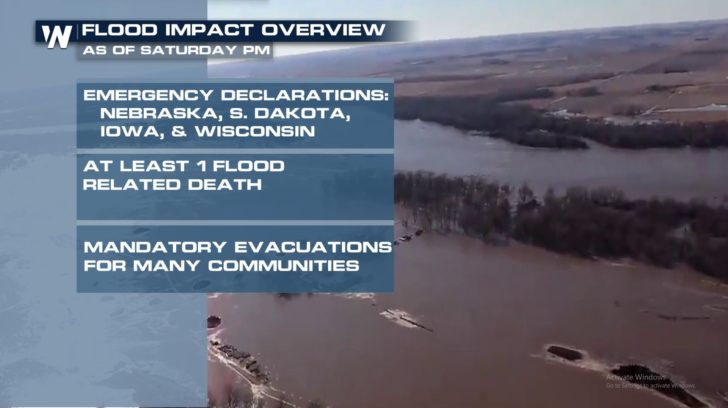 The imagery coming out of this region has shown extensive flooding to homes, businesses, and farmland.  Here's a look at some of the footage WeatherNation has gathered from the region: Evacuations are underway for communities in far eastern Nebraska as the historic river flooding continues. https://twitter.com/WeatherNation/status/1106599047211552769 River flooding and ice jams have lead to major to moderate flooding in areas surrounding the Loup, Platte, Elkhorn, Niobrara, and Missouri Rivers to name a few.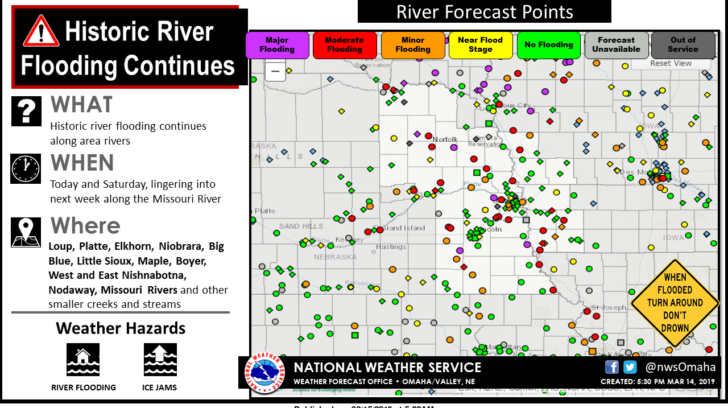 Some of the river levels will reach, or have already reached, record high levels. Take a look at the river gauges for the Missouri River at Plattsmouth, NE and the Elkhorn River at Waterloo, NE.  Both rivers will reach remain in major flood stage with historic high levels on Sunday.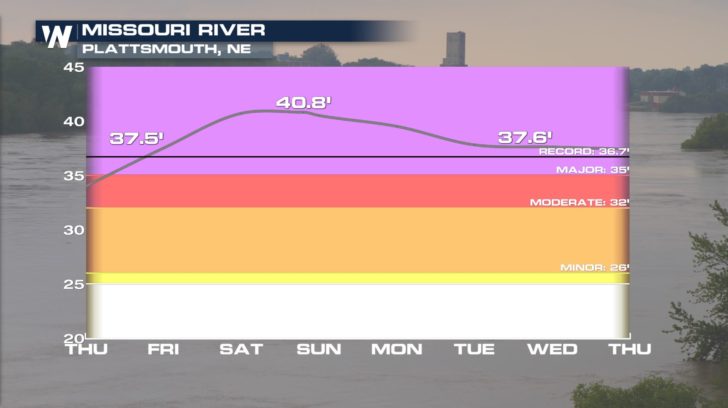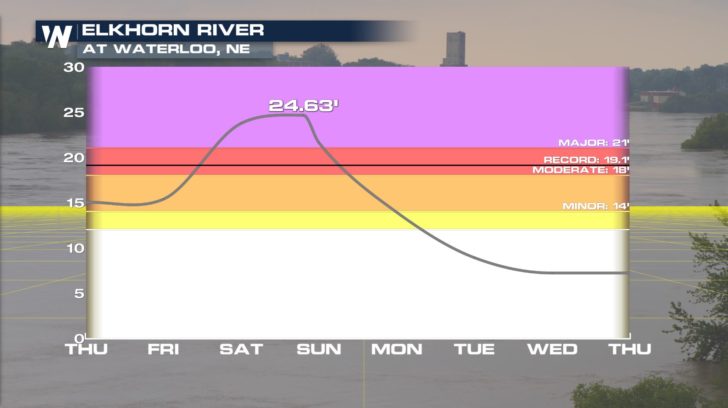 On Friday morning, the National Weather Service in Omaha issued a Flash Flood Warning for parts of Dodge, Douglas, and Saunders County in east central Nebraska as a levee on the Union Dike has failed.  Many other levees could fail in the coming days. https://twitter.com/WeatherNation/status/1106587250316337152 This has prompted Flash Flood Warnings issued by the NWS Omaha.  In fact, the NWS Omaha office had to be evacuated due to the flooding. https://twitter.com/NWSOmaha/status/1106917751933804545 The local Red Cross has set up several emergency shelters for those impacted by flooding and who have been displaced from their homes. https://twitter.com/neiaredcross/status/1106566479049359360 https://twitter.com/WeatherNation/status/1106595334573056000 Stay with
WeatherNation
for the latest updates on river levels as well as any watches/warnings that are issued for the area.