Rounds of very heavy rain and flash flooding are are likely across parts of Mississippi, Tennessee and Kentucky Sunday. A Flash Flood Watch is in place through this evening for 2-4" of rain with locally higher amounts.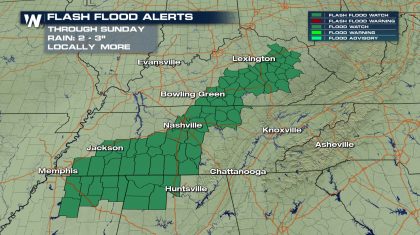 Flash flooding has been ongoing in parts of the Nashville metro through midday as bands of heavy rain trained over the same area for hours. Up to 4" of rain has fallen in some spots, leading to the flooding. Additional flash flood warnings were issued in north Mississippi and eastern Kentuck earlier in the day.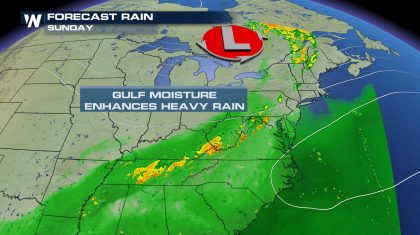 An upper low pressure system that brought Wyoming and Colorado snow earlier this week has moved east and is now tapping in to a stream of low level moisture from the Gulf of Mexico. It's blocked from moving east due to a large ridge of high pressure sitting over the Carolinas. This setup is leading to high rain rates of up to 2" per hour and the potential for flooding across these areas. This rain is unrelated to Tropical Storm Sally. The southwest to northeast movement of the moisture flow and rain bands favors training over the same areas and flooding.  Forecast rain totals show some spots with more than 5" of rain through Sunday night.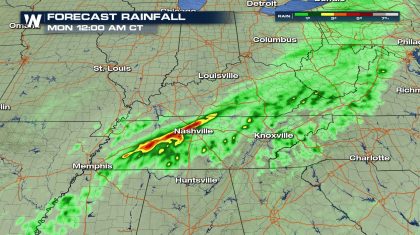 There have been numerous reports of water covering the roads in parts of Tennessee along with water rescues. In Liberty, Kentucky, water got so high in the road that debris was floating downstream and vehicles were stalling out trying to drive through the water. The water got so high in La Vergne, Tennessee, near the Nashville metro, that shipping containers were flipped over. Parts of I-24 were closed due to high water in other parts of the Nashville metro. Although flooding and flash flooding are likely, the severe weather threat for today is low. A few areas of gustier winds are possible, but severe storms are not expected. Stay with WeatherNation for the latest updates!