A hailstone measuring more than 5 inches at its thickets point and weighing in at more than a half-pound may be Alabama's largest on record.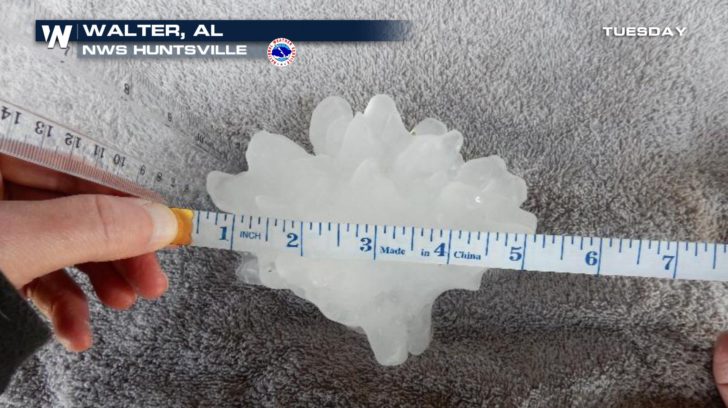 The hailstone was collected by Cullman Tribune reporter W.C. Mann Monday night after severe thunderstorms pelted Cullman county with destructive hail. The day after on Tuesday, National Weather Service meteorologists from the Huntsville office were out surveying tornado damage and gathering data. But they also stopped by the community of Walter, Alabama to view this hailstone.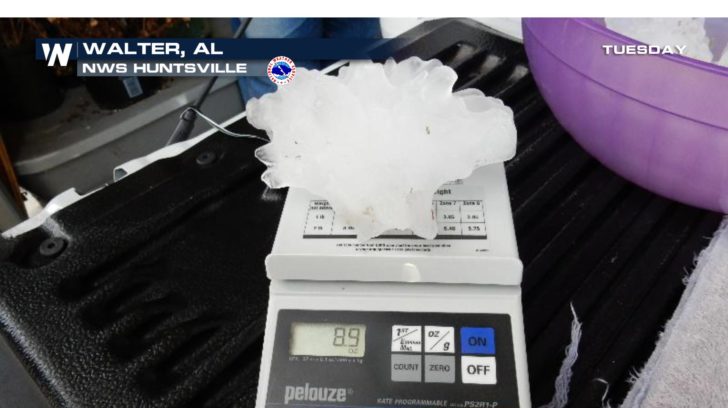 NWS Huntsville wrote a summary about the hailstone saying that there is no official record for largest hail in Alabama, but combing through "Storm Data" they found the largest diameter to be 4.25 inches.
Tap/click here to read the office's report
.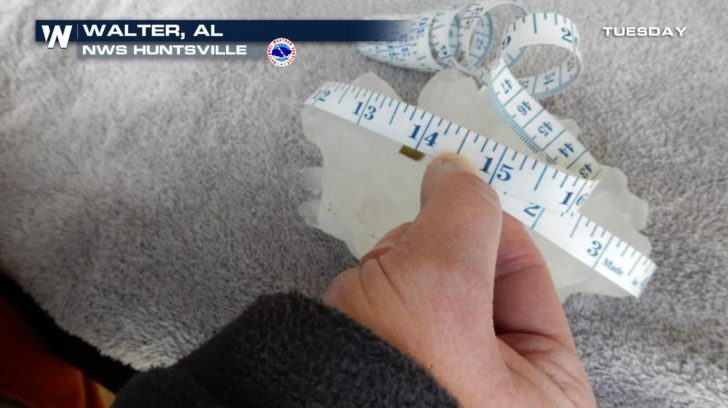 What happens next? Well, the measurements are being sent to the National Centers for Environmental Information (NCEI) and if the information is made official, this will be Alabama's largest hailstone ever recorded. By the way, the largest hailstone in any state was 8.0" in diameter, 18.6" in circumference, and weighed 1.93 pounds! That stone fell on July 23, 2010 in Vivian, South Dakota. Hail forms within strong updrafts in thunderstorms. Quickly-rising air causes the hail to form and tosses it around within the cloud, continually growing until it becomes too heavy to be supported by the updraft. Then it falls to the ground. What fell on Monday night in parts of Alabama, especially Cullman, was destructive hail. Many took to social media to show the large hail that they saw. https://www.facebook.com/WeatherNation/videos/10156353134779874/ https://twitter.com/WeatherNation/status/975939055870296064 https://www.facebook.com/WeatherNation/videos/10156353734829874/ https://www.facebook.com/WeatherNation/videos/10156354077154874/ https://www.facebook.com/paul.downs.35/posts/10215548814504295 For WeatherNation, Meteorologist Steve Glazier