A WC-130J Super Hercules aircraft assigned to the 53rd Weather Reconnaissance Squadron at Keesler Air Force Base, Miss., gets deiced prior to a mission from Ketchikan, Alaska, Dec. 16, 2021. The mission consists of dropping weather buoys into areas of the Pacific Ocean designated by Scripps Institution of Oceanography's Center for Western Weather and Water Extremes, who will use the data collected from the buoys to study atmospheric rivers. Credit: US Air Force 403rd Wing & Scripps Institute of Oceanography.
Hurricane Hunter aircraft is being used in a new way! The 53rd Weather Reconnaissance Squadron flew their first mission into an Atmospheric River on the west coast of the United States on November 15th, dropping 12 "dropsondes" to observe atmospheric moisture, temperatures and wind. The mission is the first of the 2023-24 winter season and is a partnership between the USAF and Center for Western Weather and Water Extremes [CW3E] which creates the atmospheric river forecast and scale.
According to CW3E, "The Atmospheric River Reconnaissance "AR Recon" program collects key data on the storms as they form over the Pacific Ocean in order to improve forecasts of where they will hit landfall and how much precipitation they will bring. It also informs reservoir management in a changing climate so reservoir operators can prepare for and mitigate flooding or take advantage of the water supplied by atmospheric rivers."
Last year (2022-23) the Hurricane Hunters flew 39 days, 13 of which were consecutive, during California's extremely wet winter season, helping to improve accuracy and understanding of Atmospheric river events. This year the partnership features new sensors on the aircraft along with ground observation buoys and weather balloon launches. The 53rd Weather Reconnaissance Squadron is based out of Kessler AFB in Biloxi, MS.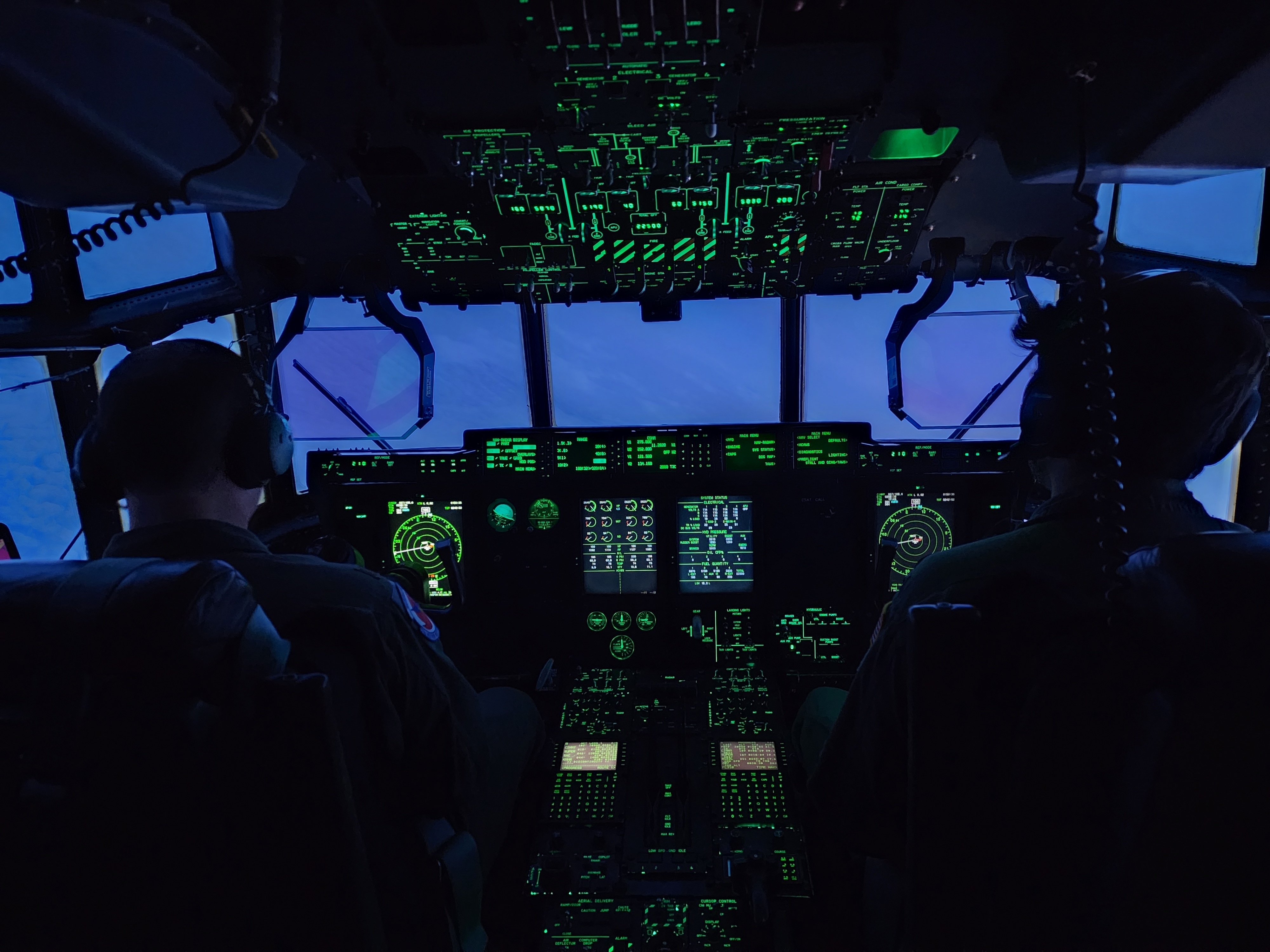 Maj. Peyton Eustis and 1st Lt. Zach McDermott, 53rd Weather Reconnaissance Squadron pilots, fly the WC-130J Super Hercules aircraft during an Atmospheric Rivers missions out of Mather Air Field, Calif., Jan. 11. The 53rd WRS fly ARs in the Pacific Ocean Basin from 1 January through 31 March as a specific part of the National Winter Season Operations Plan. (U.S. Air Force photo by Senior Master Sgt. Jessica Kendziorek). Credit: US Air Force 403rd Wing & Scripps Institute of Oceanography.
Atmospheric Rivers are "rivers in the sky" that transport huge amounts of water from the oceans into the atmosphere. While they are not storms themselves, the AR's provide moisture necessary to create huge rain and snow totals in winter storm systems, especially on the U.S. West Coast. In the last 40 years, 84% of all flood claims in the western U.S. according to research with FEMA were a result of Atmospheric River events. Understanding of these storm systems especially where observation of conditions over the ocean is essential for better prediction. The hurricane hunters mission gathers valuable information for models and researchers at CW3E to work with in better predicting AR events.