The calendar may say April, but this week, Mother Nature is throwing a big curve ball at parts of the southeast. On Tuesday, there was measurable snow in North and South Carolina.  Snow during the winter is a big deal in this part of the country.  But when flakes are flying in early April, that's an even bigger weather event!  Even though the accumulations were small, April snow doesn't happen very often in the Carolinas.  In Charlotte, there was only one-tenth of an inch, barely a dusting.  But that was enough for a record snow event for April 2nd.  Accumulating snow had never happened before on April 2nd for the Queen City, (since records have been kept in the late 1800's).  And higher totals were found to the southeast of Charlotte.  Almost two inches of snow fell in Wesley Chapel and Wingate, North Carolina.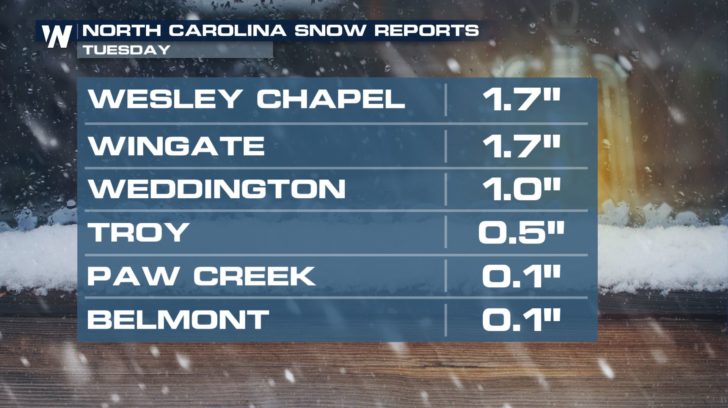 In northern sections of South Carolina, a little snow accumulated as well.  Again, less than a quarter-inch in most spots.  But just the sight of snow in these parts was enough to stir up excitement.  Southern folks love snow!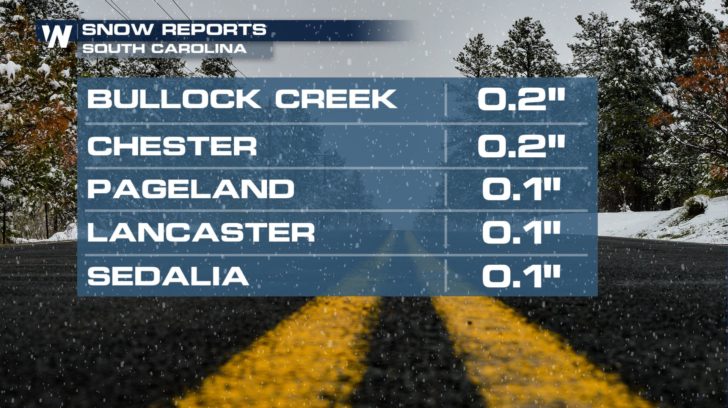 The snow is long gone, as the nor'easter that caused the precipitation is moving northward up the coast.  However, the chilly air is going to hang around Wednesday morning.  Low temps will drop into the 30's across the Carolinas and Virginia.  Frost Advisories are in effect Wednesday morning for Raleigh-Durham, Greensboro, Winston-Salem, and Charlotte.  The advisories extend into South Carolina as well.  Anderson, Greenville, Spartanburg, and parts of Columbia could all see scattered frost.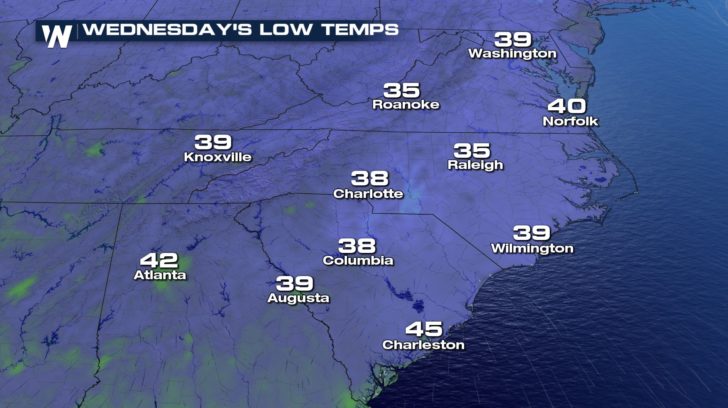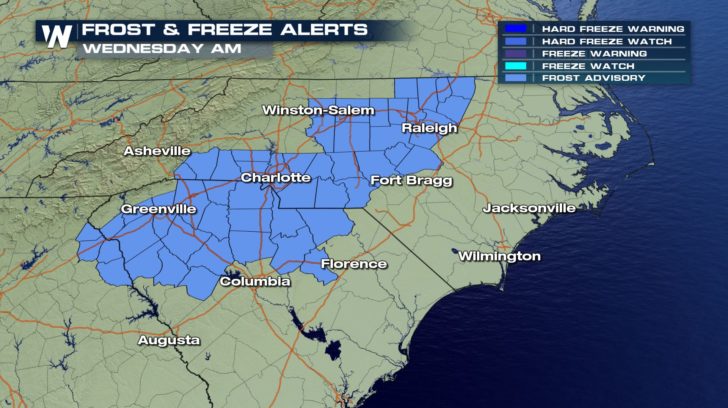 Tuesday was a chilly day in the southeast.  Temps were running between 10 and 25 degrees below average for early April.  But Wednesday, temps will rebound quite a bit.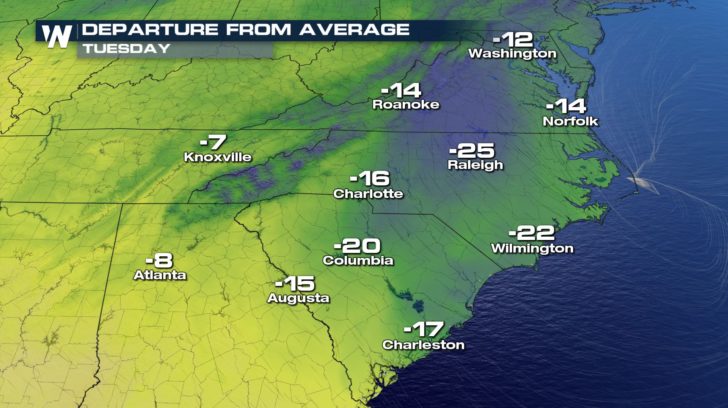 Highs on Wednesday will be very close to average, in the upper 60's and lower 70's.  Not a bad comeback after a morning with lows in the 30's and frost advisories.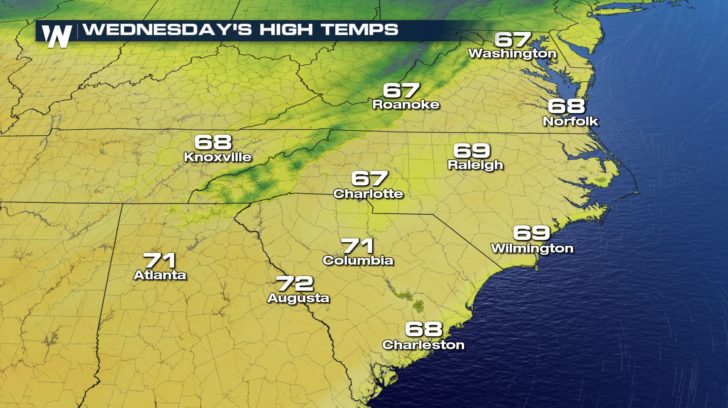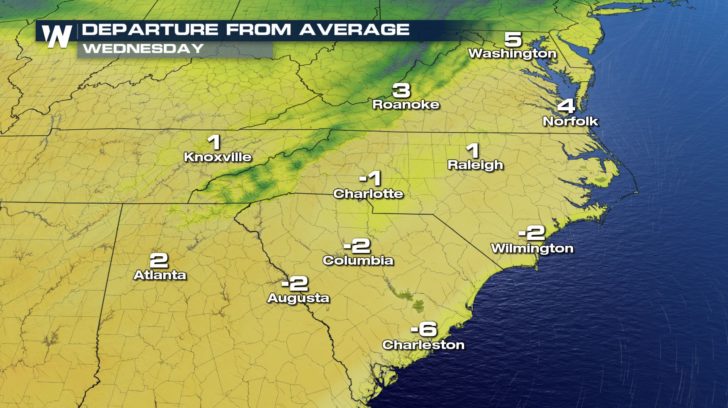 And it looks like temps in the southeast will continue to warm up this weekend.  Charlotte will be in the mid to upper 70's.  Raleigh will also be in the same temperature range.  More showers and thunderstorms are possible in both cities on Friday and Monday.  Charlotte may also see a few showers on Sunday.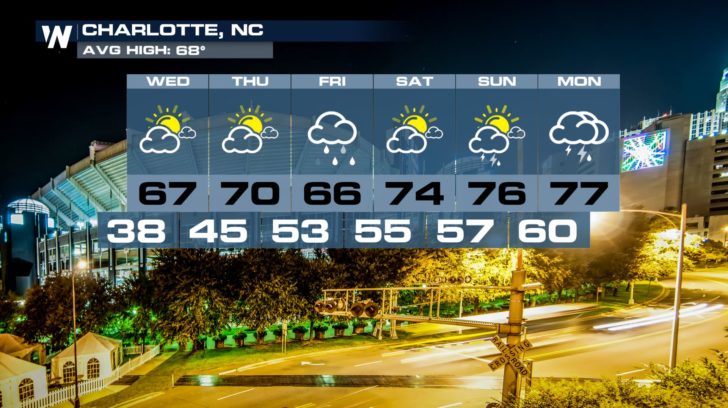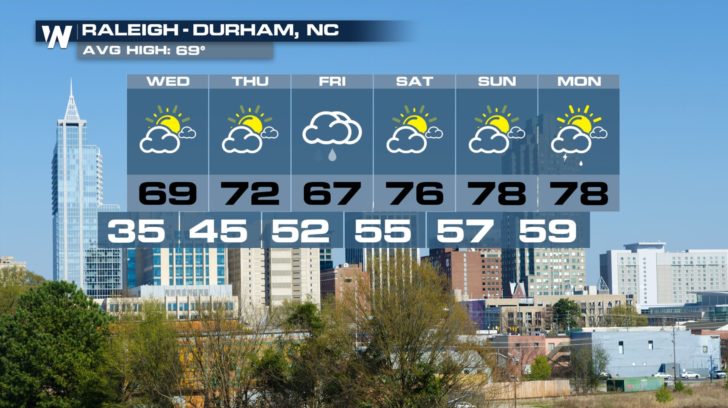 For WeatherNation:  Meteorologist Matt Monroe