[
(Inciweb via NOAA)]
[
Written by NOAA
]    May was warm and wet across the Lower 48, according to scientists from NOAA's National Centers for Environmental Information.  The month also wrapped up a warm spring as wildfires continued to burn across the nation. Below are highlights from NOAA's U.S. monthly climate report for May 2022:
Climate by the numbers
May 2022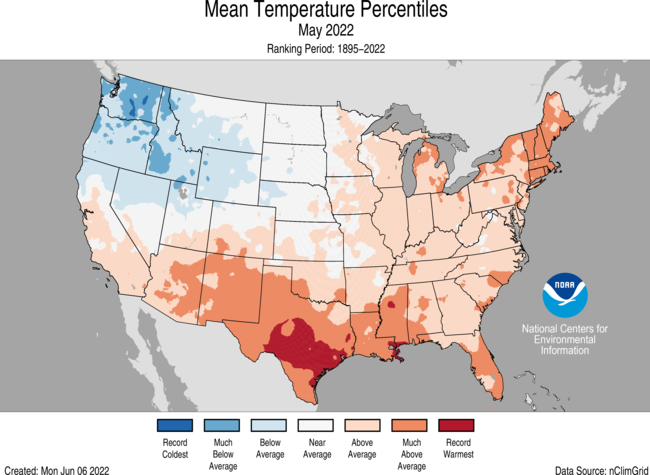 The average May temperature across the contiguous U.S. was 61.9 degrees F (1.7 degrees above the 20th-century average), ranking in the warmest third of the 128-year record. Temperatures across the Northwest and northern Rockies were below average, with much of the Southwest, Deep South and locations east of the Mississippi River above average. Triple-digit heat scorched portions of the South throughout the month, setting a number of temperature records across Texas. Texas had its second-warmest May on record, while Washington state saw its eighth coldest.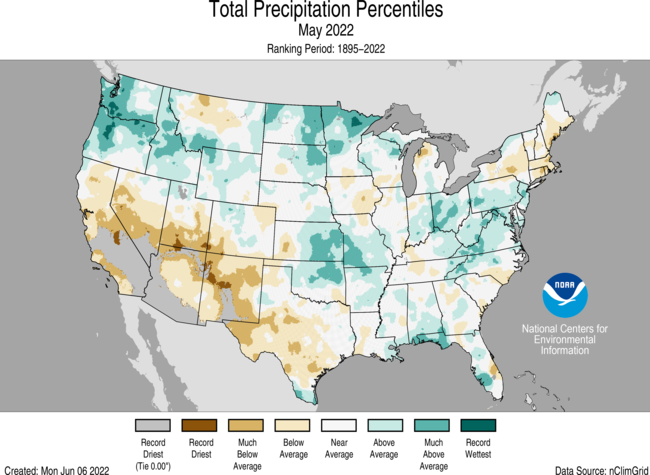 The average precipitation for May was 3.17 inches (0.26 of an inch above average), which ranked in the wettest third of the record. Precipitation was above average across portions of the Northwest, northern and central Plains, Upper Mississippi Valley, Ohio Valley, eastern Gulf of Mexico and the Appalachians. Precipitation was below average from California to Texas and across portions of the Northeast.  A dry month across the Southwest resulted in Arizona seeing its fifth-driest May on record, while above-average precipitation gave Washington state its eighth-wettest May.
Other notable highlights from the report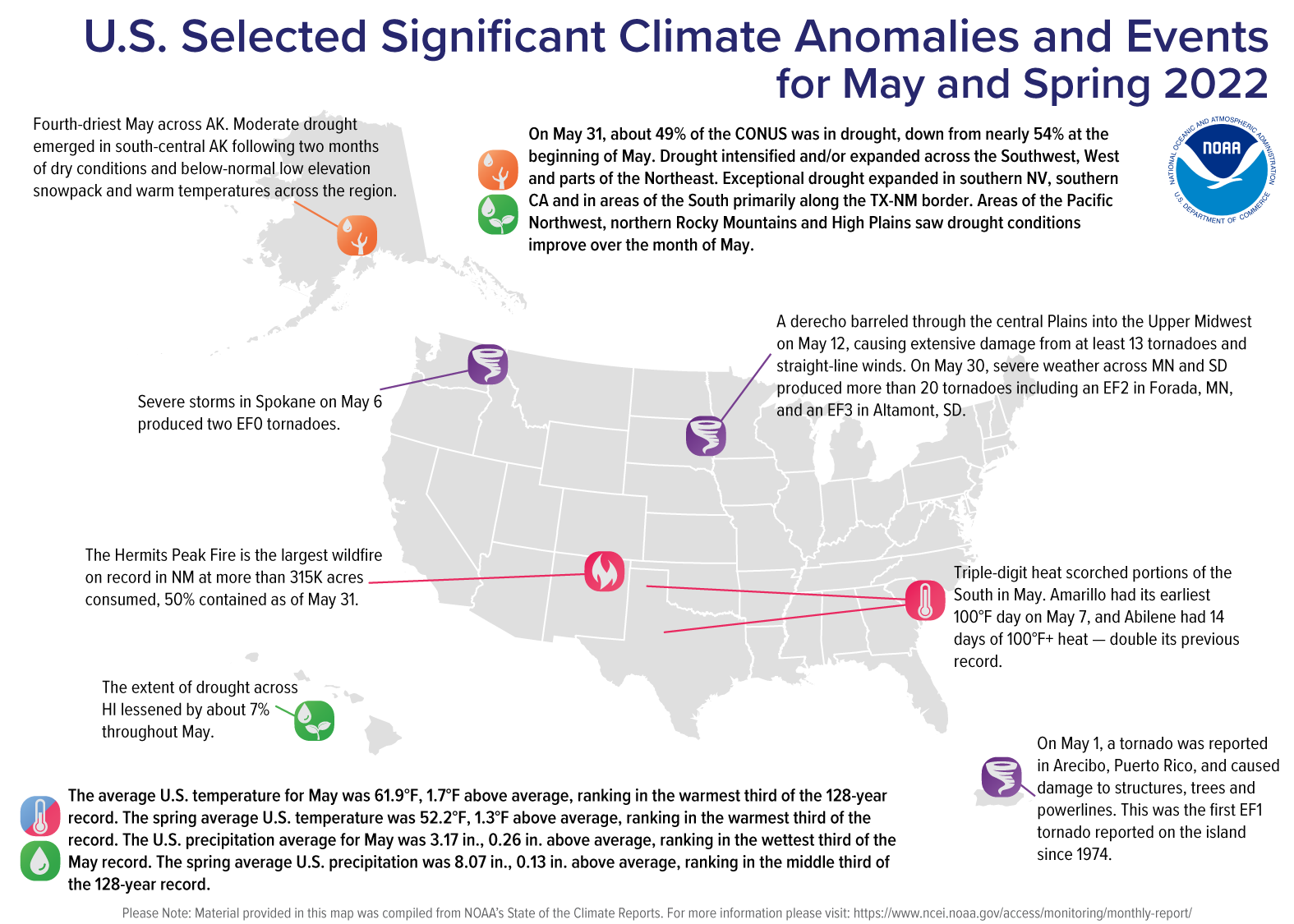 Wildfires roared across the landscape:
 As of May 31, the largest fire in New Mexico history, the Hermits Peak Fire, had consumed more than 315,000 acres and was 50% contained. Across all 50 states, 1.9 million acres have burned from January 1 through June 2 — more than twice the average for this time of year.
Drought improved overall, with exceptions:
 According to the May 31 
U.S. Drought Monitor report
, 49.3% of the contiguous U.S. was in drought, down about 4.5% from the beginning of May. Areas of the Pacific Northwest, northern Rocky Mountains and High Plains saw drought conditions improve over the month of May while drought intensified or expanded across the Southwest, West and parts of the Northeast.
A stormy May with fewer tornadoes:
 Several rounds of severe weather hit the U.S. during May, producing 196 preliminary tornado reports. This is 71% of the 1991-2010 average for tornadoes for the month of May (276). On May 4, severe storms formed across the central Plains and produced several tornadoes including an EF3 tornado near Lockett, Texas. A line of severe storms, also known as a derecho, barreled across the central Plains into the Upper Midwest on May 12, causing extensive damage from at least 13 tornadoes and straight-line winds.