[
Spring tulips photo by Aaron Burden on 
Unsplash
] After a cold and snowy winter in many areas of the nation, meteorological spring has arrived! Last week, the Climate Prediction Center (CPC) issued their 90 day outlook for March, April and May. Warmer than normal temperatures are favored in the eastern and western sections of the nation. Wetter than average weather is expected from the Four Corners to the Middle Atlantic, including the southern Plains and Southeast. https://twitter.com/NWSCPC/status/1098632029011431424 With many areas of the nation expected to see average to above normal precipitation, the drought outlook continues to show improvement. Across much of the West, with the exception of a few locations in the Northwest, drought conditions are expected to improve or end. https://twitter.com/NWSCPC/status/1098585966053335042 The main forecast influences were global weather patterns, long range model forecasts, observed soil moisture and snowfall coverage conditions, and historical trends. An 
extensively discussed El Nino is underway
 in the Pacific Ocean, but the atmosphere was slow to respond. In early February, an
El Nino Advisory was issued
 as the atmosphere is more aligned with the ocean.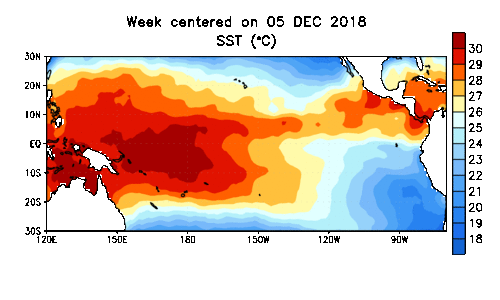 [
Departure from average of the surface and subsurface tropical Pacific sea temperature averaged weekly over winter. Map is centered over the Pacific Ocean along the equator. Data from NOAA CPC.
] Observed sea surface temperatures in the Pacific are warmer than normal as expected, with computer models expecting this to continue. Right now, the overall global pattern resembles a weak, borderline El Nino. 
The CPC says
"climate effects typically associated with El Nino during the spring were considered, but downplayed significantly." For WeatherNation:
Meteorologist Mace Michaels