A new mobile tool has been released by
the U.S. Geological Survey (USGS)
that they hope will protect more lives and property during natural disasters and weather hazards.  The
USGS National Water Dashboard
 (NWD) can be accessed both on your computer and mobile device and will provide the most up-to-date information on flood forecasts, weather, and water levels. https://twitter.com/i/status/1324109168781918208 "It provides access if you're on your computer but also if you were to lose power or you're on the go traveling, the National Water Dashboard is designed to be accessible or viewable on mobile devices," said Chad Wagner, USGS Program Coordinator with the
Groundwater and Streamflow Information Program
.  "We like to bring that critical information that you need during a natural hazard to your fingertips." https://twitter.com/USGS_Water/status/1322231659194769408?s=20 This will especially be helpful to areas vulnerable to drought and flooding.  "In addition to giving the public key information on what's happening in their communities, it will also help improve the response of federal, state and local agencies during storms, floods and drought conditions," said Tim Petty, Ph.D., Department of the Interior Assistant Secretary for Water and Science, from an agricultural round table with the Water Subcabinet in Janesville, Wisconsin.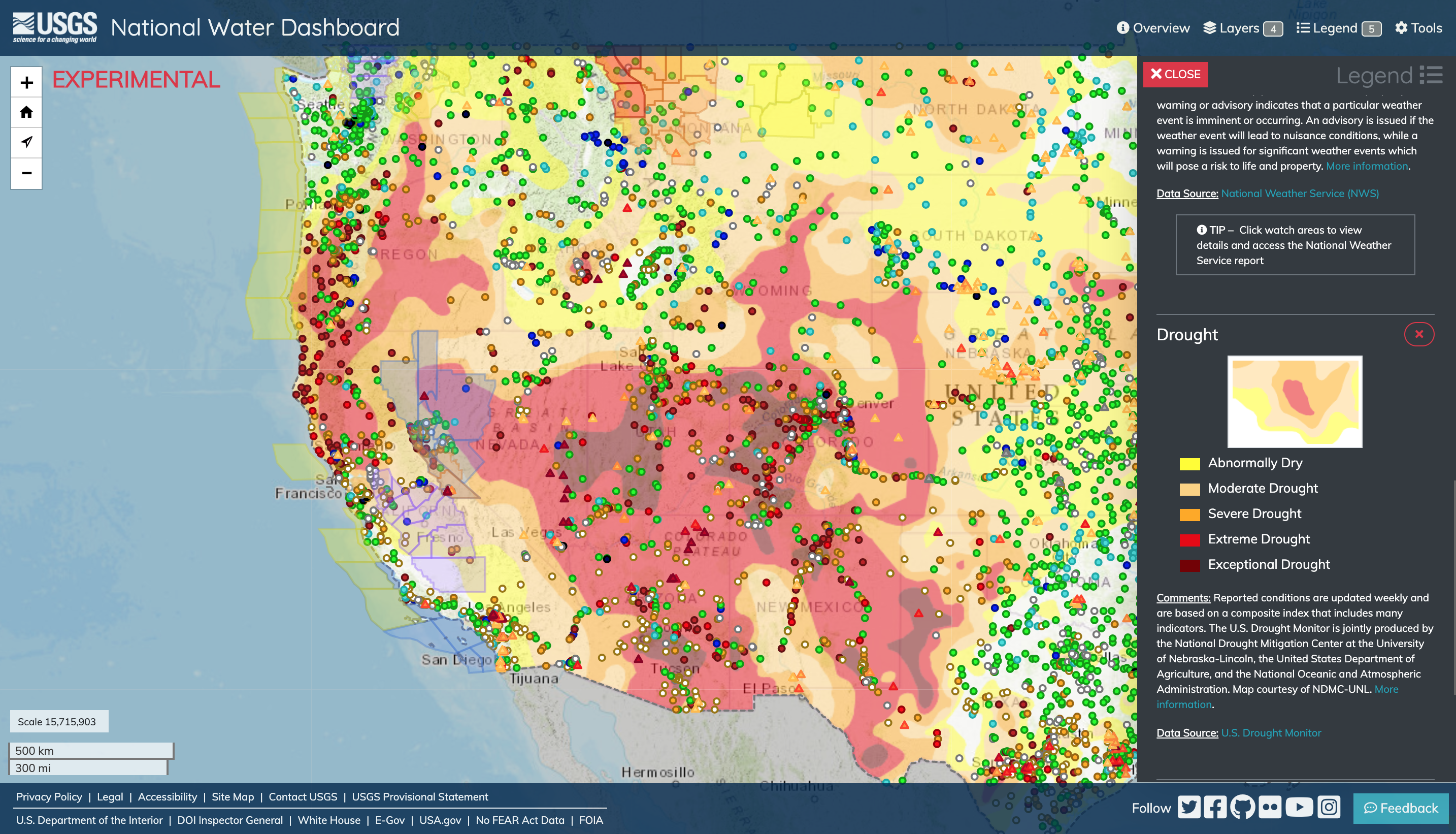 The Drought Monitor is a useful index to understand the impact of drought conditions on streamflow statewide or within individual basins. The dark red boxes along the West Coast are the current fire warnings posted from the National Weather Service that are a result of the ongoing extreme drought conditions. COURTESY: USGS
The information that can be accessed on the dashboard will be available around the clock, and will assist organizations like the
Federal Emergency Management Agency (FEMA)
and the
National Weather Service (NWS).
  "The National Water Dashboard is an exceptional tool for staying up to date on real-time USGS water information coupled with forecasts and warnings from NOAA's National Weather Service," said retired Navy Rear Adm. Tim Gallaudet, Ph.D., assistant secretary of commerce for oceans and atmosphere and deputy NOAA administrator. "Giving individuals access to water information whether it be a flood or drought, on their mobile device, will help protect lives and property."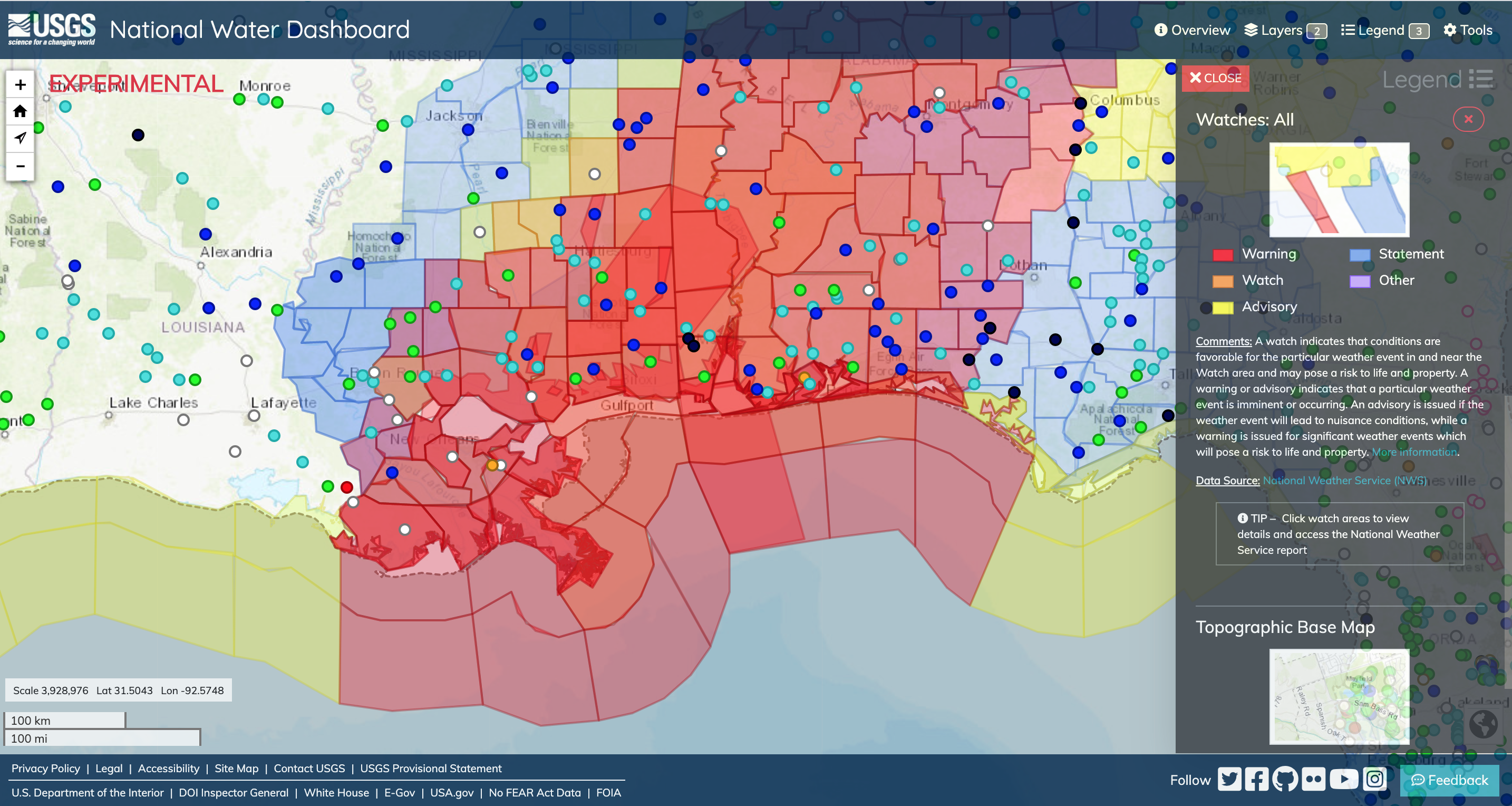 In addition to current conditions provided by USGS observation stations, the NWD allows you to connect with valuable forecast information from the National Weather Service. If flooding is above NWS flood stage, the circle will have a magenta halo around it (no sites are experiencing NWS flood stage on the shown map). Courtesy: USGS  
According to the USGS, the NWD will have a compilation of real-time stream, lake and reservoir, precipitation and groundwater data from more than 13,500 USGS observation stations across the country.  "The National Water Dashboard builds on the 
USGS Texas Water Dashboard
 that was created in 2016," said Don Cline, Ph.D, USGS Associate Director for Water Resources. "Expanding this tool nationwide will increase the ease and ability for the public to have access to USGS real-time water data at all times to help make informed decisions regarding the safety of their families and homes."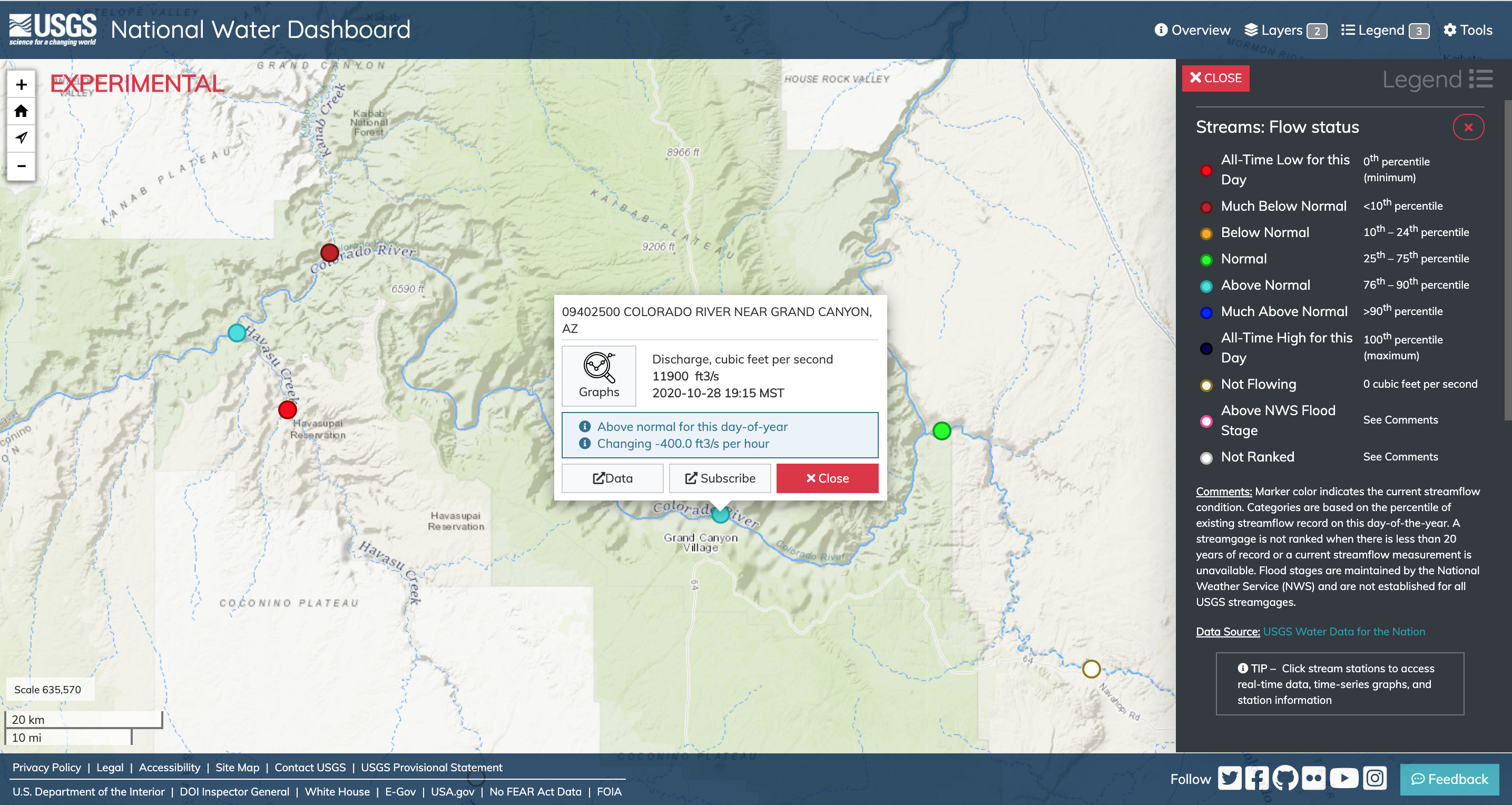 In addition to its value in protecting life and property and in managing water use, the NWD can provide adjunct benefits to the American public, such as recreational planning. Courtesy: USGS 
This tool will also provide assistance for those in the agricultural business whether it's during a drought or flood event.  "When ground water levels are low, farmers may want to adjust their plans for irrigation or water usage," Wagner said.  "So the dashboard provides groundwater level data and drought monitor level warnings from the
Drought Mitigation Center
." You can
access the NWD here
and learn more about the mobile tool from
the full press release from USGS
.