Wildfires have rapidly expanded across several regions within the western United States this week. Below we will give you the latest news headlines (keep scrolling to see different regions) as well as the weather forecast around these locations.
California
California Governor Gavin Newsom declared a statewide emergency to utilize resources in battling not only the wildfires, but also excessive heat across the state.
Link to the press release
ABC 30 News in Fresno, California has reported that a helicopter crashed Wednesday after flying to help combat the Hills Fire. Unfortunately the pilot died after the helicopter crashed near the New Coalinga Municipal Airport. The state has been swallowed in a mid-August heat wave that has dramatically raised the fire danger, while drying out many fire fuels such as brush and vegetation. https://twitter.com/NWSSacramento/status/1296121318610333696 https://twitter.com/CAL_FIRE/status/1296209793414135809 The fire situation as of Wednesday featured several large wildfires with huge smoke plumes impacting a massive area of the state, plus the rest of the West. As of Wednesday, those large wildfires continued to force evacuations. See below for the latest link to information. https://twitter.com/NWSBayArea/status/1296093391600590849
Colorado
Meanwhile in the Centennial State, the Pine Gulch wildfire has grown to Colorado's second largest wildfire on record. The fire, burning north of Grand Junction, has consumed an estimated 125,108 acres putting it one spot behind the state's largest fire called the Hayman Fire which burned 137,760 acres in 2002, according to WeatherNation affiliate KOAA-TV. https://twitter.com/NWSGJT/status/1296036767439532032 The Pine Gulch fire also produced what's known as a pyrocumulus cloud (sometimes pyrocumulonimbus cloud if it's raining) Tuesday night which then led to lightning occurring within that cloud. This rare phenomenon occurs when there is a large flare of fire activity, sending huge plumes of smoke high into the sky, some of which form into clouds, and even some producing rain/lightning. https://twitter.com/NWSGJT/status/1295986332913864705 An interesting weather event unfolded over this fire Tuesday night. Around 10 p.m. local time, a thunderstorm near the Colorado and Wyoming border produced an outflow boundary (gusty winds) that moved south. Those strong winds blew through the Pine Gulch wildfire between about 10:20 and 10:30 p.m. and then the picture above was snapped around 10:45-10:50 p.m. It's believed those strong winds from the thunderstorm to the north flared up the fire, producing the pyrocumulus cloud and associated lightning. Fire officials noted the fire grew at least 30,000 acres from Tuesday to Wednesday due to these strong outflow winds.
Forecast
Areas of smoke will continue to plague much of the West as multiple, large wildfires burn. These areas of smoke and haze will ebb and flow, shifting with the changing winds from day to day. However, some smoke may be very thick and unhealthy for sensitive people. Check your local air quality conditions and any applicable alerts.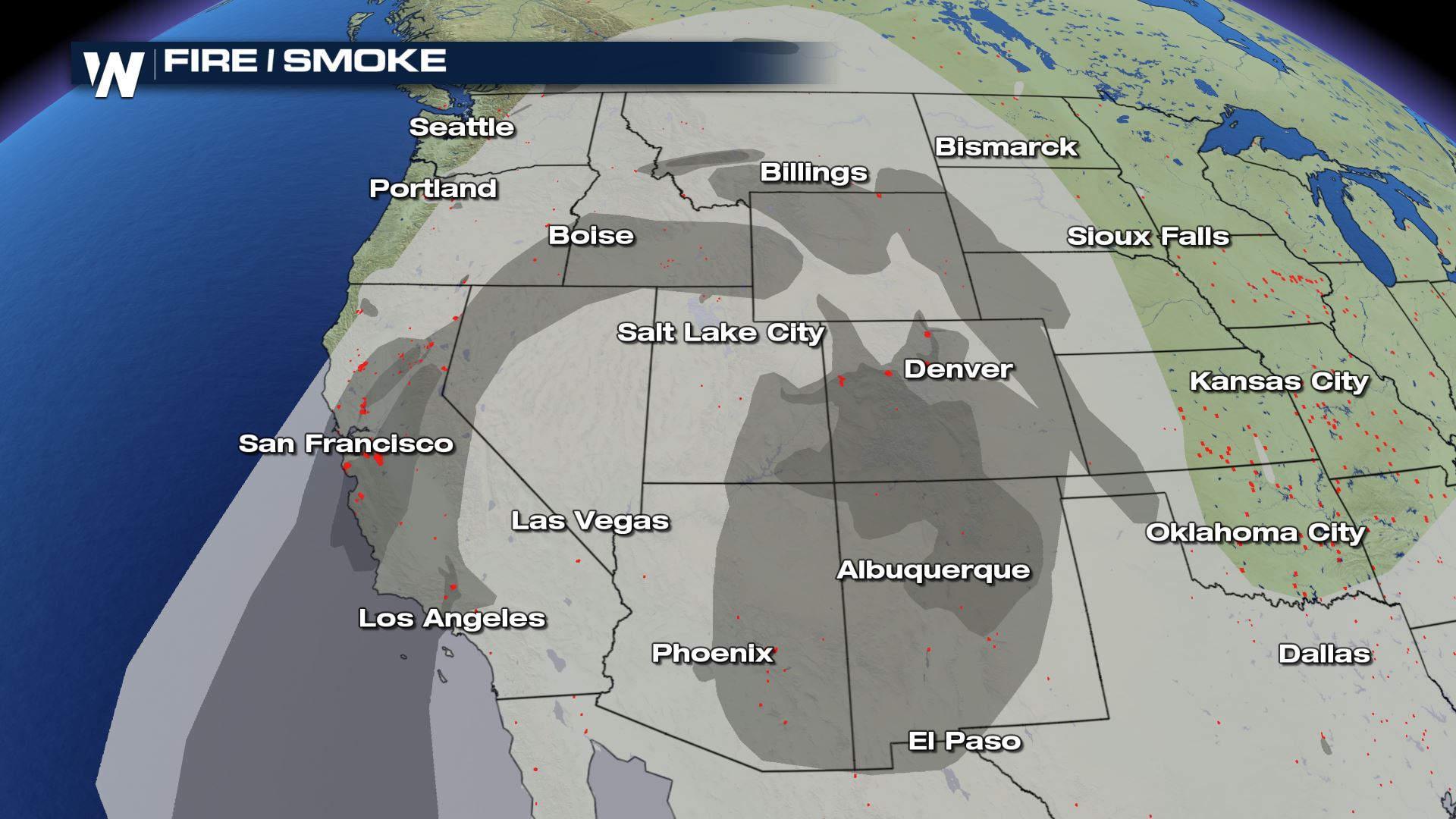 The weather conditions will continue to be hot, dry, and breezy for much of the West for the rest of this week. A strong area of high pressure, baking towns and cities with record heat, will shift south and allow for a little break in the heat, but also help create gusty winds.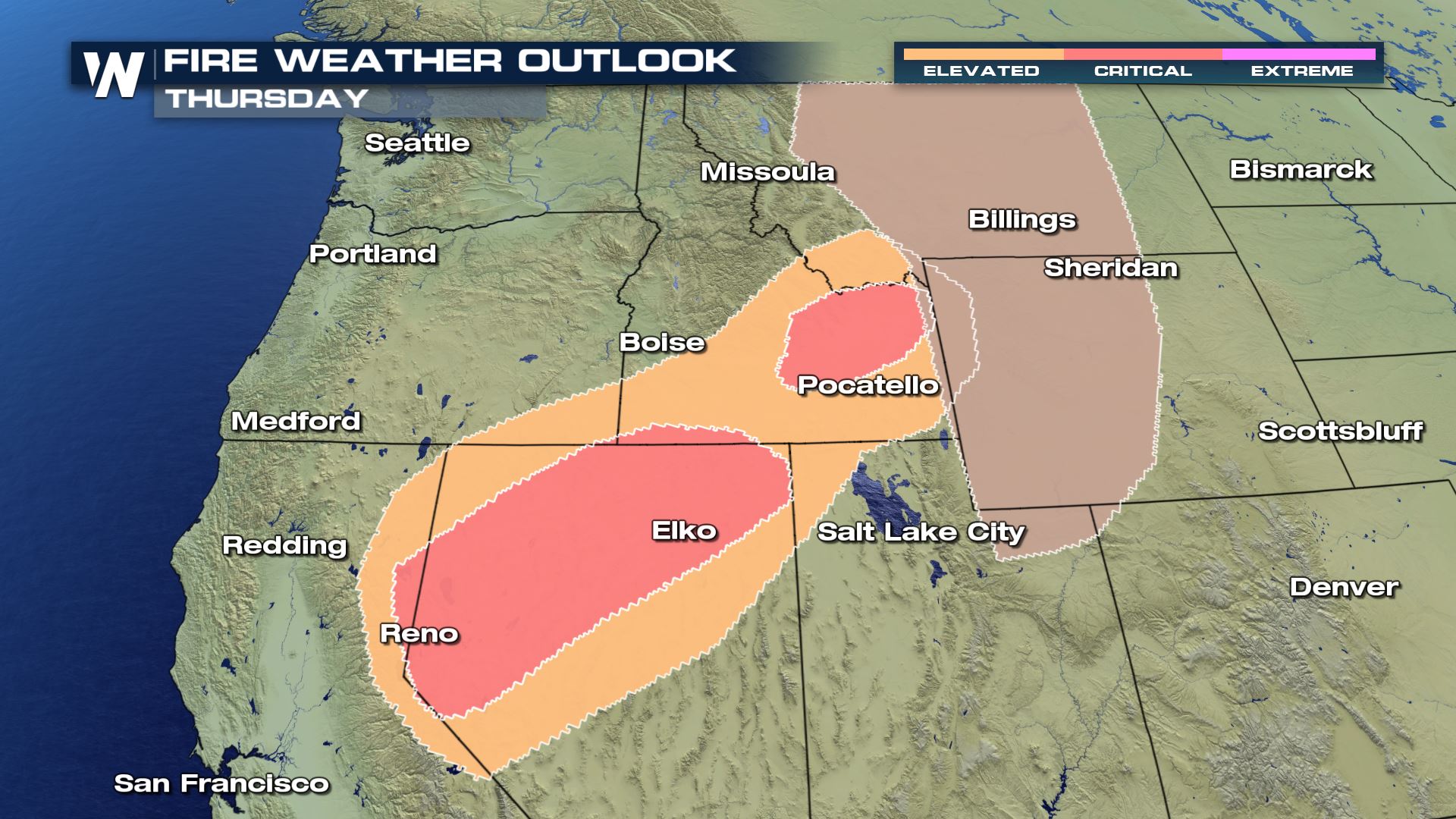 Critical fire conditions will be likely Thursday across Nevada and Idaho, while elevated fire weather conditions will be likely in adjacent states. Dry thunderstorms will be possible across the Rocky Mountains, possibly sparking new wildfires. Continue to stay with WeatherNation for the very latest this wildfire season.