Fall may have officially started earlier this week, but some parts of the country will have to wait a little longer for fall temperatures. After an already hot and record-breaking summer for many places, more record highs are in jeopardy of being tied or broken across much of the southern plains and southwest U.S. A ridge of high pressure building in the southwestern U.S. through the weekend will contribute to an extended period of hot, dry weather.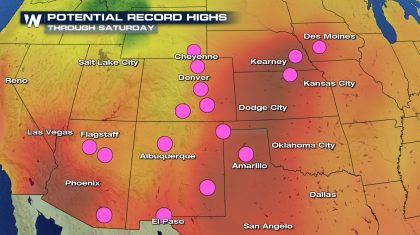 Some spots across west Texas, Colorado, New Mexico and Arizona could tie or break record highs Friday with highs in the 90s. Much of Arizona will see record highs possible across the state Sunday. Temperatures will be anywhere from 10-15° above average across the board.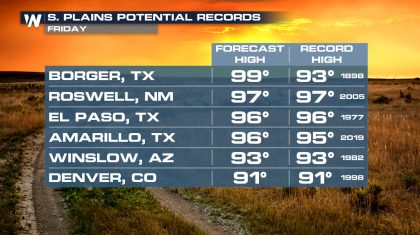 Hot and dry conditions will prevail across the southwest as the ridge builds through the weekend. In the northwest U.S., troughs of low pressure due to an active jet stream will bring in cooler air and rounds of much-needed rain.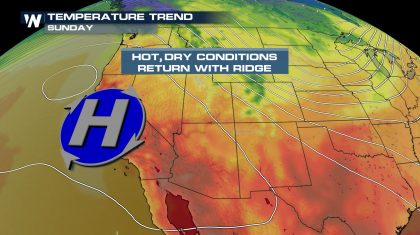 A pattern change into the middle of next week will shift the upper low from the northwest U.S. into the south-central U.S. The cool air will also drain south, bringing a stretch of cooler than average weather to the central, south, and eastern U.S. for the end of September into early October. This powerful trough will pull cool air all the way to the Gulf of Mexico!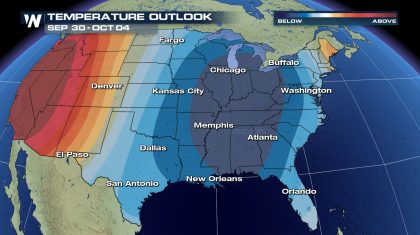 But the cooler air won't be arriving for everyone. As the low pressure pushes into the central and southern U.S., the upper ridge gets pushed back to the west. It will stay parked over the western U.S. during this time frame, keeping areas west of the Rockies warmer than average. A secondary area of low pressure will reinforce the cool air across the eastern 2/3 of the country into mid-October all while the western U.S. stays warm.