[
NOAA and cooperative institute researchers are working with forecasters to assess new tools in the NOAA Hazardous Weather Testbed during the HS-PHI Interoffice Collaboration experiment. This experiment is part of an effort involving the NWS warning paradigm known as Forecasting a Continuum of Environmental Threats, or FACETs. (Photo by James Murnan/NOAA)]
[
NOAA NSSL
]  When severe weather threatens, NOAA National Weather Service forecasters issue warnings to alert people. Based on the location of the storm, the same warning gives some communities more time than others. Researchers are testing an experimental concept to provide more continuous hazardous weather information for the public. Throughout February, NOAA National Severe Storms Laboratory, University of Oklahoma Cooperative Institute for Mesoscale Meteorological Studies and Earth Systems Research Laboratory 
Global Systems Division
 researchers are testing technologies to allow warnings to follow storms continuously, called Threats in Motion, in 
NOAA's Hazardous Weather Testbed
. https://www.youtube.com/watch?v=Su5-l-VGlMk Currently, when NWS forecasters issue a warning for a specific area, the warning remains over that area and may last up to 45 minutes. If forecasters see the storm is about to exit that current warning area, forecasters will issue an additional warning where the storm is about to move. This often results in in-equitable lead times for those who are on the border of a severe thunderstorm or tornado warning. Threats in Motion aims at transforming this traditional warning paradigm.
Threats in Motion
, or TiM, warnings move with the storm and thus result in more equitable lead time for all impacted by the storm. Forecasters may tell residents in a more timely manner when they can leave their shelters.

Research and operations collaboration
A paradigm shift cannot be implemented in 122 NWS forecast offices immediately. Each office serves a specific geographic area called a 
County Warning Area
, or CWA, said Alyssa Bates, 
OU CIMMS
 researcher supporting NOAA NWS Warning Decision Training Division. "Our inter-office collaboration experiment is unique because we're studying the complex interactions between forecasters across the CWA boundary," Bates said. The process of transferring ownership of a static warning polygon from one NWS office's jurisdiction to another may be different office to office as well as situationally based. "In our research of NWS offices, we ask what drives collaboration and when are warning decisions the most complex," said Kim Klockow-McClain OU CIMMS research scientist and societal impacts coordinator supporting NOAA NSSL. "We documented those responses and are implementing some of those challenges and decision making into this experiment. Different offices have different warning philosophies."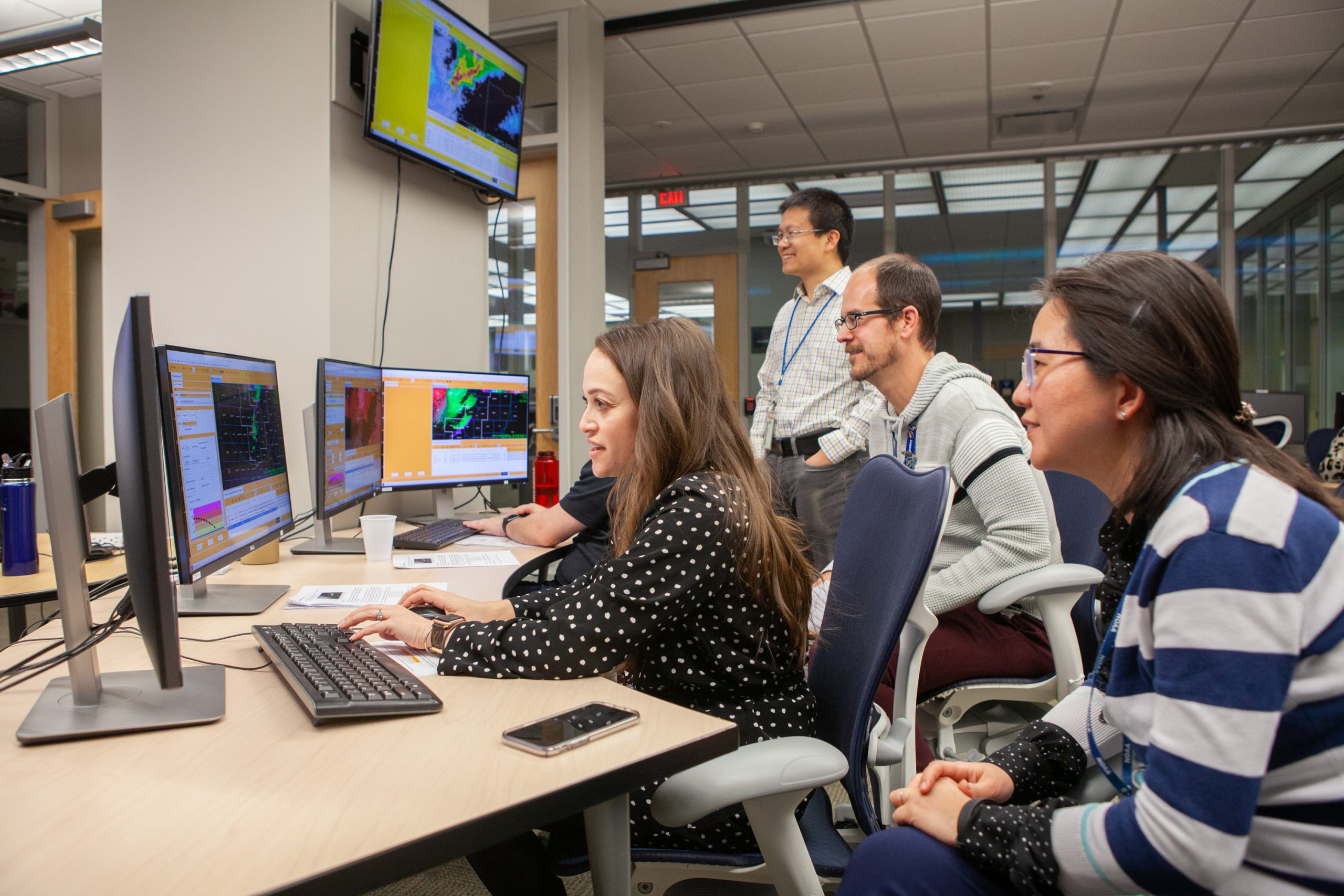 Klockow-McClain said researchers must test not only the technical applications but how forecasters utilize the tools. Otherwise, researchers cannot transfer research to operations if they do not ensure all challenges are tested. "Warnings are an institutional process and we have to know how that process works to see what the implementation of a moving warning system looks like," she said. "We want to improve, not harm." Simulating an operational work environment with forecasters from across the United States is vital to the success of the experiment before GSD decides the best implementation of TiM into NWS forecaster's operational software. "We bring in forecasters to the NOAA HWT to test these concepts not only because we value diverse perspectives, but because we need to test the products in all the different severe weather scenarios that are experienced in the United States," Bates said. https://www.youtube.com/watch?v=4htgxbLPIy4 TiM is part of a broader framework known as Probabilistic-Hazard Information and FACETs, or 
Forecasting a Continuum of Environmental Threats
. FACETs is a paradigm shift to provide more information between the watch and warning system currently in place. NOAA NSSL focuses on severe weather research as it pertains to FACETs. The implementation of TiM is aimed at guiding future products in severe weather of the FACETs paradigm. "These concepts are complex, and it requires lots of research to grasp and understand the probabilistic nature of them and how to make them interpretable by NWS forecasters — that's my job as a trainer," Bates said. "These concepts are being thoroughly tested and steps are being taken to ensure the products and concepts are created with forecaster and public well-being and interpretations in mind," Bates said.