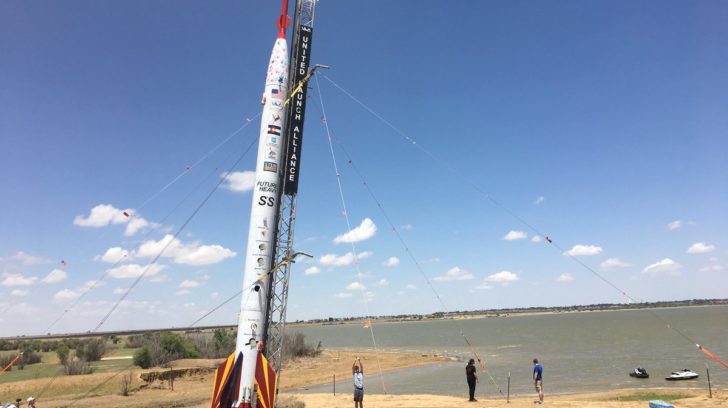 The United Launch Alliance's Future Heavy SS rocket at an ops rehearsal before the 41-foot-tall sport rocket lifts off at the Student Rocket Launch.  Credit: United Launch Alliance
Students helped contribute to a rocket launch that took place Saturday at Lake Meredith, CO. https://twitter.com/i/status/1018197033688035329 The 2018 Student Rocket Launch was hosted by
United Launch Alliance (ULA)
 and
Ball Aerospace
, celebrating ten years of their STEM program. "ULA started this program because we wanted our interns to have this hands-on opportunity, and we've worked with Ball Aerospace to continue expanding its reach to encompass students from kindergarten through graduate school," said Tory Bruno, ULA president and CEO. "We're always focused on mission success, and in this case we want to inspire the next generation to pursue careers in the space industry and encourage their passion for this cool industry." According to a ULA Press Release, since 2008, ULA's summer interns built and launched high-power sport rockets carrying payloads (onboard objects, experiments or instruments that may deploy from the rocket) designed and built by Ball Aerospace interns as part of the Ball Intern Remote Sensing Team (BIRST) program. In 2010, ULA opened the opportunity up to K-12 student teams, and the program has grown substantially. ULA and Ball interns volunteer to participate in the program in addition to their "day jobs" at the aerospace companies.
ULA's Future Heavy SS rocket – short for "Future Heavy Super Sport" – launched 33 payloads, with 11 competing to win up to $5,000 by designing a craft to return to a pre-appointed location near the launch. A payload can be almost anything a team can create within the provided guidelines.
The 2018 payload competition winners were all from Colorado -- third place went to Green Mountain High School from Lakewood, second place was Monarch High School, and the champions were the Boulder High School glider team.  In addition to Colorado, other teams participated from California and New Mexico.
"Ball's BIRST program and the ULA rocket launch offer our interns a unique real-world opportunity to collaborate with mentors to bring a design idea from concept to launch," said Rob Strain, president of Ball Aerospace. "Our Ball interns represent a diverse group of students from 42 universities who are pursuing careers in STEM fields, which are critical to the aerospace industry in the U.S. as well as our local Colorado community."
https://twitter.com/BallAerospace/status/1018182065949433856
Read more here from United Launch Alliance on this event
For WeatherNation, I'm
Meteorologist Meredith Garofalo