After a series of storm surveys took place on Sunday, at least 15 tornadoes are confirmed to have touched down from Saturday's storms, including at least three strong tornadoes. Based on preliminary storm surveys conducted by the National Weather Service over the weekend, one EF-3, two EF-2, seven EF-1 and one EF-0 tornadoes took place on Saturday. There were four other 'unknown' tornadoes, or ones that didn't hit any structures or trees that could assess the strength of a tornado. At least one tornado was recorded in five different states: Illinois, Iowa, Indiana, Kentucky and Arkansas. Here's a look at one that took place is Ogle County, Illinois on Saturday evening: https://twitter.com/NWSChicago/status/1244347847807389696?s=20 Because these ratings are preliminary, there may be adjustments to some of these figures in the coming days. Also, more surveys may be needed on Monday and Tuesday, so this tornado count may not be final. Those figures include
the destructive EF-3 tornado that ripped through Jonesboro, Arkansas
, leaving behind a lengthy trail of destruction. Despite the tornado's strength in a highly-populated area, however, no fatalities were recorded, although there were 22 injuries. But that wasn't the only tornado to lead to serious impacts on Saturday. Two different EF-2 tornadoes touched down just after dark on Saturday in Indiana and Kentucky leading to two injuries in Newburgh, Indiana. https://twitter.com/NWSPaducah/status/1244618172579315712?s=20 A 'strong' tornado is defined by any tornado of an EF-2 rating or above, according to the National Weather Service.
While the official Storm Prediction Center (SPC) tornado count
hasn't been updated to reflect this weekend's tornadoes, it would appear that the official tornado count is up to at least 54 so far this March. Here's a look at Saturday's storm reports, including the clustering of red dots that shows Saturday's tornadoes in Iowa, Illinois and Arkansas.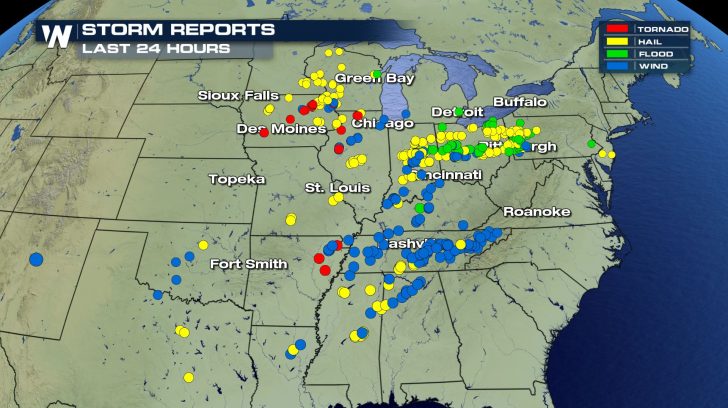 Severe storms are in the forecast over the next few days across parts of the South. For more on those and the severe weather forecast,
meteorologist Patrick Crawford has more here
. Stay with WeatherNation for the latest on this week's severe weather.