A very stubborn area of high pressure is parked in the southeastern U.S.  And it won't budge!  That high pressure is blocking a front from moving eastward.  The front has now stalled over the central U.S.  There is plenty of moisture surging northward from the Gulf of Mexico.  Where the front and the moisture interact, the result is rain, Lots of Rain! Look at the next four graphics below.  The front is aligned along an axis from the southwest to the northeast.  Over the next few days, the front may wobble a little bit, but it basically stays in the same place until Tuesday!  The rain will continue to fall over some of the very same areas, on and off, for the next four days.  This could lead to some pretty impressive rain totals.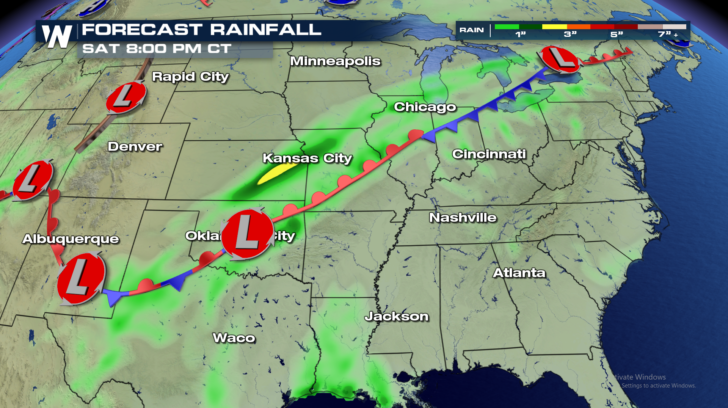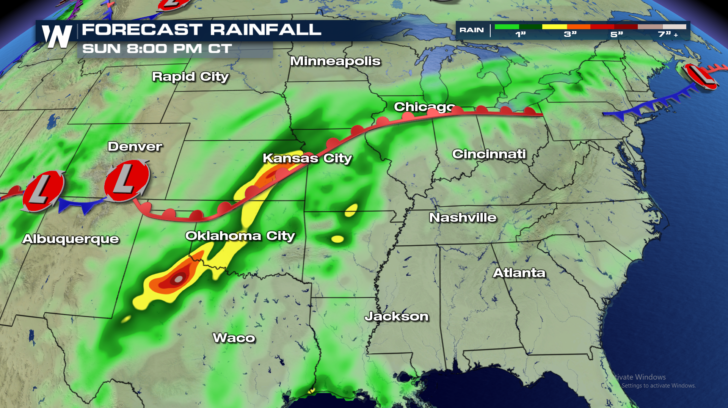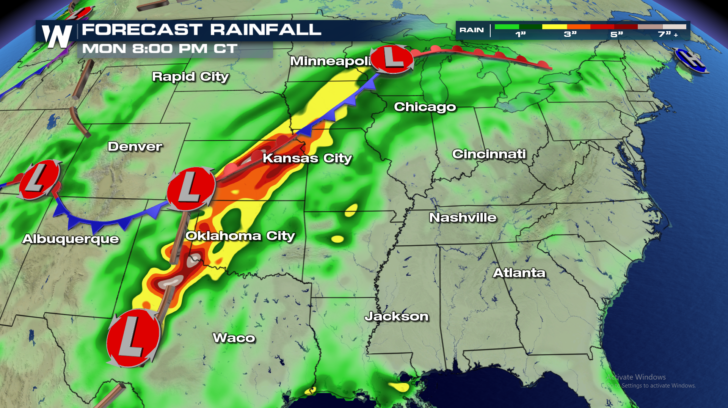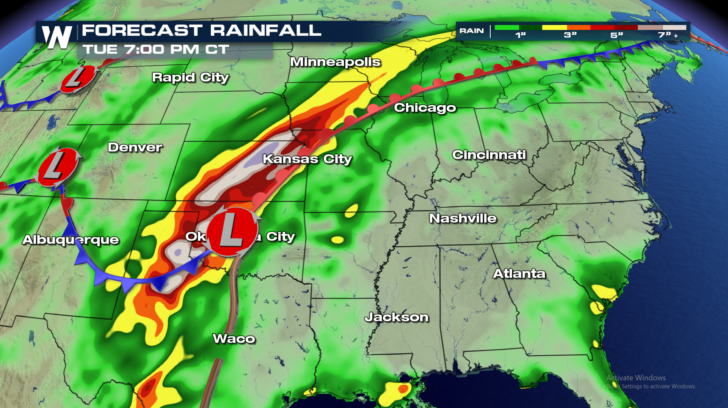 Look closely at the graphic above.  It represents rain totals through Tuesday night.  The white shaded areas indicate cumulative rainfall totals of more than 6 inches of rain.  West Texas, western Oklahoma, and Kansas could see the most amount of rain over the next four days.  Hopefully, the rain will be spread out over enough time that flooding won't happen.  However, isolated flooding is certainly a possibility.  The Excessive Rainfall Outlook below shows a corridor of heavy rain from west Texas, all the way into portions of Minnesota and Wisconsin.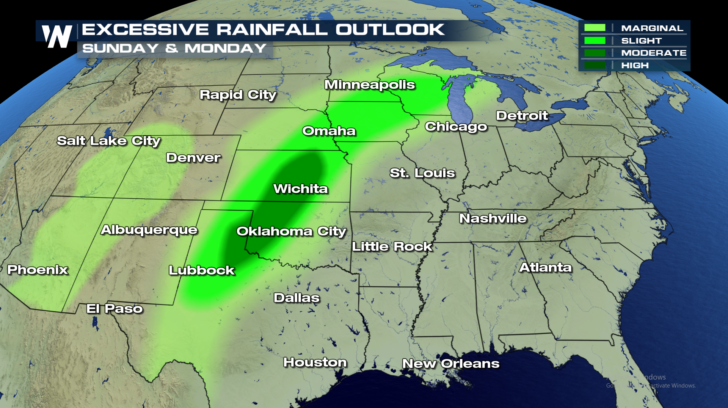 There's a lot of energy with this system.  So severe weather will also be possible along the frontal zone.  Storms will be capable of producing high winds in excess of 58 mph.  Damaging hail, an inch in diameter or larger, will also be a threat with some of the thunderstorms.  And along with the soaking rain, the severe weather threats will continue in some of the same areas for the next four days!  The afternoons and early evenings have the highest risk of severe storms.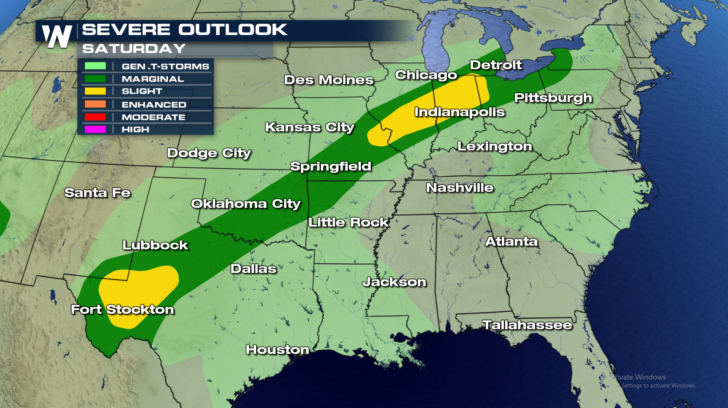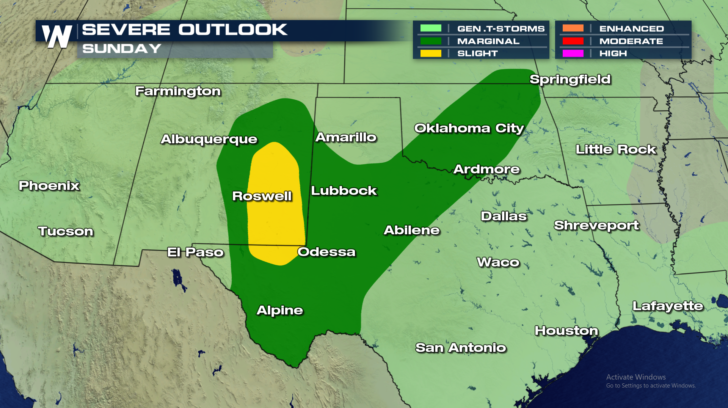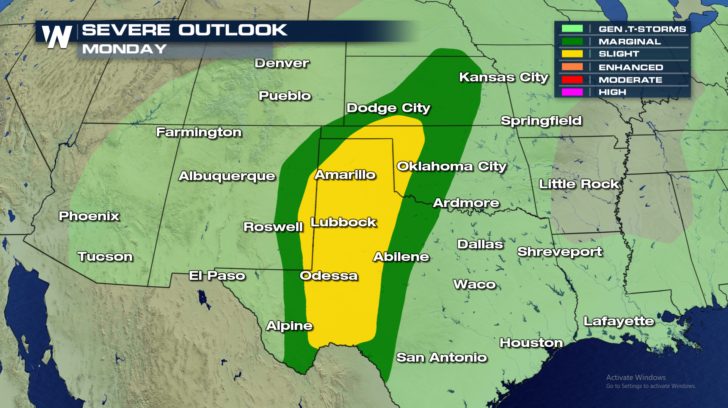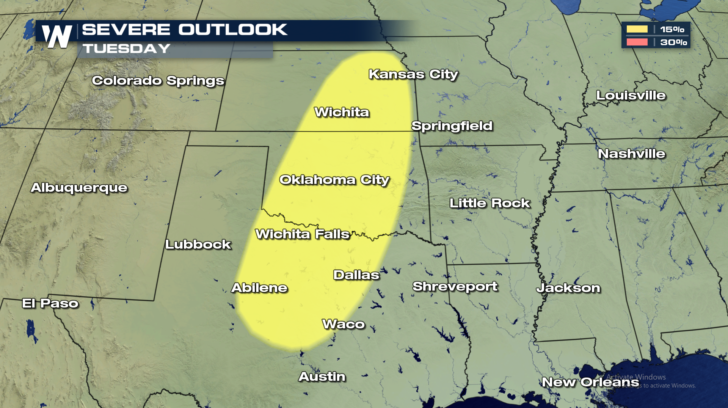 By Wednesday, the blocking high will start breaking down, and the front will begin sliding off to the east.  This will end the cycle of soaking rain and severe thunderstorms over the same areas.  But until then, if you're in the central U.S., hang in there.  The next few days could be a rather soggy, and at times, bumpy ride. For WeatherNation:  Meteorologist Matt Monroe